This harsh cold weather can wreak your skin, body and hair and create a havoc in your beauty regime. Dealing with chapped lips, cracked feet, dry skin, frizzy static hair…and the winter bummers list could go on, is definitely a huge task on hand to deal with.
 The Nature's Co. breaks down this myth with their November "Winter Wonders" BeautyWish Box!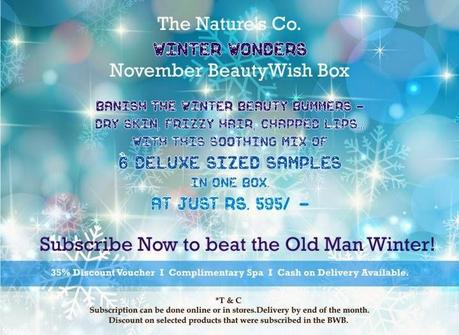 Looking great in winters can now come naturally - when you have the perfect winter beauty plan. The Box now going live for subscription, simplifies for you a cold weather beauty regime promising to make you look 360 degrees winter gorgeous. With the temperatures rapidly dropping down and taking a toll on your skin, scalp and body, this mix of products along with a 35% discount voucher, Complimentary Spa Session at any TNC store and also the ease of a Cash on Delivery option available, November's BeautyWish Box makes you immortal to the side-effects of Old Man Winter.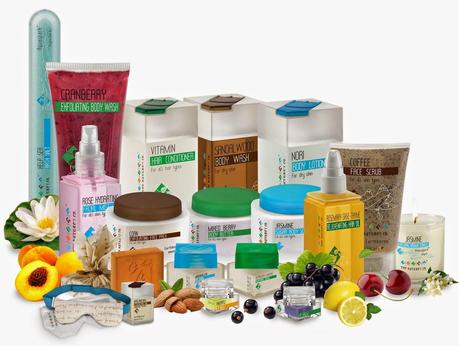 All this just at a subscription of Rs. 595/- by simply clicking on http://bit.ly/1t243wj.
So don't keep calm and subscribe now for top-to-bottom, inside-out, frigid weather fabulosity!
Store Addresses:MumbaiStore LG007, Lower Ground floor, Infiniti Mall, Link Road, Malad (West), Mumbai-400064. T: 022-42958769
Unit G-77, Ground floor, R City Mall, L. B. S. Marg, Ghatkopar (West), Mumbai-400086. T: 022-66429804
PuneUnit No.F-38,1st Floor, Phoenix Market City, Viman Nagar, Pune – 411014.T: +91 20 66890338
BangaloreUnit G-08, Ground Floor, Phoenix Marketcity, Mahadevpura Post, Whitefield Road, Bangalore - 560048. T: +91 80 67266187
Website: www.thenaturesco.comFacebook Page: www.facebook.com/thenaturescoTwitter Page: twitter.com/ThenaturescoLinkedIn: www.linkedin.com/company/the-natures-coPinterest: pinterest.com/thenaturesco/