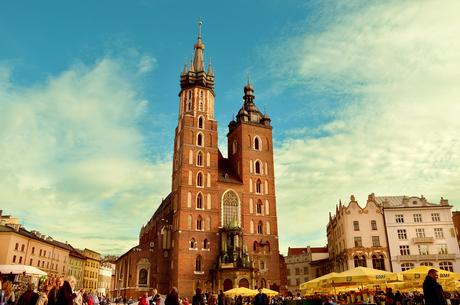 Whilst typically due to EU free movement throughout the continent, we hear more about younger people moving to places like the UK. Poland in recent years has become a hub for expats with, more than 222,000 now calling the country home.
Poland has proved very popular with EU citizens with German, Spanish, French, Italians and UK all relocating in search of a better life.
The country boasts breath-taking Slavic architecture, great food and welcoming locals. Thankfully the country's iron curtain separation from Europe has now long passed unveiling a dynamic country which offer a great work life balance and value for money.
Jobs in Poland
Sectors that thrive in the Poland are made up mostly by manufacturing companies. Typical job roles available in Poland circle around machine building, steel manufacturing and coal mining. Chemical companies are also prominent in the country and job roles can normally be sourced in these sectors.
Despite a strong manufacturing sector, the majority of expats end up working in the services sector. The government invests significantly in infrastructure, innovation and education.
Poland's economy has strengthened significantly in previous years and the country has benefitted significantly since its inclusion in the European Union. Poland currently sits at number 10 in terms of GDP when compared to other European nations, recording an overall GDP of 565.854 billion USD in 2019.
The smaller associated costs of running a business have seen companies such as Shell, proctor and gamble and Citi open operations in Poland and expats can find jobs before or upon arrival.
Why Poland ranks as one of the best places to live
Last year Warsaw climbed from 25 th to 13 th place in HSBC's expat league table. Demonstrating the evolution the capital makes every year. The country is now surpassing counties such as Mexico, Hong Kong, Sweden and India as more expats find Poland a great area to relocate and start a business. Expats enjoy the great history, low cost of living and breath-taking scenery the country bestows.
Poland also ranks highly in terms attractiveness of global investment; with many experts believing it ranks in the top 10 of places to invest or start a business further endorsing the countries entrepreneurial spirit.
Most popular cities in Poland
As very few foreigners move hear to retire the vast majority of expats can be found in major towns and cities. The most popular locations include
Poznan is believed to adopt roughly 8% of foreigners that relocate to the country. Known for its universities the city is nestled on the Warta river. The old town features a pretty market square and beautiful renaissance style structures.
Krakow which is unfairly known as an area which stag and hen parties flock to the city offers much more than cheap booze and nightlife. The city offers much culture and has a Jewish quarter and picturesque medieval town centre. Krakow is one of Poland's most southern cities and is located just a stone throw from the Czech Republic. Its gothic church (St Marys Basilica) dates from the 14th century and can be found close to the beautiful cloth hall.
Wroclaw is located on the western side of Poland on the banks of the Oder river. Elegant homes line its charming market square, the square features a Wroclaw's gothic town hall. Close by the panorama of Raclawice a painting depicting the 1794 battle for independence. It's believed that Wroclaw is now called home by just over 10% of foreigners.
The polish capital of Warsaw popularity won't come as a surprise to any who have visited. It's estimated that nearly 30% of foreigners choose to live in Poland's capital. Its population exceeds 1.8 million and the metropolis covers 517 square kilometres. The capital offers a vibrant array of restaurants and boutiques, although many report that clothes tend to be more expensive than other areas of Europe and the US.
What you need to know before moving to Poland
Weather
Whilst Poland benefits from warm summers the country can get very cold in winter, be prepared for this as temperatures can fall as low as -3c. The eastern coast suffers the most from cold snaps so consider this before relocating.
Currency of Poland
Whilst part of the European Union Poland didn't adopt the Euro and although accepted the Polish Zloty is the currency of choice. Before relocating to Poland its worth consulting with a Currency transfer specialist in order to get the best PLN exchange rate . A currency specialist can also be extremely helpful if you receive a salary in a different currency or is you plan on sending money back home.
English isn't commonly spoken
Whilst those who relocate to Poland's main cities will be able to get by, English isn't widely spoken with only 37% of the practicing the language. Those who speak Russian will find things easier with the language being widely understood. It's highly beneficial to enrol in lessons either before or upon arrival as you my struggle without the local dialect.
Unfamiliar Easter Monday customs
Don't be surprised if you get soaked on Easter Monday. After the celebrations on Easter Sunday polish have a custom called "Śmigus-dyngus" or wet Monday whereby its friends and neighbours soak each other with buckets of water. The custom originated from people sprinkling other with water from the palms but now is more like a neighbourhood water fight.
Setting up a currency account - transfer money to Poland
As touched upon before Poland utilises its own currency the Polish Zloty, whilst the Zloty has proved stable in recent years banks retail exchange rates tend to be highly uncompetitive. Due to the fact that the currency isn't a major currency arranger a transfer to Poland must be planned. Thankfully non-bank currency specialist s are abundant and can save you a significant money on one off and regular transfers to and from Poland.
Opening an account wont take long at all and typically requires simple documentation to get the account activated. This will normally include -
Valid form of photo ID (passport or drivers license)
Utility bill or bank statement (less than 3 months old)
For those who are located in America and are planning to relocate to Poland you will need to opt for a US regulated currency specialist who can deal with your money transfers, initially in the US and then in Poland.
Entrepreneurs who are relocating to Poland to start a business which deal or purchases internationally can also benefit from the insight of an expert currency provider. Savings can be substantial and are often reflected on the end of year balance sheet.