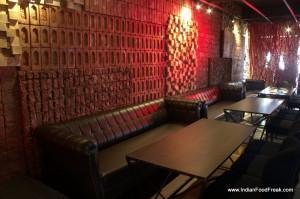 Excuse Me Boss- Interiors
The first thing that draws my attention is the name of the restaurant. 'Excuse Me Boss' has invited me over for a tasting session. Apparently, after considering a lot of names the owners went with this 'cool' name to attract the crowd that seeks 'attitude' in everything they do. I am keen to find out how they fare in the food department.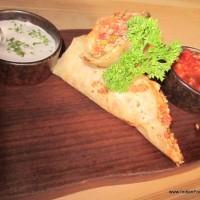 Mexican Burrito
Excuse me Boss is situated at the same place that the now-shut famous restaurant "the Chinese" used to be there. I enter a dimly lit restaurant which I don't really care for but I guess the youngsters on a date are going to find it most convenient.  The setting is quintessentially lounge like with exposed tiles and brick walls and rustic seating, and a DJ/live performance stage. I meet the affable Director of the restaurant Deepak Arora who tells me that the restaurant has opened 3 months ago and is a 98-seater. The bar license has just been received by them, and soon they plan to launch live musical acts of themes like Sufi, Bollywood, Karaoke, etc in the evening.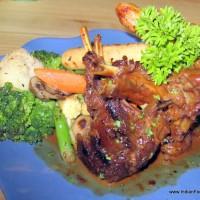 Mixed Grill
The menu is multi-cuisine and has quite a few interesting sounding dishes from their various categories. I start with one of their breakfast offerings, Mexican Breakfast Burrito (Rs.345) which is a superb roomali roll filled to the brim with scrambled eggs & lamb chili, topped with sour cream & tomato salsa, and served with fries. Next is Lamb Kibbeh (Rs 340) which tastes authentic. Spicy Sausage & Basil Pasta (Rs 445), which is penne tossed with grilled sausage & basil creamy tomato sauce is also proficiently made. Mix Grilled Platter (Rs 575) is the only disappointment of the afternoon. The grilled lamb chops are not meaty enough, chicken sausage is disappointing, and grilled chicken is listless. The only nice thing about the platter is the roasted baby potatoes.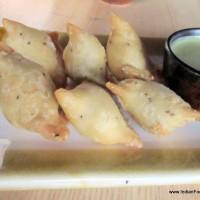 Jalopeno Cheese Samosa
My vegetarian companion in the meanwhile has tasted Jalapeno Cheese Samosa (Rs 365) which is a good upgrade on the humble samosa. The Excuse me Boss Veg Hotdog (Rs 315) is delicious, however the Veg Club Sandwich (Rs 335) are let down by the hard sandwich bread used.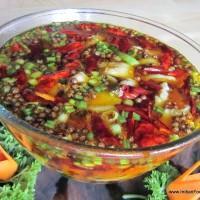 Water Fish
Next to come on the table are the Chinese dishes. A Hunan delicacy, Water Fish (Rs 555) is sheer poetry. It looks breathtaking and tastes even better. Basa fish immersed in smoking hot oil which has a liberal sprinkling of Schezwan peppers and fresh red chillies as well as a lot of herbs and greens. The dish mesmerizes me and I forbid the wait staff to take it off the table. It is truly a memorable dish. Equally captivating, and perhaps the best version that I have had anywhere in India, is Ma-Po-Dou-Fu (Rs 355), which is diced tofu with minced lamb. My vegetarian friend has the vegetarian version of Water Fish, Water Boiled Garden (Rs 415) with lots of mushrooms and broccoli and looks equally happy.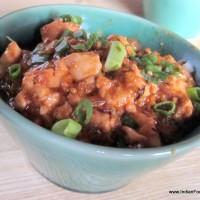 Mapo Doufu
I would come back over and over again, just to taste the Water Fish and Mapo-Doufu.
Ratings (Out of 5)
Food: 4.0 | Ambience: 3.5 | Service: 3.5 | Overall: 3.5
Meal for two: Rs.1200 | Alcohol: No | Credit Card: Yes | Wheel chair friendly: No Address: F 14/15, Shivam House, Middle Circle, Connaught Place, New Delhi | Tel: 8745881999, 011 65667011, 011 43507899
Excuse Me Boss- Interiors
Veg Hotdog
Veg Club Sandwich
Spicy sausage and Basil Pasta
Mixed Grill
Mexican Burrito
Mapo Doufu
Kibbeh
Jalopeno Cheese Samosa
Interiors
Gulab Jamun
Water Fish