We are very pleased to bring you these exclusive videos from the Romantic Times Booklovers Convention which was held in Chicago from April 11-15, 2012! A very close and dear friend attended the convention and recorded these for us! You are in for a treat! For those who (for whatever reason(s)) were unable to attend the convention, don't worry…we have brought a portion of the convention to you!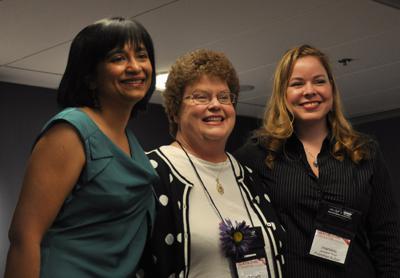 Image courtesy of RT Book Reviews featuring (left to right): Nalini Singh, Charlaine Harris and Jeanine Frost.
The first two videos feature; Charlaine Harris, Nalini Singh, and Jeanine Frost! We shared what Charlaine said; in a previous post which you can read here…but nothing beats watching and listening to them speak! This first segment comes in two parts. The first part is just over one hour long. The second part is just over four minutes.
We also have a video from another panel discussion, which features a number of paranormal authors including; Charlaine Harris, Christina Henry, Chloe Neill, Jeaniene Frost and Jeanne Stein, where they discuss "Kick-Ass Characters"! It is moderated by Richelle Mead and lasts almost an hour!
WARNING: Watching these videos takes a really long time. Please make sure you have a good 2 hours of uninterrupted time scheduled – so you can devote your time to watching them! Or, you can keep coming back, as time allows. The videos are really long, but are definitely worth it – for anyone who is a fan of these authors! Please be aware these videos may contain spoilers! If you don't want to know – don't watch below!
Part 1: Charlaine Harris, Nalini Singh, and Jeanine Frost
Part 2: Charlaine Harris, Nalini Singh, and Jeanine Frost
"Kick-Ass Character" Panel with Charlaine Harris, Christina Henry, Chloe Neill, Jeaniene Frost and Jeanne Stein. Moderated by Richelle Mead.
WOW! There is a wealth of information and things they discussed in these videos! They really know their characters! Not to mention, the spoilery tidbits they revealed about their upcoming books! I love the fact they appear to be funny and charming ladies, who take the time to give sound advice to aspiring authors as well!
I particularly liked in the last video where they discuss "Kick-Ass" characters, Charlaine talked about Eric Northman and how at first; he was an asshole, but a very handsome one. The more she wrote him, the more she saw that he had a sense of humor and was not as rigid in his thinking as he was at the beginning. I find it interesting that she shared that it was thanks to the response from fans, which made her decide to look into his character more. As a result, he got more and more complex, and we (Eric & Sookie Lovers) fell in love with him ourselves. He is the best possible match for our dear Sookie!
Raise your hands if you were surprised that she considered Pam as her choice for being most "Kick-Ass"? I'm not…I love Pam. I think most of us do!
Most importantly, I would like to show my undying gratitude and appreciation to LPCoder  for filming these videos and allowing us to share them with you! I know it took a little time away from her experience at the RT Convention! Let it be known, just how much we loved them! Thank you so very much from the bottom of our hearts! As a side note…I'm jealous you were there, and I wasn't! Thank you once again!
Please Note: For those who may want to share these videos with your friends, on your websites and blogs; please make sure you credit Eric & Sookie Lovers with a link back to this post, and most especially to LPCoder for recording the videos. The three panelists in the first two videos have given LPCoder permission to share the videos online, and in turn, she has given us permission to exclusively share them with you.Thank you in advance.
Thoughts? Share them below!