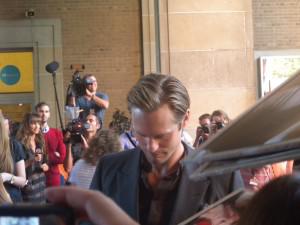 Last night I had the privilege of attending the North American premiere of Lars von Trier's 'Melancholia' at the Toronto International Film Festival.  The movie stars True Blood's Alexander Skarsgard, 24's Kiefer Sutherland and Spiderman's Kirsten Dunst.  Being a huge Alexander Skarsgard fan, I was so excited for the chance to see him in person and he did not disappoint.  When we arrived, the line was already around the block but I took a place on the red carpet and waited for him.  First up was Kiefer Sutherland who waved to the fans before heading over to the press area.  About 10 minutes later Skarsgard arrived and he immediately came over to the area where all the fans were.  He spent about 20 minutes taking pictures and signing autographs with fans and was extremely gracious trying to get to as many people as he could.  The TIFF volunteers had to speak to the crowd a few times because people at the front were getting crushed once Alex appeared.  After trying unsuccessfully to get to the front of the crowd, it was time for us to head in to the theater.  Just as we went to go in Kirsten Dunst appeared and we were able to see Kiefer, Kirsten and Alex together while they posed for pictures. 
Once we took our seats the TIFF organizers came out to introduce the film along with Skarsgard, Sutherland, Dunst and Udo Keir.  The introduction was brief and Skarsgard told everyone he hoped that they enjoy the movie.  'Melancholia' is about the strained relationship between two sisters as a mysterious planet threatens to collide with earth.  The first half  focuses on Justine (Dunst) and Michael (Skarsgard) during their wedding where it becomes obvious that Justine has some major depression problems.  Also in 'Melancholia' was Skarsgard's father Stellan Skarsgard who played his best man.   We do not see either Skarsgard once the movie shifted to Justine's sister Claire played by Charlotte Gainsbourg, but what we did see of them was fantastic.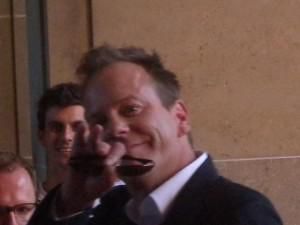 After the film ended the cast once again came out, this time for a Question and Answer session and there were a few funny moments during the session.  One fan asked Kirsten how it is possible that her character didn't love Alexander and he jokingly replied "that's a good question – HOW?  I tried so hard", to which she shot back "he's not good in bed".  Questions were asked about the heavy nature of the film and if any of them were influenced by their characters and at one point Alex replied "I'm from Sweden - we are all happy people in Sweden".  They also talked about how they all stayed together in a house during the filming and kept things very lighthearted when they weren't filming in order to offset their work days.  They all spoke about working with von Trier and revealed that he does not like "actors that act", he likes scenes to flow naturally so a lot of the scenes were shot once with no dry runs.  Watch the video of the Q&A below to see the easy way the cast interacted with each other.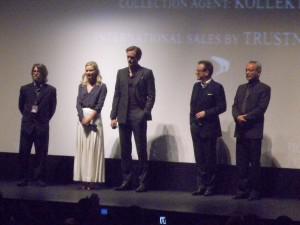 Sadly the Q&A was over too quickly and it was time to go.  Overall just seeing Alexander Skarsgard was exciting and I was so impressed at how much time he spent with the fans.  I would happily attend another event with him any time!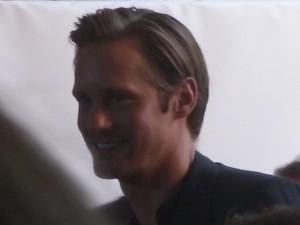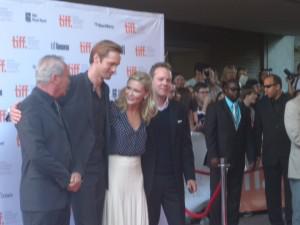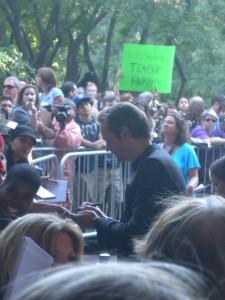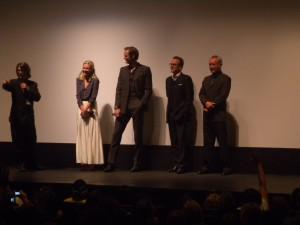 Image Credit: Laurie Brooks
Video Credit: YouTube.com – cybermelli