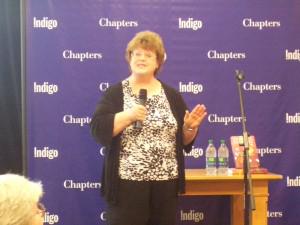 I am one of those True Blood fans that was totally hooked on the books before I even knew there was a television show.  On July 18th, I had the pleasure of attending a Question and Answer session and Book Signing with Charlaine Harris, author of the Sookie Stackhouse novels on which HBO's True Blood is based, at Chapters Indigo in Toronto, Ontario.  I waited in line for 4 hours with other fans of the novels and the show and we were chatting and sharing our favorite stories.  While the wait wasn't the most comfortable, the mood was great.  There was a DJ, contests and prizes and everyone was very excited for the event to begin.  There was even a woman dressed in a full Sookie Stackhouse Merlotte's uniform who was passing out samples of Tru Blood for people to try.  Ms. Harris came on promptly at 7:00pm and after a short introduction where she talked about how she got into writing the Sookie Stackhouse novels, the floor was opened up for a question and answer session.  She told the crowd that she began writing this series because she was looking for a break from her mystery writing and she started thinking about a series that had more sex and violence.  She discussed how the books were optioned and how she has enjoyed working with Alan Ball. 
 There were so many fans who had questions for Ms. Harris and she was very funny and forthcoming with her answers.  During the Q&A she revealed that while she can't choose a favorite character because they are all her babies, she does really enjoy writing for Pam because there are no limits.  She compared writing for Pam to writing for her character Dahlia, the vampire which now has her own video game because she doesn't have to worry about filters, politeness or social niceties so it can be very freeing.  When asked if there is any possibility we could see a spin off series surrounding Pam, Harris says that after the 13th book she has no plans to revisit the characters.   One fan asks Harris what her favorite book in the Sookie Stackhouse series has been so far and she says that while there have been bits and pieces of each of her novels that she has loved, overall her favorite was probably 'All Together Dead'.  When asked if she has any regrets about any of the characters she has killed off, she replies that she did regret killing Claudine – her editor even asked her if she was sure she wanted to do that because she was killing two pregnant women in one book (Crystal was the first).  She talked a bit about her relationships with the cast of the show and she revealed that she probably has the warmest relationship with Joe Manganiello who plays Alcide Herveaux, saying that he is just a very nice young man.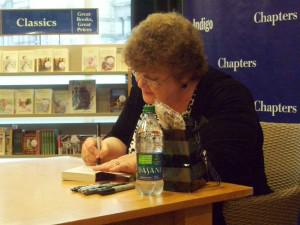 There were a few aspiring writers in the audience and one asked Ms. Harris for any advice for new writers and she said the biggest thing she can say is to read, read, and read some more.  She was also asked if there is any of Sookie in her and she joked that she likes to think so since Sookie is such a strong woman.  Another fan asks Charlaine if Sookie and Anita Blake would get along and after thinking about it for a quick minute she says they may get along, if they weren't together for very long. 
When asked which, of all the books she has written, was her favorite  she has to think a minute but she says it is probably 'An Ice Cold Grave', which is book in the Harper Connelly series, because she put so much thought and effort into the book and she thinks it is one of the best books she has ever written.  Overall of all the books she has read, she says her favorite book is probably 'Pride and Prejudice'.  One fan asked if Charlaine has any interest in script writing since True Blood was adapted for television and asks if any of her other books will be adapted for tv, and she says she really does not have any interest in script writing.  She also confirms that the Harper Connelly books have been optioned by CBS but that it does not appear to be moving at the moment.  It may not be script writing, but Harris reveals that she is collaborating on a graphic novel with Christopher Golden which will be out next year called 'Cemetary Girl'.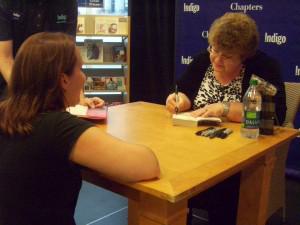 Harris was asked if she intended for the Vampire Rights movement in her books to be a parallel to lesbian and gay rights she confirms that she did intend to do that.  A fan asked if we will be seeing Diantha again and Charlaine confirmed that we will be seeing her in a short story that will be in the George R.R. Martin anthology 'Down These Strange Streets' which will hit bookstores in October, but that is actually going to be a Dahlia story that she will be making a cameo in.  Switching back to True Blood Ms. Harris is asked if there is a storyline from the show that was not from the books, that she particularly liked and she replies that she really enjoys Jessica.  Back to her writing, a fan notes that Charlaine is one of the few authors that writes her characters with the full range of sexuality from heterosexual, homosexual, lesbian, bisexual and wonders where Harris pulls from to write that.  She replied that she tries to write about the world she sees around her and that she does not see a world that is heterosexual.  In a more serious note, Harris is asked what made her decide to put the Hurricane Katrina events in the timeline since that essentially nailed her down in a timeframe.  She reveals that she did not initially want to include it because she did not want to pin the books down to a specific time but that she felt that leaving out Katrina would be a crime. 
When asked if she gets the inspiration for her characters from her family and friends, Harris says that she takes snippets from all the people around her but she never uses an entire person.  She says that all writers observe the people around them and that they are all great eavesdroppers.  Next up Harris is asked how she came up with the character Bubba and she stated the same thing she told True Blood Fan Source during our Q&A with her, that she was watching the movie 'Men In Black' and the scene where they showed all the celebrities as being aliens among us, it hit her that Elvis was a vampire.  Evidently this has prompted a very large number of Elvis statuettes that fans have given her, along with Elvis impersonators.  Hope she likes his music!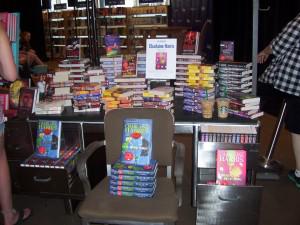 Next up a fan asks if Harris herself has ever experienced or witnessed anything supernatural and related that experience in her books.  She says that she has definitely never met a genuine vampire or werewolf but has certainly met a lot of people who have claimed to be one.  She has also had people tell her they were telepathic although they were never able to tell her what she was thinking at the moment.  Moving again to True Blood, Charlaine is asked what her thoughts are on Alan taking some of the secondary characters from the books and moving them to the forefront of the show and she replies she is really okay with that.  The books are all from Sookie's point of view and a television show cannot be run that way so she doesn't mind when they take those liberties.  Next up she is asked where she came up with the name Sookie and she reveals that it was her Grandmother's best friend's name.  Its an old Southern nickname which is now making a comeback.  She jokes that there is going to be a generation of women that hate her.  When asked if any of the characters have surprised her with where the story has taken her, she replies that the faeries have probably surprised her the most because she never thought she would bring faeries in and yet they are working so well.  She also gives a little teaser about book 12 in the Southern Vampire Mysteries series saying that faeries are a big part of the next book. 
Is she an ereader or a book reader?  Well when she's traveling Harris prefers ereaders but when she is at home she likes the real thing.  Harris is asked what the criteria is that she uses for judging which types of supernatural beings she introduces, for instance she has never introduced aliens, and she says she goes with whatever seems fun to her at the moment.  The final question of the evening came from an aspiring writer who wanted to know how Ms. Harris continues to keep getting inspiration to writer fresh stories, and her reply is that she believes the inspiration is part and parcel of being a writer.  She believes that writers are born not made and that people either have the writing spark or they don't. 
After the Question & Answer period we lined up to get our books autographed.  Ms. Harris was very gracious and took a bit of time to talk with every person who went up there.  When it was my turn, I had her sign my copy of 'Dead To The World' since that is my favorite book in the series.  I also had her autograph two books that we will be giving away in an exciting contest which we will announce shortly!  While I was talking to her I explained that she had recently conducted an email interview for our True Blood fansite and thanked her for taking the time out of her busy schedule to do that for us.  She replied that it was not a problem and that she is glad to give interviews when she can.  Click here to read the entire interview we did with her.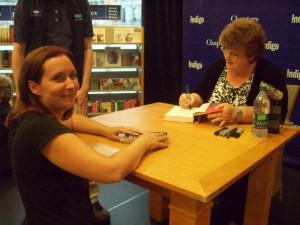 Overall it was a very exciting evening.  Even with waiting in line for 4 hours and then standing for another 90 minutes, I wouldn't have missed it.  Ms. Harris exceeded my expectations with her humor, sincerity and the way she interacted with her fans.  If she is ever appearing at a location near you it is worth the trip.  I will be seeing her again at DragonCon in September and I can't wait!
Stay tuned to True Blood Fan Source for an exciting contest announcement where you will have the opportunity to win an autographed hardcover copy of 'Dead Reckoning' or an autographed copy of 'Dead To The World'.  More information will be posted soon!
Photo Credit:  Jaimie Dalton