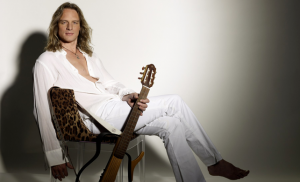 Abri van Straten is a talented singer and songwriter who has found success both as a solo artist and as lead singer of the South African band the Lemmings. He also managed to steal the heart of his wife Kristin Bauer (Pamela Sywnford de Beaufort) by using his voice. A little over three years ago, Kristin was introduced to the Lemmings CD Imperceptible Shift in the Light. After listening to it repeatedly and watching the music video "Rain" she decided to track Abri down.  The singer was already in LA for a tour with his band and he ended up staying after a few fateful dates for coffee. Of course, after listening to Abri's music it's easy to see why Kristin decided to get in touch with him. He has a beautiful voice on top of his lovely music and lyrics.
In the interview that follows, we here at True Blood Fan Source and Kristin Bauer Online got to know the man behind the music and the beautiful voice a little better. We discussed his music, adjusting to life in California, and the True Blood phenomenon!
Kristin has mentioned how she met you publicly many times. The story has made an excellent case for fate, destiny and the power of the internet. But I'm curious to know your side of the story. What was it like for you meeting Kristin after she had gone through so much to find you?
"I was sitting at a coffee shop in LA and my phone rang. I didn't know she was an actress, and hadn't seen True Blood yet, but when I heard her voice I knew I'd marry her."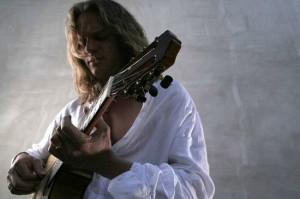 Some might argue that you and Kristin had a fairy tale start to your relationship. But moving to LA must have been a big adjustment for you both in terms of distance and culture. What are some of the advantages and disadvantages to living here in California as opposed to South Africa and vice versa?
"It is a big adventure to start a life anew in a new country. It's bizarre to live ones life recognizing nothing from the landscape to the food packaging in the grocery store. It is freeing and does open one up to new experiences. I miss the wild west aspect of S Africa. It is still not a tamed land and that is palpable. But they have planes now a days and so I now get to be from two great cities in the world; LA and Cape Town."
Imperceptible Shift in the Light and Sunlight and Shadows represent different points in your life. Imperceptible Shift is lighter and exuberant. Sunlight on the other hand is obviously a bit more personal and gets to the heart of who you are as an artist and as a person. How do you think each album represents you?
"Each album is entirely unique based not the time it was recorded. I am recording as we speak and again this music is a reflection of my thoughts and feelings as they are this year."
After doing an album with a band and one as a solo artist, do you have a preference as to which one you like doing better or are they about even?
"It's always nice to share the experience with other musicians. But I am lucky in that I can continue to perform solo anywhere in the world with my guitar and my microphone. But I am sure I will play with a band again."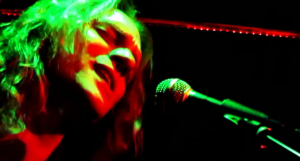 What serves as some of your inspirations when you're writing new material?
"My wife. (She'll like that). Just thoughts and perceptions about life and the Universe. I tend to like those topics: life and this magical Universe."
Is there anyone you would like to collaborate with on a project in the future?
"I've just begun working with a new Producer, drummer and bass player – and I am really enjoying them."
You've done shows in LA and several other events around the country. Do you want to do more extensive touring around the state or the rest of the country?
"Yes, I do and we are setting that up. I think I'll start in the cities and areas that I've always wanted to see. Like the South and the desert. So Nashville, New Orleans, and Arizona."
Do you have a favorite song you've written?
"I tend to be most interested in the songs I'm writing and recording now. But in their time they were all my favorites. So it's always changing. My favorite from Shift is "Fireflies". And from Sunlight and Shadows it's the title track."
Kristin has referred to herself as the "Yoko Ono" of the Lemmings in a previous interview saying that she feels like she broke up the band because you stayed in Los Angeles. While you did stay, do you think going on as a solo artist was necessary for yourself as an artist and not just because of how events unfolded?
"LOL! She is very funny. It was necessary for a time, just logistically, as my band was in Africa and I was still here. I am a songwriter, and a performer so I just kept writing and performing. That is all I have ever done with the Lemmings or without. That is my life."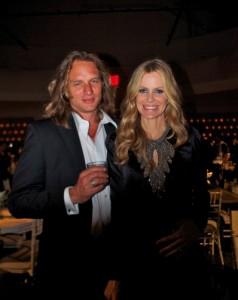 Since you weren't familiar with True Blood when you met Kristin, what did you think when you actually saw her work on the show as well as other roles she's done? 
"I was very relieved that she wasn't that scary at home…mostly."
You've performed at several events Kristin has appeared at and attended other events with her. What are your impressions of the True Blood phenomenon?
"It's fantastic that it has so much support and I believe that is because the show deals with human issues and battles through the portrayal of fantastic creatures while it's still, at heart, relatable."
How do you feel about being included in it by proxy?
"It's a wonderful adventure. And that's life isn't it?"
Both of Abri's albums are available to purchase though Amazon and iTunes for  those who are curious to learn more about his music. The final part of our interview with Kristin and Abri will be posted tomorrow so be sure to check back!
Tags: Abri van Straten, exclusive, Imperceptible Shift in the Light, Interview, Kristin Bauer Online, Kristin Bauer van Straten, music, Pamela Swynford De Beaufort, South Africa, Sunlight and Shadows, the Lemmings, True Blood, True Blood Fan Source