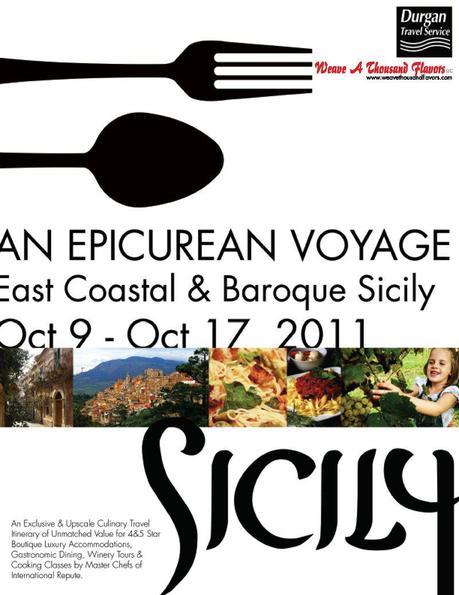 ~Dear Foodie Friends & Bloggers ~
My excitement knows no bounds as I share with you the next step for Weave A Thousand Flavors. I hope that this will be the first of many journeys to come not just figuratively speaking but literally!
For a year and a half now, you have been so kind, joining me each and  every week as I share my adventures in world cooking with you. As much as I enjoy bringing portions of these exciting places and cultures into our home kitchen, won't it be even more thrilling to step into these incredible places & cultures as and when we can!
Taking the step from kitchen to food & culinary adventure is a natural transition for me. After all, having lived in 4 countries in little more than a decade, I am no stranger to travel or to being a stranger in new and unknown places. 
So why design an 'Epicurean Voyage' especially tailored to foodie friends and food bloggers?
Quite simply,  because it is difficult to find a group of like-minded people to travel with. People who are looking for the same thing, who won't roll their eyes in exasperation when they hear us squeal over freshly made hot ricotta or savor the taste of 25 year aged balsamic vinegar or wouldn't think twice about stopping at a street vendor to chow on some hot apple fritters - yet again.
Also with careers and younger kids it is harder and harder to balance schedules and finances for the whole family. The solution I think is to go on these intense jaunts for about a week at a time, as and when possible.
The first for 2011, Sicily!
So why Sicily?
Quite simply, because Sicily is the other Italy.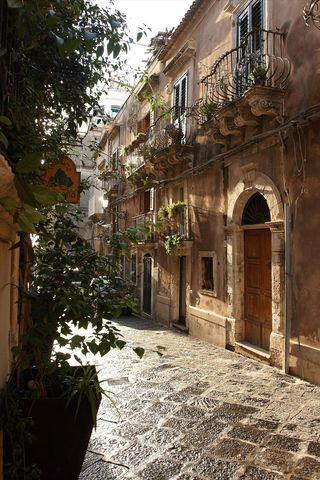 "To have seen Italy without having seen Sicily is to not have seen Italy at all, for Sicily is the clue to everything." Goethe, Italian Journey

I think it will be fascinating to travel through a place where so many cultures have had control over and left their mark  - the Greeks, Phoenicians, Arabs, Normans ... in Venice, it's always been the Venetians! (Well, except for that Austrian occupation, but that doesn't count...)

Obviously I am not the only one who thinks so. Read an article about the area in the Washington Post - click here.

So what makes this different to a run-of -the-mill tour?

Two words - canned approach.

My  # 1 Rule to great travel is to stay away from tourist traps & take the time to exhale. What is travel if not the joy of being surprised by what is round the corner! For at the heart of travel,  is the matter of our own open spirit and our sense of curiosity and romance found in small things and little pleasures.

What you need to know -

 ~ This culinary experience is subject to participation by min. 12 persons and  no more than than 16 persons in a hope that we are an intimate group and leave these 9 days with life long friendships.

~  I am not a travel agent but as a trip 'designer' & organizer have painstakingly put together this travel itinerary. In collaboration with Durgan Travel Service who have more than 40 years of experience in the travel industry, every aspect of this trip has been worked out with great care to ensure an exceptional and memorable experience of the highest quality & standard.

~ I am also thrilled that instead of a 'hire-a-tour-guide-at-every-stop', traveling with us will be my friend, interpreter & specialised local guide Diana Mazza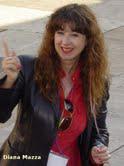 Diana is of Sicilian/Irish heritage, born in Sicily and is the daughter of  Ellen Grady, who is the author of various "Blue Guides". After her education in Classical Studies she moved to Germany to study the language.
Since her return to Sicily, she has earned specialisation as a Guide & Tour leader for the following provinces: Catania, Messina, Siracusa, Enna, Ragusa, Agrigento as well interpretation services in English and German.
She has vast experience working with large travel and maritime agencies. She has also worked for royalty and prides her experience with H.R.H Queen Mother, Her R.H. Princess Viktoria of Sweden and the Japanese Royal family. Her twin brother also works in tourism.
 ~ Like a prospector sifting for gold, every 4 and 5 star, luxury boutique hotel, restaurant and culinary experience has been chosen for its exceptional quality. These choices  are result of endless conversations with local friends & advisors in Sicily,  reading Michelin & Zagat reviews, personal comments, forums and food blogs as well as communicating with Chefs, culinary schools, concierges and farms.
~ Due to the terrain expect to walk on uneven surfaces such cobblestones and on inclines so this trip has a physical demand for walking unencumbered.
~
8 Nights, 9 Days
Epicurean Voyage : East Coastal & Baroque Sicily
Food + Culture + Lifestyle
Oct 9 - Oct 17, 2011
~Highlights of your unforgettable visit include~
~ 8 nites accommodation at four and five star grand, luxury Boutique hotels.
~ Historical architectural tours  in Baroque towns such as Modica, Ragusa & Siracusa as well as picturesque Taormina
~ 2 local winery tours including a tour of cellars and vineyards, complete with luncheons & wine tastings.
~ 3 Cooking Lessons with local Master Chef's featuring traditional Sicilian delights including market tours.
~ 1 farm visit including a cooking & traditional cheese-making demonstration followed by lunch.
~ Fine luxury dining at 1 Michelin Star restaurants with many featured Chefs at the International Chef's conference in Milan 2012 as well as at fine local restaurants in rustic  & fashionably modern venues ~ 9 buffet breakfasts, 7 lunches & 8 Gastronomic dinners with wines & gratuities.
In-depth Itinerary  & Pricing coming soon!
I hope you're as excited as I am so feel free to email mefor immediate questions.