With the emergence of maxi skirt trend, the women's fashion scene has become very interesting. Maxi skirts are now a favorite piece among fashionistas and trendsetters. Everyone just loves to wear the colorful type, which is considered to be the "in" clothing item these days. Here are ways on how to properly wear a maxi skirt:
Select a Good Fit Maxi
One must choose a skirt that fits her perfectly. Maxi skirts are considered to be trendy and gorgeous pieces of women's wear. It becomes more attractive if the wearer chooses one that fits her well. A good fitting maxi flatters a woman's figure.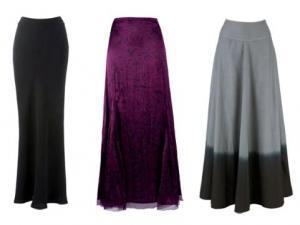 Wear a Printed Variety
It is advisable to don maxi skirts with beautiful prints as the latter make these long skirts more attractive and easier to match with. Printed long skirts are best paired with plain, neutral-colored blouse and large accessories. Women who wear such an ensemble typical exude glamour and style.
Long skirts with prints offer lots of chic in a woman's style. This outfit is ideal for edgy ladies who put on heavy and sophisticated makeup, while exhibiting a positive attitude.
High Slit Maxi is a Scene Stealer
Women who love to grab attention through their clothes can wear long maxis with a high slit. This attire is perfect for evening or cocktail parties as they are meant to enhance an already perfect piece. One needs to match it with stylish top as well as large accessories. Remember to finish off such a glamorous look with a sassy hairstyle.
Accentuate with a Scarf
Stylists recommend that women wear a scarf to accentuate the modish look of the maxi skirt. Scarves are a great way of putting more life into the skirt. They effectively flaunt one's pretty features as well.
With the maxi skirt trend, a woman has the chance to wear an attire that flatters her body, whatever type or size it might be. Donning a simple and attractive top matches the piece well. Finally, the look is accentuated with proper accessories. If she wants to flaunt the total look, she can use a pair of high heels. This makes her maxi skirt attire perfect and complete.
Image Source: Google Images