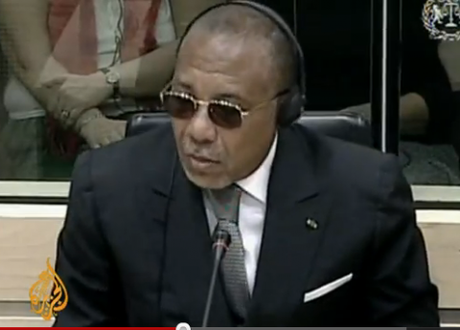 Charles Taylor on trial in The Hague: Guilty verdict
Former Liberian leader Charles Taylor, 64, has been found guilty of aiding and abetting war crimes at the Special Court for Sierra Leone in The Hague. He'd been on trial for nearly five years, reported the BBC. He was convicted of 11 counts of terror, murder, conscripting child soldiers and rape. He was cleared of ordering the crimes, which took place during Sierra Leone's civil war (1991-2002), as whilst he had given support to the Revolutionary United Front rebels by selling them arms in exchange for blood diamonds, he hadn't commanded them. The RUF was known to hack off peoples' limbs, to abduct girls, commit wide scale rapes, to force children to fight after they'd killed their parents.
Taylor's defence lawyer, Courtenay Griffiths, said that the trial hadn't been fair, since it was motivated by "political imperatives". The judges, however, had been ready to examine closely the initial charges that Taylor had micro-managed everything in Sierra Leone. The prosecution called 94 witnesses, reported the LA Times, including Mia Farrow and Naomi Campbell, who was questioned over a dinner party in 1997 where she received rough diamonds, which were eventually used as key evidence against Taylor.
Taylor is the first former head of state to be convicted in an international court since the Nuremberg trials. He will serve his sentence in a British prison.
Commentators agree that his conviction poses a warning to similar tyrants (read about some others here on Periscope.)
"While today's conviction brings some measure of justice to the people of Sierra Leone, Taylor and the others sentenced by the Special Court are just the tip of the iceberg," Amnesty group's Brima Abdulai Sheriff said in a statement.
Victim Jusu Jarkar said: "This is a happy day. I have not been able to do many things because my arms were cut off, but today I am happy," quoted on the BBC.
The case for international war crimes law. Jon Silverman, a Professor of media and criminal justice, analysed the trial on the BBC: the most important thing is that it proves that "a serving head of state was not immune from prosuection." We can see this in the indictments of Omar al-Bashir, the President of Sudan, and Laurent Gbagbo of Ivory Coast, as well as Jean-Pierre Bemba, former vice-president of the Democratic Republic of Congo. And, in contrast to the "squalid ends" of Saddam Hussein and Muammar Gaddafi, these indictments are a "relief to those who argue the case for the integrity of international war crimes law."
The case for Charles Taylor? Not everyone was happy, though. Voice of America quoted Jewel Howard Taylor, a senator in Liberia, who was married to Charles Taylor. "I can only speak for what I saw and I did not see any connection," she said. "But I don't think he should be held responsible. I still don't see the connection of how he could be held responsible for those things done in Sierra Leone when they were actually done by Sierra Leonean armed forces."
What will the consequences be? The LA Times said that whilst the trial sent out a "powerful message to other warlords," it "also highlights what can be a wrenching tension between pursuing justice or pepace first." Taylor's conviction could encourage other tyrants to fight to the death rather than face such a trial; it will also have little effect on, say, Syria's President Bashar Assad – but it might convince those around him to defect.
Watch your backs, tyrants. The war in Sierra Leone, said Con Coughlin in The Daily Telegraph, made "some of the most barbaric images of cruelty we have seen in modern times." Human intestines were "strung across roads, foetuses removed from women's wombs and cannibalism openly practised." But the conflict soon "passed from our consciousness." Even so, Taylor's verdict is a "major breakthrough in the global effort to bring war criminals to justice." So Assad, and Robert Mugabe in Zimbabwe, had better watch out: "they, too, may one day be forced to pay for their crimes."
There's still much more to be done. But don't forget Liberia and Sierra Leone, said Paul Seils on AllAfrica. Both countries are "grappling" with Taylor's "terrible legacy." There's still much to be done in achieving accountability, fully rehabilitating the victims, and restoring civic trust. The citizens of Liberia must "truly believe that the past is really behind them."