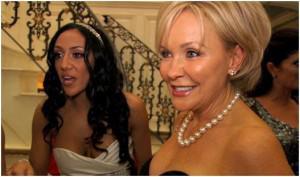 You're as cuddly as a cactus, and as charming as an eel, Mrs. "G"…
Even as QVC's Christmas In July jingled on for over 48 hours this weekend, apparently selling anything that could be fabricated utilizing easy pour plastic molds, LED lights and fake snow, The Real Housewives Of New Jersey had to, of course, one up them by donating another hour of Christmas sugar cookies and smack downs for our viewing pleasure.  There was so much Joisey Holiday Joy packed into one hour that it was literally busting out over the top at a greater intensity than Melissa Gorga in that party dress.  It was no wonder that Melissa  had someone else push that Mean Kim "G" out the door, because she seemed to need both hands always at the ready in case her Disney Snow Princess bustier needed another tug.  You don't want to unleash any of that around a room full of vino and guido.  No you don't.
I guess to fully recoup the $50,000 for the intimate little Christmas gathering Melissa had arranged, Bravo TV dragged the whole thing out for another episode and let us witness additional proof that money doesn't buy you class.  With a home that boasts more square footage than the International Space Station, Joe and Melissa still managed to get everyone into one camera shot so we could watch them all pop off on Kim "G" for showing up to the party with one of no doubt multiple lawyers who are suing Teresa and her husband.  After booting out the lawyer, they all smelled Kim "G" blood, or Dior eau de perfum, in the water and went in for the kill.  First they all circled and poked her with their noses and then one of the generic Italian Manzo boys dragged her like so much meat out of the house and sent her back home, with bodyguards and driver in tow, until her next 15 minutes get filmed.  And who brings a bodyguard to a party, when no one outside of the cast even knows who you are?  I doubt that her name is high on the Celebutante Abduction List.  Relax, GDawg.  You could get your 2am Central Park jog on and I'm pretty sure no one would bother you.
But nothing says Italian Holiday more than blatant excess and unattended children.
Both were running rampant through every home in the neighborhood this week.  Teresa seems to take pride in over dressing and over stuffing her three little girls into as much tulle and red faux fur as she can, until they stumble out of the bathroom looking a lot like an odd Holiday mash-up between a Victoria Beckham wedding hat and Grover from Sesame Street.  The littlest one, I forget their names and who is who…Milania, Bologna, Begonia, Ammonia…I think I just invented a new drinking game.  Anyway, the littlest one was completely wrapped up in what I think was one of those My Big Fat Gypsy Wedding dresses that involve about 47 yards of fabric, glitter and a hole for your head.  The middle one..take a shot if you can make another rhyme…spent most of the episode trying to torch the house by knocking over candles.  If you pause your DVR she has the same vague expression that Toddlers & Tiaras girls must have a day or two before they run away from home and set off an Amber Alert.
The big sister, who is an unusual mix of Teresa and Kirsty Alley, is beginning to figure out that her family is whackadoodle but is too young to actually know what to do with all that knowledge.  She is looking for love and stability from her family, her cousins and Uncle Joe and is destined to have her own People Magazine cover years from now, in that sad "What ever happened to TV's Blossom?" kind of way.
Melissa did finally change out of her Princess dress, but then immediately squeezed it all back into an inappropriate black number for Teresa's Christmas Eve Food Fight.  And of course, as she was getting ready, her unattended son was rolling around on the floor trying to escape to a peaceful spot under the bed.  Do any of these parents ever eyeball their children?  They either need to implant GPS on these kids, or put bells around their necks, because there were so many of them crawling all over each other at the parties that even I was losing track of who belonged to who in Who-ville.  Have you ever seen a log jam smashing down a tiny stream?  Or way too many dachshund puppies rolling over each other trying to get out the doggie door?  Just add some tulle and Burberry baby hats, and there you go.
There was also the usual secondary storyline about Cousin Kathy and something that didn't stick with me.  They are trying to get her some face time and make us care, but she is a little too nice for Bravo.  They recently air lifted her sister into the picture, because I don't remember ever seeing her, or her…umm…fashion sense around for the first few weeks.  This week she was dressed like a train conductor, I believe.  Other than that nothing really trended on Twitter.
Italian Holidays seem to follow the same criteria as does the opening of a new Walmart.
Build it, and they will come.  Italians were coming out of the woodwork at every house on the block.  There was more food and more gold jewelry than a Street Fair in the North End.  (They are all pretty skinny bitches for all the eating they do, come to think of it.)
Teresa donned what appeared to be one of her youngest daughter's skirts to show off her legs, all the while busting Melissa for showing off her boobs again.  Teresa's husband sat around like a Tool on a Home Depot shelf, talking smack about everyone else in the room.  Nothing was really any different except for the Nat King Cole cd playing on the Bose.
Other than that it was business as usual.
Joisey Joy To The World.