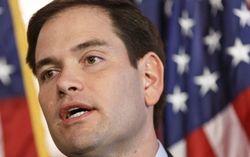 Interesting Crux piece on Marco Rubio:
Rubio wrote that Christ Fellowship deepened his relationship with Jesus, but that he missed Roman Catholicism. "I craved, literally, the Most Blessed Sacrament, Holy Communion, the sacramental point of contact between the Catholic and the liturgy of heaven," he wrote. "I wondered why there couldn't be a church that offered both a powerful, contemporary gospel message and the actual body and blood of Jesus." Starting in late 2004, he began to delve deeper into his Roman Catholic roots, reading the whole catechism, and concluding that "every sacrament, every symbol and tradition of the Catholic faith is intended to convey, above everything else, the revelation that God yearns, too, for a relationship with you."
Of the few who've committed to the 2016 race thus far, Mr. Rubio seems to be my frontrunner.
We shall see.