Hello lovelies,
In the past I have used a lot of Everteen products which cater to female hygiene and I have loved them and still use them daily.Just like body hygiene is important caring for the intimate area is a must in my opinion.About 10 years there was less awareness and hence many women suffered from vaginal infections and a host of other problems. Thankfully with brands like Everteen whose products are natural and safe there is nothing to worry about. Today I shall be talking about the newest product from their line called the Everteen Bikini Line Hair Remover Cream which I have tested and I am here to tell you more about my experience of the same.. Keep on reading to know more..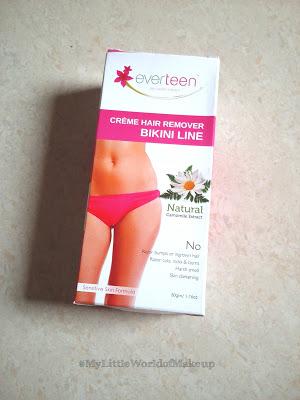 Price: Rs.149/- for 50g. Available online HEREIngredients: Ewax, Camomile, Cetanol, Liquid Paraffin, EDTA, Glycerine, Thioglycolic Acid, NaOH, Preservative, Perfume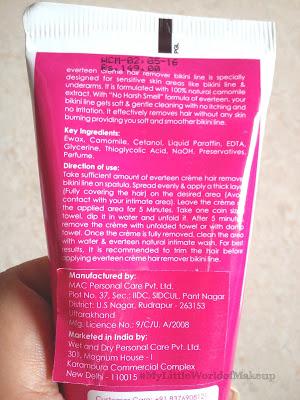 What does the brand say:Everteen Crème Hair Remover Bikini Line is specially designed for sensitive skin areas like bikini line and underarms. It is formulated with 100% natural chamomile extract. With " No Harsh Smell" formula of Everteen, your bikini line gets soft & gentle cleaning with no itching and no irritation. It effectively removes hair without any skin burning and provides you soft & smoother bikini lineFortified with natural camomile extracts, you can be rest assured that there will be 
No Razor Bumps Or Ingrown Hair

No Razor Cuts, Nicks & Burns

No Skin Darkening

No Harsh Smell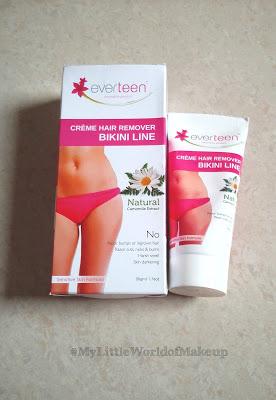 Packaging:
The creme comes in a cardboard packaging with all the instructions, ingredients and other information printed on it. Inside the box the cream comes in a squeezy opaque white tube, a spatula and two coin towels which need to be used when the product is used about which I will tell you later on.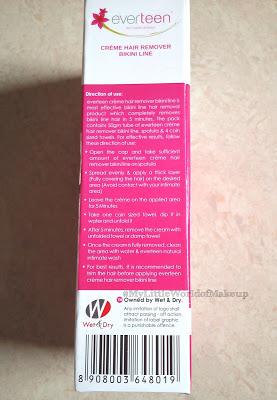 Points to remember before you start using the product (as mentioned by the brand):
Apply the cream as per directions mentioned in the leaflet only

Always do a patch test before going for complete hair removal, if there are no adverse reactions, then only use the cream for complete hair removal

Do not leave the cream for more than 6 minutes on the skin

Avoid the genital area (vagina) while applying the cream

Do not apply on skin which has been shaved in the last 36 hours

Do not apply over sunburn, broken skin, scars and moles

Do not use if you are suffering from dermatological problems or skin related disease

Consult your doctor if you are on any medication related to skin disorders before using the creme

Do not apply soaps and shampoos to wash that skin are after hair removal

After hair removal do not use perfumes, scents or deodrants on that skin area

Avoid contact with eyes, in case of contact with eyes, rinse the eyes with plenty of water. If some problem persists, please always consult the doctor.

If you feel uncomfortable or notice any unexpected sensation during usage, please remove the cream and don't use it

Keep out of reach of children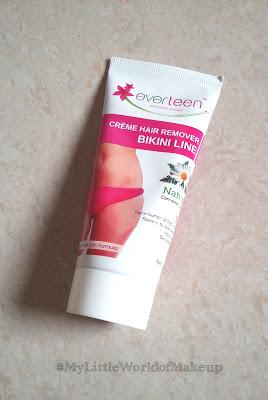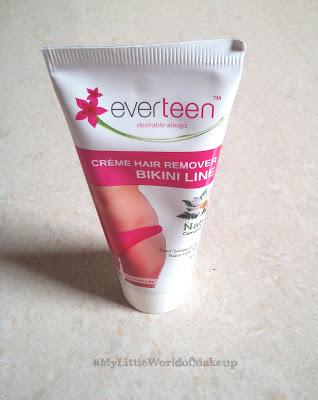 Every woman has a different method of getting rid of pubic hair and most common is shaving or waxing. During my teenage years I resorted to shaving but once the hair grew back they would be pokey and would cause a lot of itching. Coming to waxing gosh! I cannot handle the pain. So I have been trimming it regularly but also with great difficulty as I am not a thin and frail girl and my tummy comes in between :( So when I got to know about this product I was very curious and wanted to try it out. Now before you try hair removal make sure you trim your hair below for effective results. I did a patch test because I am very scared of these type of products as you are putting them close to your intimate area but then I have used Everteen products before and trust the brand so went ahead and tried it as instructed. The patch test was ok and I did not have any reactions or anything of that sort so I went ahead with the same.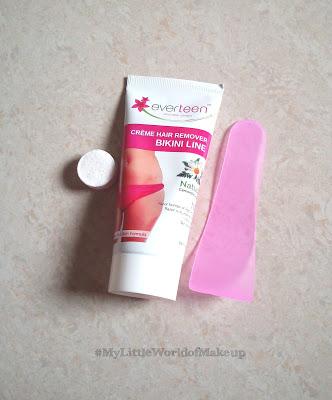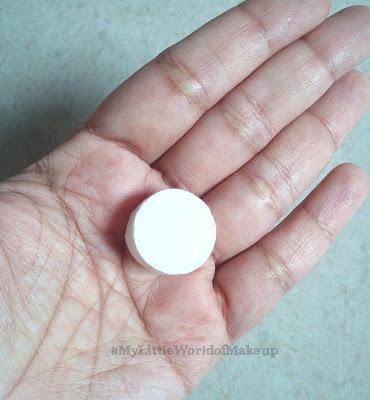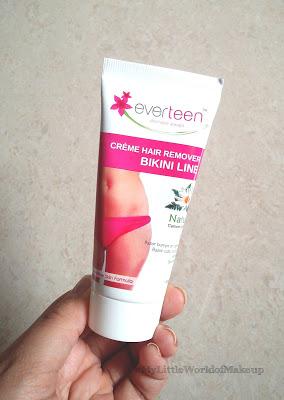 You need to apply a decent amount do not be stingy on the required area and need to wait for 5 minutes. The cream is white and smelled lemony yet mild.While waiting I dipped the coin sized towel in water so that it expands and is ready to use. Do not keep it more than 6 minutes. All the hair was taken off effectively by the spatula and used the wash cloth after that.The skin felt clean and hair free. Do not apply any cream or anything perfumy there. Since I use the Everteen Intimate Wash I did use it post hair removal and did  not have any problem. I suggest you buy one as well it is amazing. The main test was to see the hair growth. so it was  not pokey or coarse like I had experienced during my shaving days which I was happy about. This cream did a great job of removing the bikini hair without darkening the skin below, causing any allergy and getting rid of ingrown hair too. It is a trusted brand and hence I can safely say it is worth a try.
The Good:
Inexpensive
Easily available online
No harsh smell 
No skin darkening
Removes pubic hair effectively
Comes with a spatula and coin cloths
Instructions are clearly mentioned and easy to understand
Hair doesn't grow back pokey or coarse
Ideal for women of all ages
Safe to use
Travel friendly
The not so Good:
The spatula could have been of a better quality
Only key ingredients mentioned
Rating: 4.5/5
Everteen Bikini Line Hair Remover Cream is a safe, inexpensive and easy way of getting rid of unwanted hair from the bikini line/intimate pubic area. Say bye bye to pain and unwanted hassles after using this cream. A one of its kind product and a must have for every woman. I highly recommend☺
So what do you think of this product. Have you tried this product before or intend to after reading my post. Do leave a comment below would love to know your thoughts.
You can also check my other reviews from this brand below:
Everteen Intimate Hygiene Wipes
Everteen Natural Intimate Wash
Bareever Natural Hair Inhibitor
Until next time.. Take care xoxo

P.S: PR Sample** Unbiased Review