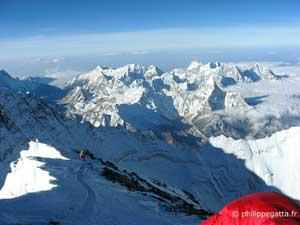 Everest Sky Race: Lizzy Hawker on the road to success …
Update from Bruno Poirier
Everest Sky Race (200 km, 11,000 m, 7000 m in a 9 day stage race) is taking place in Nepal. The route in 2011 sailed to the ancient valley of Rolwaling, a place "Terra Incognita" for Everest Sky-racers. From this remote place, the information coming in dribs and drabs. Yet it rains since the start of the Paths of Heaven … What is puzzling Chandra Gurung, the race director, the legendary crossing Tashi LAPS (5755 m). Collar "mixed" ice and snow where fixed ropes will be installed to climb with crampons and a climbing helmet for riders. Via satellite phone, some news came yesterday in Kathmandu, and on Saturday morning, 2 h 53, France. "All runners and walkers arrived in Na (4,200 m), the end of the fourth step, said Chandra Gurung. And Lizzy is always in mind … Here it's not nice and it is a little disturbing for the passage of Tashi LAPSA. According to weather forecasts, it should be sunny from November 8 … "
Today, the field of ESR is at rest and acclimatization phase in Na (4200 m). A hike at altitude (Yalung La, 5310 m), in order to perfect acclimatization, is the program this Saturday. Meanwhile, part of the organization in Nepal is in recognition of the Drolombao Glacier (4800 m), the high camp where runners and walkers should stay until the rise of Tashi LAPS (5755 m), scheduled for Monday. A "trace" may be made to facilitate the passage of the pack. A passage that will occur in two steps and start connecting to reach the Khumbu. If by chance, the pass was impassable, the race director has scheduled a timeout and Rowaling steps in the Valley. Subsequently, two solutions are considered. Either the peloton can finally join the Khumbu and it would then take the "direct route" to reach the base camp of Amadablam Base Camp (4570), site of arrival of the ESR 2011, whose end is scheduled for 10 in November. Either he would reverse to return to Kathmandu by a route back.
For now, it is therefore the English Lizzy Hawker who led a platoon of 30 people where six nations are represented: France, Nepal, Great Britain, Switzerland, Belgium and Italy . Lizzy is before the last two winners of the Everest Sky Race: Jorba Rai (2008) and Deepak Rai (2009). A woman leading a race in Nepal is the first time on the road to heaven, since competitions are organized in the Himalayas. In early years, Lizzy had already placed third overall in the 100 km Annapurna, behind two Nepalese. In 2007, with Stephen Pyke, she had connected the Everest Base Camp to Kathmandu in 3 days, 2 hours and 36 minutes. She knows very well the Himalayan trails. In short, except a return of Jorba and Deepak in the stages of high altitude – there are four more than 5000 meters after the Tashi Lapse – Lizzy Hawker is on the path to success on the road to heaven. A normal situation after all. Do not forget that Columbia is three-time winner of the UTMB version 100 miles, 2006 World Champion in the 100 km (7 h 29'12) and recent World record holder of 24 hours on the road (247.076 km) race that She also won the men before, during the Commonwealth Championships in late September. So who can really worry about, other than his shadow …
Everest Sky Race : Lizzy Hawker sur la voie du succès…
L'Everest Sky Race (200 km, +11.000 m, -7.000 m en 9 étapes) se déroule actuellement au Népal. L'itinéraire 2011 sillonne actuellement la vallée séculaire de la Rolwaling, un endroit " Terra Incognita " pour les Everest Sky-racers. De cet endroit reculé, les informations arrivent au compte-goutte. Et pourtant, il pleut depuis le départ sur les Chemins du Ciel… Ce qui laisse perplexe Chandra Gurung, le directeur de course, sur le franchissement du mythique Tashi Lapsa (5.755 m). Un col " mixte " de glace et de neige où des cordes fixes seront installées pour une ascension avec crampons et casque d'escalade pour les coureurs. Via un téléphone satellite, quelques nouvelles sont arrivées hier, à Kathmandu, et ce samedi matin, à 2 h 53, en France. " Tous les coureurs et les marcheurs sont arrivés à Na (4.200 m), terme de la quatrième étape, explique Chandra Gurung. Et c'est toujours Lizzy qui est en tête… Ici, il ne fait pas beau et c'est un peu inquiétant pour le passage du Tashi Lapsa. Selon les prédictions météorologiques, il devrait faire beau à partir du 8 novembre… "
Aujourd'hui, le peloton de l'ESR est au repos et en phase d'acclimatation à Na (4200 m). Une randonnée en altitude (Yalung La, 5.310 m), afin de parfaire l'acclimatation, est au programme de ce samedi. Pendant ce temps, une partie de l'organisation népalaise est en reconnaissance sur le Drolombao Glacier (4.800 m), le camp d'altitude où les coureurs et marcheurs devraient séjourner avant l'ascension du Tashi Lapsa (5.755 m), prévue lundi. Une " trace " pourrait être faite afin de faciliter le passage du peloton. Un passage qui se fera en deux étapes et en marche de liaison, afin de rejoindre le Khumbu. Si d'aventure, le col était infranchissable, la direction de course a prévu un délai d'attente et des étapes dans la Rowaling Valley. Par la suite, deux solutions sont envisagées. Soit le peloton peut finalement rejoindre le Khumbu et il prendrait alors la " route directe " pour rejoindre le Camp de Base de l'Amadablam Base Camp (4.570), site d'arrivée de l'ESR 2011, dont la fin est prévue le 10 novembre. Soit il ferait marche arrière afin de revenir à Kathmandu par un itinéraire de secours.
Pour l'heure, c'est donc l'Anglaise Lizzy Hawker qui en tête d'un peloton de 30 personnes où six nations sont représentées : la France, le Népal, la Grande-Bretagne, la Suisse, la Belgique et l'Italie. Lizzy est donc devant les deux derniers vainqueurs de l'Everest Sky Race : Jorbir Rai (2008) et Deepak Rai (2009). Une femme en tête d'une course au Népal, c'est une première fois sur les Chemins du Ciel, depuis que des compétitions sont organisées dans l'Himalaya. Au début d'année, Lizzy s'était déjà classée troisième au général de l'Annapurna 100 km, derrière deux Népalais. En 2007, en compagnie de Stephen Pyke, elle avait relié l'Everest Base Camp à Kathmandu en 3 jours, 2 heures et 36 minutes. Elle connait donc bien les sentiers himalayens. Bref, sauf un retour de Jorbir et Deepak dans les étapes de haute altitude – il y en a quatre à plus de 5000 mètres après le Tashi Lapsa – Lizzy Hawker est sur la voie du succès sur les Chemins du Ciel. Une situation somme toute normale. N'oublions pas que la Britannique est triple vainqueur de l'UTMB version 100 miles, championne du Monde 2006 du 100 km (7 h 29'12) et récente recordwoman du Monde des 24 heures sur route (247,076 km), épreuve qu'elle avait également remporté devant les messieurs, lors des Championnats du Commonwealth, fin septembre. Alors qui peut vraiment l'inquiéter, hormis son ombre…