Omg omg omg omg it's fan girl mode on – I mean, how often is that I get to interview a super K-celeb upclose?! At Etude House's official opening of their Wisma Atria outlet (which also happens to be the largest flagship store in the world!), I had the awesome opportunity to interview Pony (aka Park Hye Min).
If you don't know who she is – well, she's got killer makeup skills and can make herself look like anyone, from Hyuna to Elsa of Frozen and even Scarlett Johansson, and is the best-selling author of 5 books with super makeup tips! -goes into hysterics-
Before I dive into the interview, here's what went down at the opening event yesterday.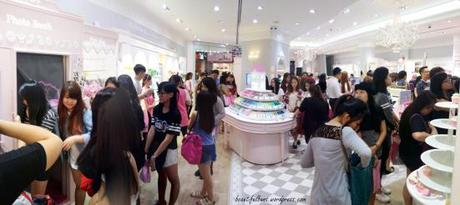 A huge, huge sprawling store with so many different little nooks and crannies – the nail area, the lip area, the wall of tips that you can take home (finally,
the concept from Korea is available here!
). There's even a DIY photo booth for you to capture your inner princess, a ball dispenser machine for you to exchange your tokens to form a charm bracelet, and more!
P.S: What I love is the lighting – it's not the yellow ambient type that so you can test and swatch the products and see the results more accurately.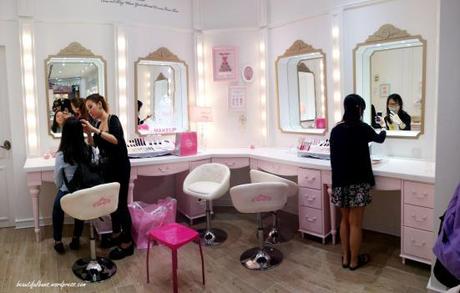 A little princess corner
:D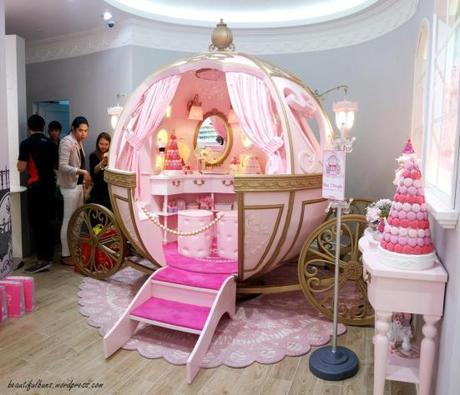 And a life-sized princess carriage omg.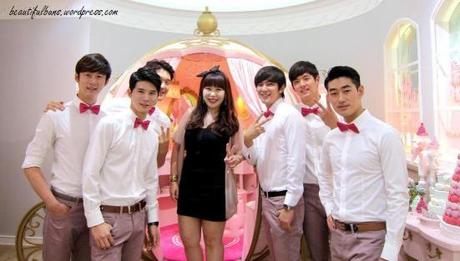 Me being a nutter and somehow managing to gather all the boys in one corner to take a photo with them – these 6 Korean male models were flown in specially for this event hohoho.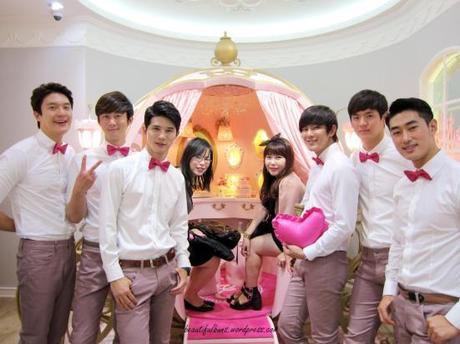 And another shot, this time with Jerlene from Musicalhouses – love this girl much!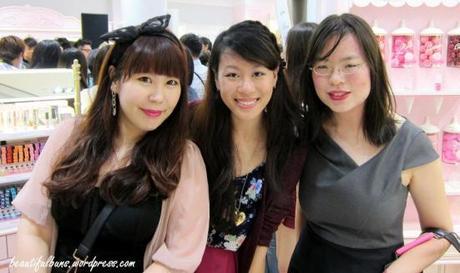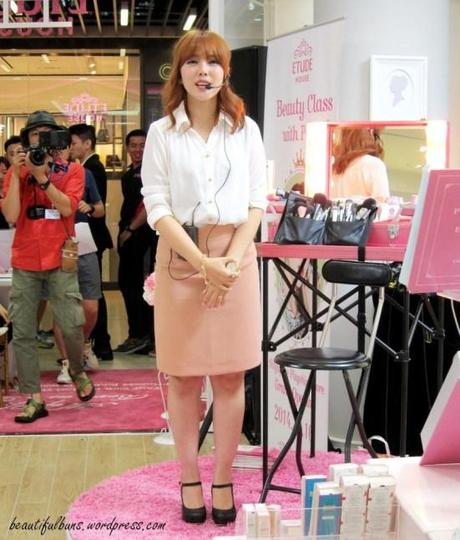 Enough tomfoolery – it's time to see the star, PONY! YAYYYY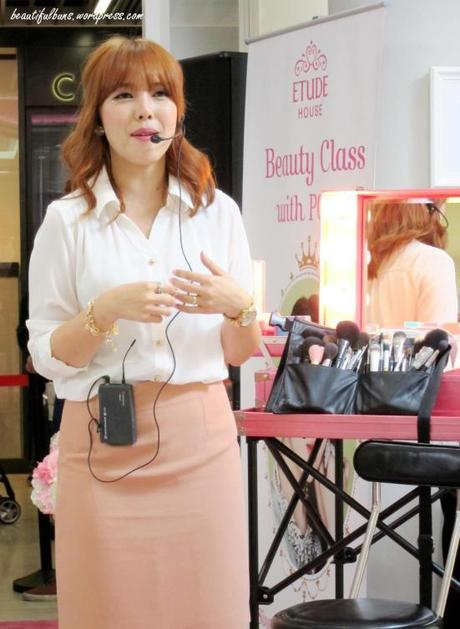 Is she not the most gorgeous ever?! What's more, I love that she has some meat on her – she's not a stick~xoxo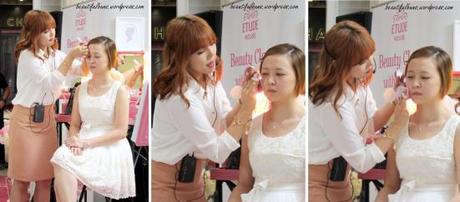 Starting the Party Makeup look
Beauty Tip from Pony: To get a more natural coverage for your undereyes, use the sides of your puff (instead of the flat wide surface) to pat the powder on. This allows you to get a more natural finish that is also closer to your lashline.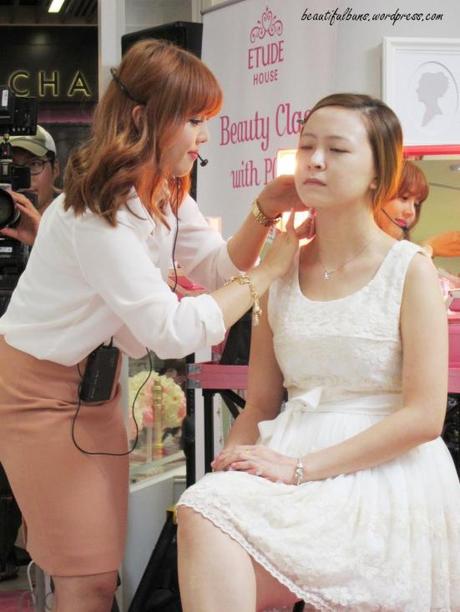 Beauty tip from Pony
: Don't forget to apply your makeup onto your neck to even out the color. Note here that she's using the new Etude House Magic Cushion in Lavender (to brighten sallow yellow-toned skin) on both the face and the neck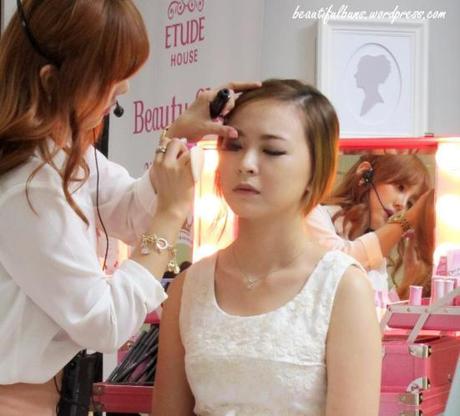 Beauty Tip from Pony:
Apply the mascara (she's using the Shockcara here) in tiny zig-zag motions to avoid mascara clumps.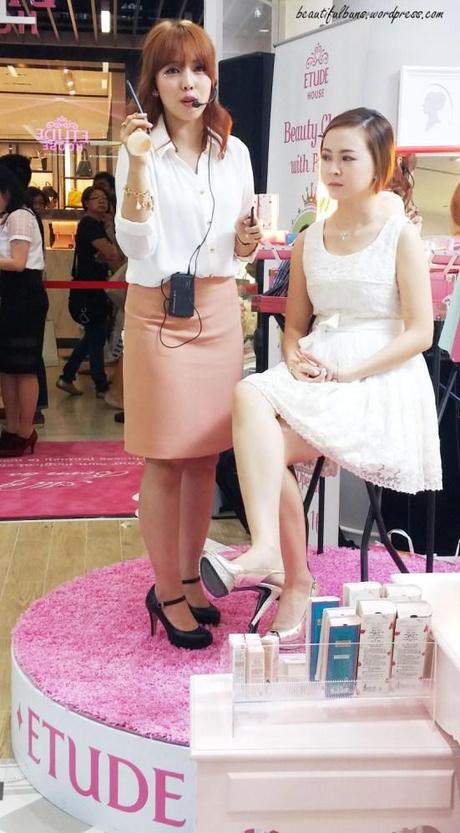 Using one of her current favorite items, the
Etude House Play 101 Pencils
(which come in 50 shades and can be used for almost the entire face, from eyeliner to eyeshadow to lips and even concealer).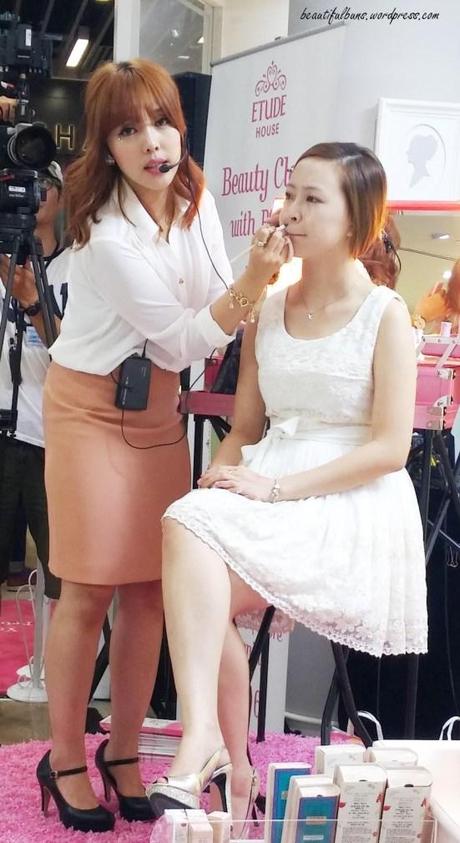 Beauty tip from Pony:
Don't forget to apply some concealer near the corners of your nose and above the lips to get  more even finish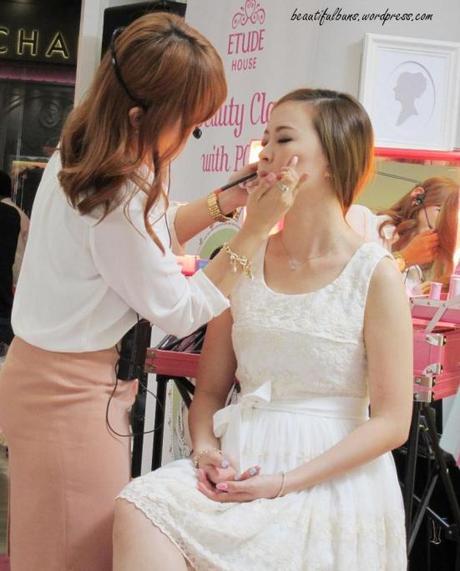 Beauty Tip from Pony:
Since the Etude House Play 101 Pencils are so  moist, if you're applying it to the cheeks, immediately blend it out before it dries out and makes it difficult to blend. The same goes for using it as an eyeshadow.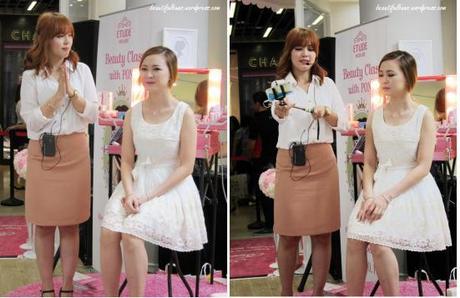 And ta-dah! The maestro is done! She even gamely used a selfie stick to take a wefie with all of us – I hope I get to see the wefie soon, cos I somehow managed to sneakily siddle up
right next to her
in the group shot hahaha.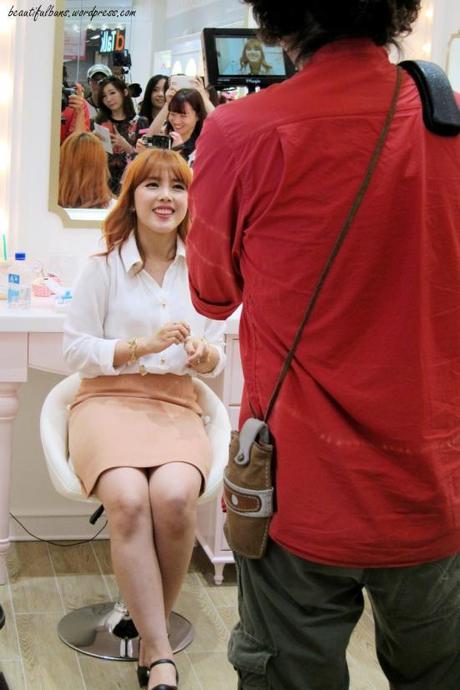 Pony taking a short rest while being filmed and surrounded by her adoring fans. Isn't she the cutest? I have insider knowledge that she was really tired but she still maintained such a professional and friendly front. I love!
At this point in time, it was time for my interview with her. -happy- It's time to let my journalistic instincts take over!
—
-EXCLUSIVE INTERVIEW WITH PONY-
Beautifulbuns (BB): As you can see, we're in the makeup boudoir area of Etude House's flagship store which is really princess in concept. Is your bedroom also themed in a similar princess-cute concept?
Pony: (looking slightly abashed) Not really. I'm pretty mannish in fact – I like big watches, nothing small and dainty. I don't have many clothes that are cute in style. My room is more organised, with everything within easy reach. In fact, I plan to introduce my room to my readers/fans soon!
BB: You've won hundreds of thousands of fans with your makeup abilities – of all the looks you've done, what's your favorite look so far?
Pony: The Krystal look where I wore a bright red wig – it was really fun! I've also recently done a Scarlett Johansson look, and I'm really feeling that too.

A doppelganger for Krystal

:D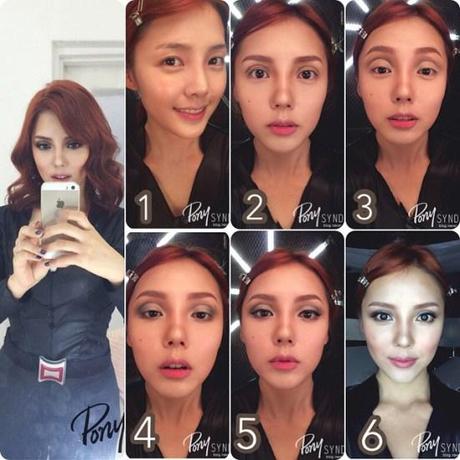 What sorcery is this?! Who needs plastic surgery when you have Pony's makeup skills?
BB: What would be a signature Pony look then?
Pony: A Pony look would encompass long eye lashes (falsies at times), and lots and shimmer and glitter. I'm not one for very vivid colours.

A myriad of Pony looks
BB: What are some makeup essential items that you can't live without?
Pony: At the moment, I'm so in love with the Etude House Play 101 pencils – they are multi-usage, easy to use, and come in such a wide variety of colours! I also love the Etude House Any Cushion. As you know, cushions are really popular these days because of their breathable and buildable formula, and this one gives all that along with even application. I prefer the Any Cushion over foundation. In addition, if I had to pick one Etude House product to live with forever, I'd go with their Cookie Blusher. I've noticed that most Asian girls suit the warmer tones better than the cool tones.

Some of Pony's favorite items – the Play 101 Pencils and Cookie Blusher
BB: Let's say you only had 5 minutes to prepare before leaving the house – how would you go about doing it?
Pony: I'd start with the Any Cushion – it brightens your skin, gives an even application and good coverage. I'd then go for point makeup by focusing on eyeliner and darker-toned, intense lip colours.
BB: What's the makeup trend in Korea these days?
Pony: Well, the weather is getting colder and drier and affecting the skin, so the ladies are opting for a moist dewy look. They will choose base products that are also high in moisture content so as to create an overall healthier skintone. Korean trends are pretty long-standing, so the long straight brows are still in trend.
BB: That's the total opposite of our hot and humid weather. Could you share some tips on how to make our makeup last longer?
Pony: Too much makeup will make your skin look dull, so try not to overdo it. I'd also recommend a sebum control powder to help absorb the excess sebum as well as make your skin look brighter. In terms of skincare, I'd recommend the Wonder Pore Freshner as well.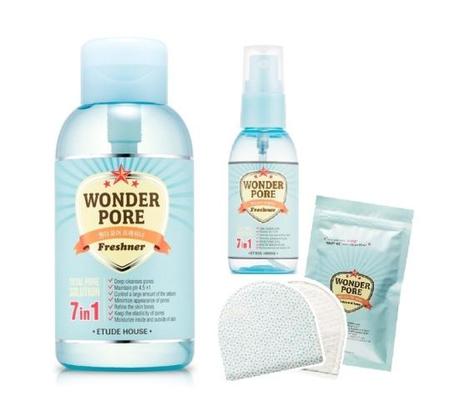 Pony recommends using the Wonder Pore Freshner to help stave off the onset of sebum production
BB: Your skin looks perfect, healthy and radiant! Tell us your skincare secrets?
Pony: The most important thing is to avoid stress. I also try not to do too many facial scrubs, and only do it before applying a mask/sleeping pack. Even when I do a scrub, I make sure to do it using light and soft massaging motions without applying too much pressure. I've always loved Etude House products, so one item I always use is the Etude House Moistfull Collagen Cream , as well as a facial mist to ensure that my face is sufficiently hydrated.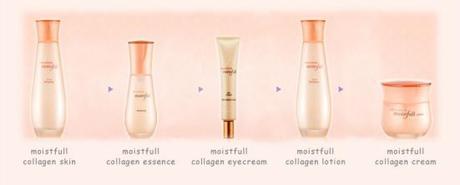 Want to get Pony's good skin? She uses Etude House's Moistfull Collagen Cream
BB: Your makeup skills are so awesome, but unfortunately, the rest of us aren't that blessed. What's one major makeup faux-pas we should avoid?
Pony: In my mind, makeup should always be balanced. You should view your face as 100% in its entirety, and split it into portions – the eye zone, the cheek zone and the lip & chin zone. If you're going to apply a lot of eye makeup, that'll make up 50%, so you should split the remaining 50% between the cheeks and the lip & chin zone (aka not as bright / intense). Similarly, if you're going to focus on the lips with a vibrant red, then tone down the cheek and eye colours. It may sound a little complicated, but to me, that's the easiest way of going about it.
BB: Last but not least, what would you attribute your success to?
Pony: (laughs sheepishly) I'm not too sure though. Perhaps it's cos I go out of my box and do things beyond the Korean culture – venturing into Western looks and trying everything?

—
And that's the end! By this time, I was completely sold – as in, I always view a person's attractiveness by their personality. It doesn't matter if you look like Angelina Jolie but are two-faced and only are nice to brand people and not PR people (here's a snarky jibe at certain "top bloggers" in Singapore) – I will still think of you as attrractive as that ass in Shrek.
But Pony – she's a completely different matter -sure,  she's already gorgeous, has flawless skin, has perfect features and is super popular. And yet, she is still so down-to-earth, sincere, sweet, endearing, engaging, humble, accommodating, and ultimately super professional despite being exhausted. This really elevates her to a whole new level in my book. What's more, she even spoke nicely to me and told me that she would remember me hahahah.
I AM NOW YOUR NUMBER 1 FAN!
You can check out more of her looks on Instagram @ponysmakeup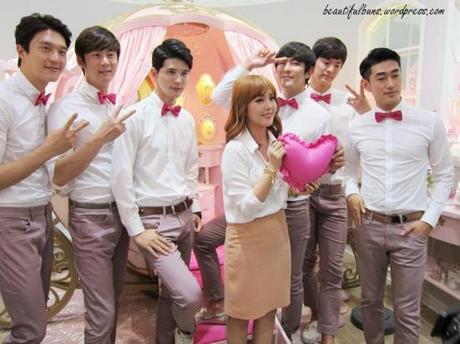 The last few shots of Pony before she finishes for the day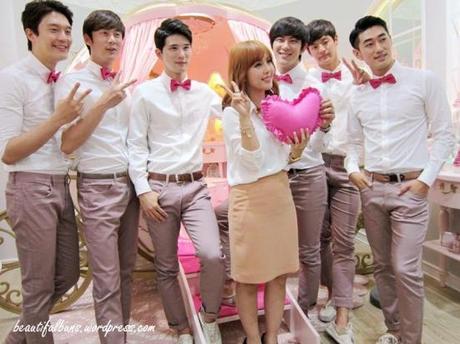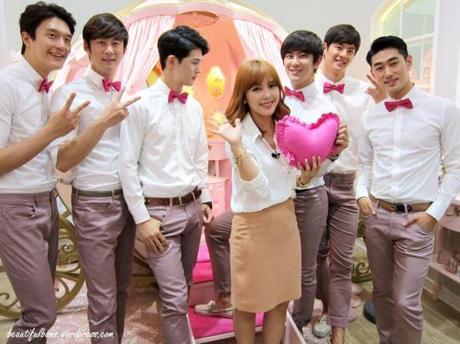 And yay! She looked over specifically to my camera hohoho.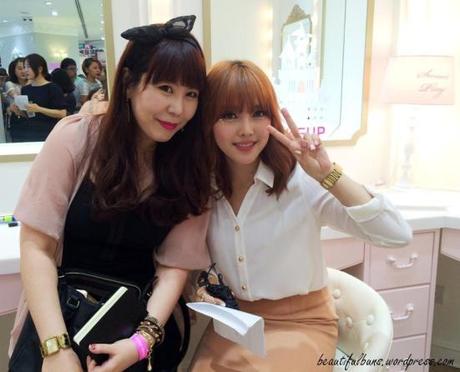 A shot with her.. but she gamely suggested that we take a selca. She loves selcas infact!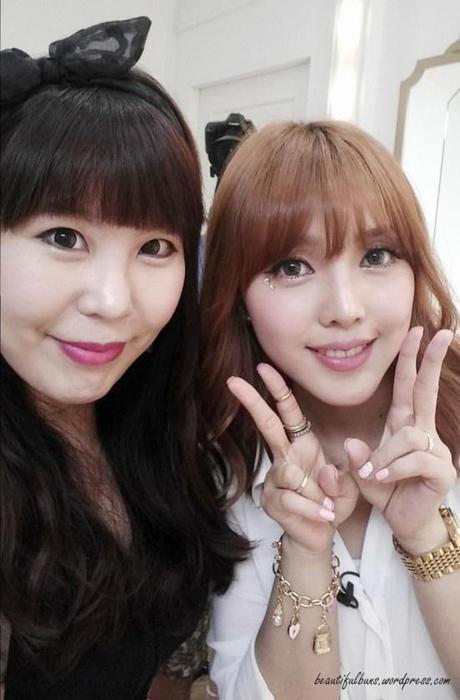 And the money shot of the day – MY OWN SELCA WITH PONY!
—
Shopping specials:
If you're heading down to take a look, you might wanna get some of these super affordable and worthwhile sets.
17 & 18 October: Etude House is offering 20 limited sets of Shinee's latest autographed CD Exclusive Bundle Set for $120 (UP $128), and this set consists of:
Shinee's latest autographed CD album
Wonder Pore Freshner 500ml
Wonder Pore Soap
8 pcs of the Play 101 Pencil
Play 101 Pencil Case
Wisma Flagship Store Exclusive Sets (while stocks last)

Looking to buy any of their star products? These special sets each come with complimentary Moistfull Collagen Skin (80ml) and Moistfull Collagen Lotion (80ml) products!
Precious Mineral BB Cream set, $25.90 (UP$44,50)
Precious Mineral Cushion Set, $29-34 (UP: $47.60-52.60)
Correct & Care CC Cream Set, $25.90 (UP: $44.50)
Wonder Pore Special
With every purchase of a Wonder Pore Freshner ($32), you'll receive a free Wonder Pore soap worth $15.
Limited edition eyebrow pouch
Spend a minimum of $30 and if this amount includes any Etude House eyebrow product, you'll receive a limited edition Eyebrow Pouch.
Congratulations to Etude House on the opening of the largest flagship store in the World!
Here's what it looks like without the ginormous crowd :D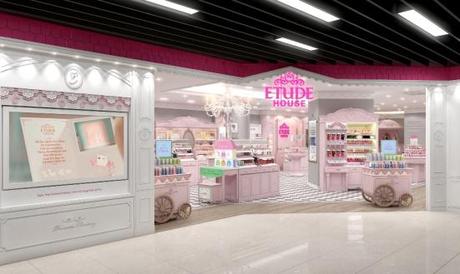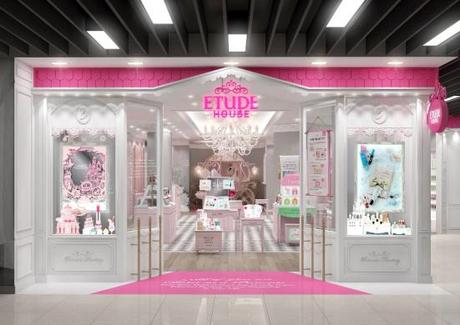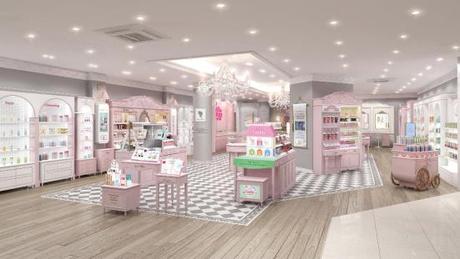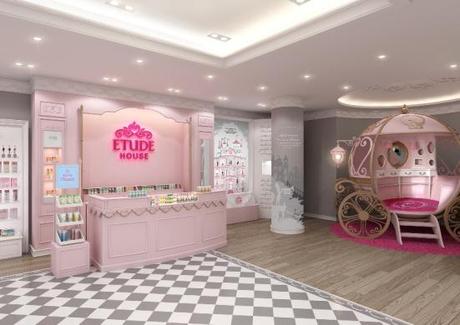 Etude House is located at Wisma Atria B1-20. Open from 10am to 10pm.