VWery good beer & food!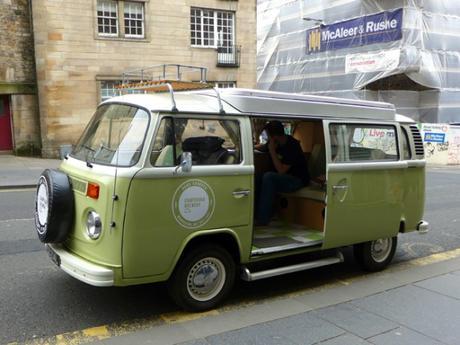 Thee Campervan!
The Canons' Gait at 232 Canongait in Edinburgh's old town has been there for years but we only made it in for the first time recently. We thought that it was just another run-of-the-mill tourist pub on the Royal Mile but have discovered that it's actually modern and welcoming inside with a strong focus on Scottish craft beer, as evidenced by the selection on tap, the list of breweries and their inception dates on the wall (if you're heading downstairs) and the introduction of monthly beer & food pairing nights.
Shortly after our first visit we booked ourselves onto the next such night where we were introduced to the beers of the Campervan brewery, who despite brewing for around a year and a half, we had somehow managed to miss until now.
Paul Gibson, founder of the nomadic brewery who brew out the back of a campervan – well, actually that's not quite true (yet?!)…he creates small batches of beer in his garage in nearby Stockbridge, which is also the best area in Edinburgh to find his beers as a number of local pubs are supplied, but he does have a branded VW campervan named 'The Hoppy Camper' (or 'Olive' to his kids) – was there on the night to talk us through the beers and tell us how he came to brew in the first place as there's more ups & downs and twists & turns than your typical Scottish B-road into the countryside. Best reading the story from the man himself here.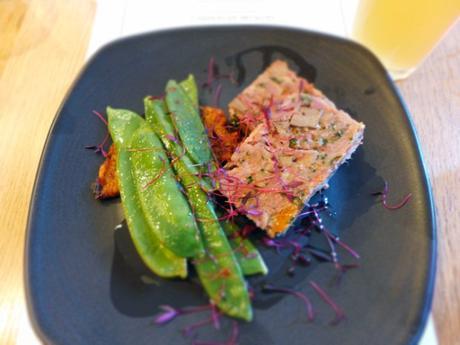 Smoked ham hough
And so onto the food and beer: First course was a Kraken-glazed smoked ham hough and lambs liver terrine, apple rosti, chilli and lime mangetout paired with Wheat Revenge.
This dish was pleasantly smokey with a good kick that crept up – I didn't think it was that hot while eating it but at the end I could certainly feel the burn! The lambs liver was surprisingly light tasting in comparison to the spicy and smokey flavours. The Wheat Revenge was pale and cloudy with a thin head, sour lemon/coconut aroma and a lemon/pineapple taste. It wasn't too sweet nor too sour and was actually pretty light and unlike a typical wheat beer. The beer went pretty well with the ham hough.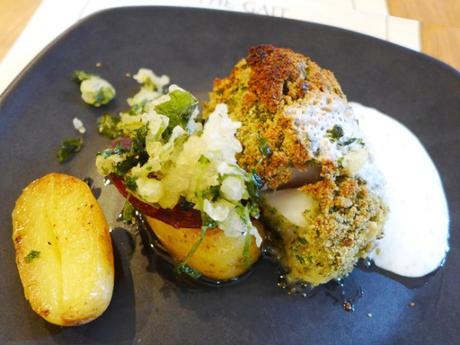 Herb crusted cod
Course 2 was Fresh herb-crusted cod, chorizo crisp, soured buttermilk, potato, fried pea shoots paired with All Shook Up. A herby coated slice of fish always goes down well with me and cod, which can be bland, was certainly awoken with the potent chorizo and the tatties were perfect. The beer had a noticeably sour aroma and was pale, cloudy and lively with a patchy head. The taste was sour with notes of pineapple & coconut (totally tropical again!?). This beer was made with champagne yeast so was more akin to a gose or even cider but not as tart and was pleasantly gulped down with the fish.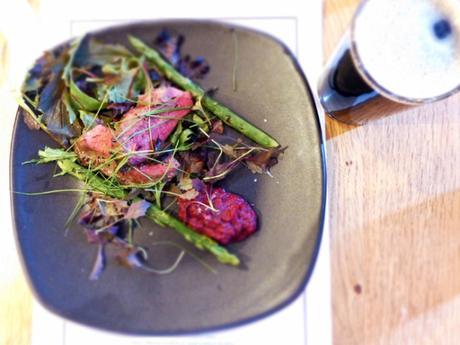 Seared wood pigeon
Course 3 was Seared wood-pigeon, chargrilled asparagus, beetroot and vanilla purée, exotic leaves and baby herbs paired with Mutiny on the bounty which is an attempt at making a liquid Bounty bar with a thin head, black colour, coconut aroma (again!) perhaps even a slight hint of curry – a bit like a peshwari naan and a dark chocolate taste. It was good though a bit thin and unfortunately the beer and food didn't pair well – I gather that this wasn't the original, intended pairing.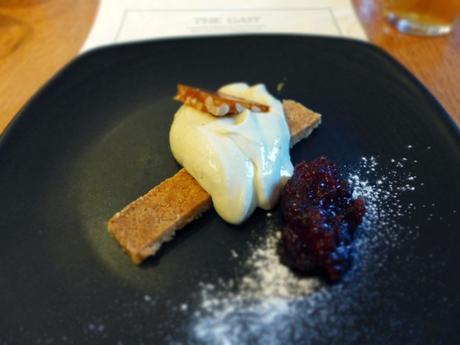 Blue Murder cheesecake
Course 4. Blue murder cheesecake, sour cherry confiture and walnut brittle paired with Blonde Voyage. Interestingly, the only other place we've had a blue cheese cheesecake was at Wedgewood, just across the road, and while blue cheese cheesecake probably isn't to everyone's tastes I enjoyed this deconstructed effort with tart fruity cherry and crunchy brittle. The beer was blonde, cloudy with a thin head but plenty of life, a mild hoppy/slight countryside aroma and a mild bitter taste – this was a competent sessionable beer.
For each week of the Fringe this August there will be a different brewer in for beer and food matching, so 4 in total. Tomorrow, the Gait will host Fyne Ales from Cairndow and this time there will be an option of 4 paired courses with beer for £20 or 6 for £30, in fact, there will be a Fyne Ales tap takeover from 4th – 10th August with up to 12 different beers available. Further details on their website: www.gait.bar or phone the bar to reserve a place on 0131-556-4481.