So as you may (or may not) know, I'm in the running for Best Beauty Blog this year [under the Singapore Blog Awards 2014] and am one of the top 10 finalists – throws confetti on self-. If you haven't voted for me yet, please do so, once a  day! I may not have beauty products to barter for your votes -ahem-, but you know what? I know you readers, like me, have much loveeeeee. So show me some lurveeee baybehs!
Weird off-topic ramble aside, here's a workshop I attended a couple of weeks back for this Best Beauty Blog award thang. Essentually, it was an introduction to Panasonic's Beauty products, and a short crash course on how to be fabulous – kinda like a Prince(ss) Charming wielding a sword-hair-curling tong. Hi-yaaaa!

I be checking out everyone's sexy back hurhurhur. So pervo.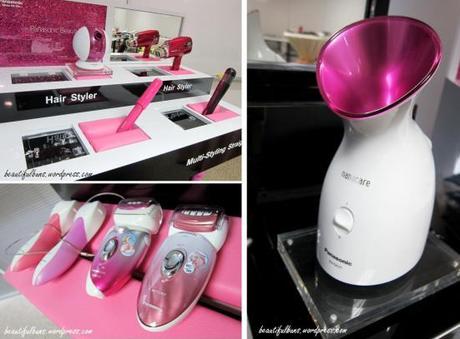 Placed around the room – Some of Panasonic's Beauty grooming tool.  I love that they're all in hot pink and so distinctly bright and spunky. Here, they have a Face & Hair Ioniser (which I have in my office!), epilators, hair straightening / curling tongs, hairdryer (which emits nanoe for moisturised and healthy hair) as well as a face steamer (review to come soon!)

Back to the topic: Hong Ling, hair maestro of the day will be showing us 3 looks that you can achieve using simply the hair dryer and the Nanocare hair straightener, which (when you are bestowed with the correct knowledge), can be used for hair curling as well.

The sideswept wave created with just a couple of bobby pins as well as some nifty handwork in braiding the hair.  Now I've got sausages for fingers, so I wasn't about to attempt this. Instead, I decided to recreate another look
:D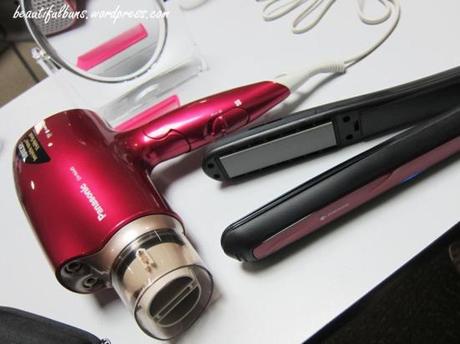 My selected tools of the day –  a hairdryer which emits nano (which I'm currently using everyday), while the hair straightener is the brand's newest baby – The EH-HS95-K Nanocare Hair Straightener.
Now those who've been following my blog will now that like my buns, I like 'em big and bouncy. So obviously, I put the hair curling claims to test – to see if I could get big and bouncy curls. -challenge accepted-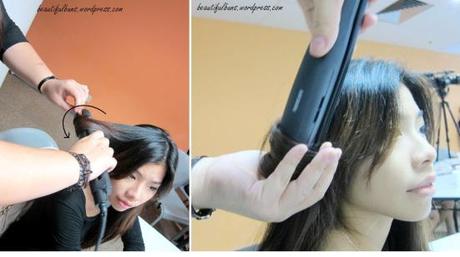 Hong Ling showing us how to curl your hair using a hair straightener – section your hair, grab a bunch in between the plates, and curl it towards you (follow my arrows). P.S. Notice the dry ends of my model's fringe – now mentally imprint that into your mind for now. Imprint imprint imprint.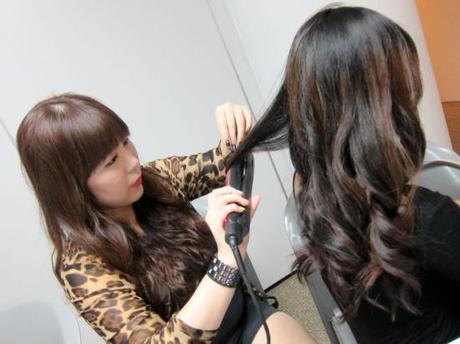 Le amateur me coercing Belle into being my hair model – I can be such a tyrant lol

Holding the hair in between the plates, slowly keep curling and twirling the curler towards you. Make sure that the hair is firmly (but not too tightly) grasped between the two plates – in Singlish, I'd recommend that you "kiap" the hair between the plates.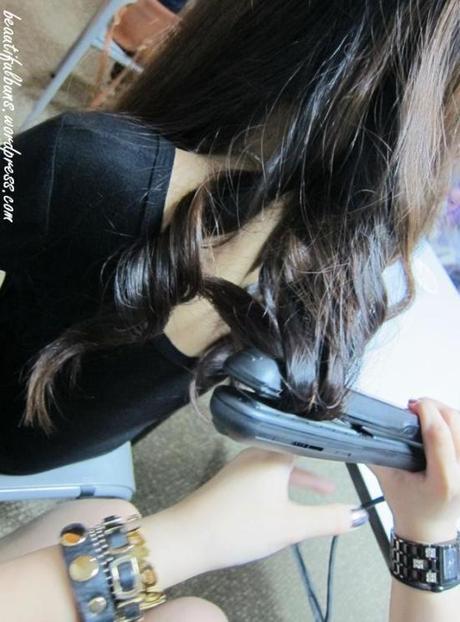 Simply keep twirling until the ends are also grasped in between the two plates, and then hold it there for about 10 seconds.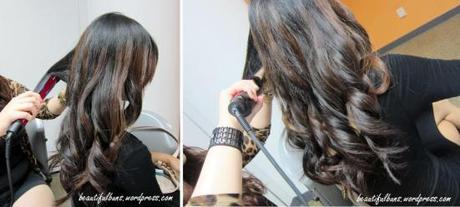 And voila! Doesn't her hair look absolutely vavavoom? Note: This is my
very first time
trying to curl someone's hair with a hair straightener!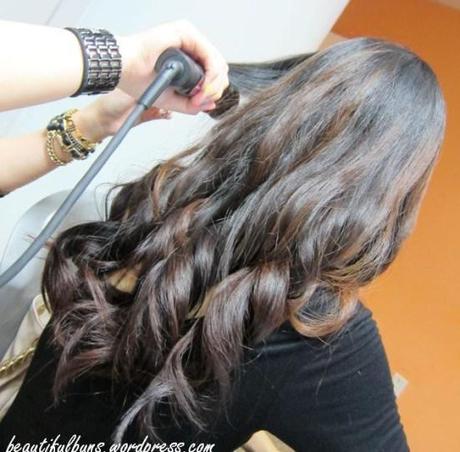 Notice the shine in the hair – the nanoe hair straightener actually infuses your hair with moisture so that it comes out even more hydrated than before. (It does make a strange buzzing noise when it generates the nanoe, so don't be alarmed)
Remember the nagging I was doing earlier about imprinting? No, not that whole Twilight imprinting thang – it's about the texture of her hair. Note now that her hair looks distinctly glossier, healthier and more moisturised? That, my friends, can all be credited to the Nanocare Hair Straightener alone. I didn't even sprinkle a drop of hair onto her. I'm pretty impressed!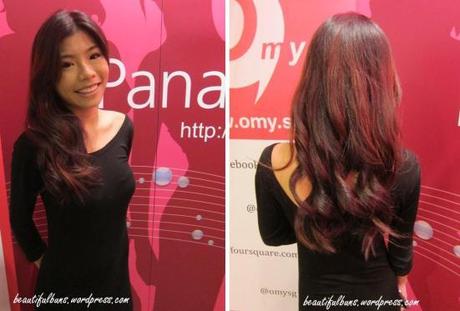 My uber gorgeous and ultra petite (I hate you, you're so pixie-like) Belle! The curls had gone down a bit cos I didn't use any hair styling product to hold it in place.
 And since we're at the photo wall, why not take a photo (or a hundred)? :D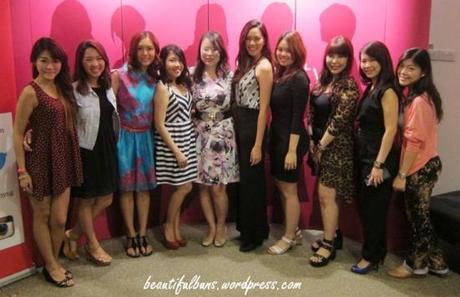 All 10 finalists in the photo! Can you recognize them based on their selfies in the voting page?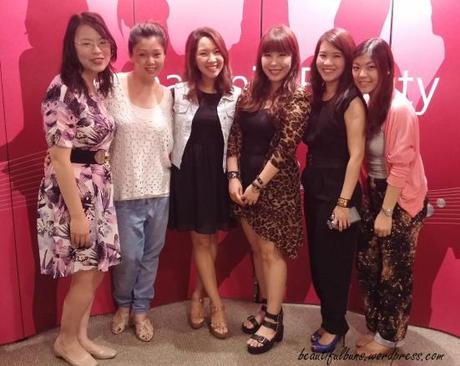 And here I am with beauty bloggers that I know , including the lovely Leanne (IG nick: Loveforskincare) who came along to support !
More about the product: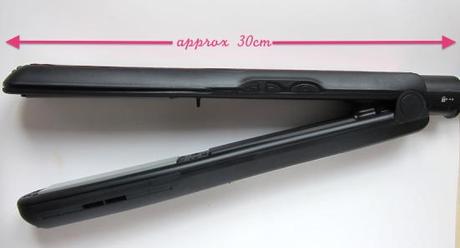 Panasonic EH-HS95-K Nanocare Straightener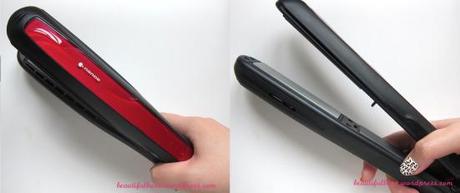 The size is pretty decent and gives a good grip. It's more convenient for righties cos the temperature control buttons are placed strategically on the left side of the gadget.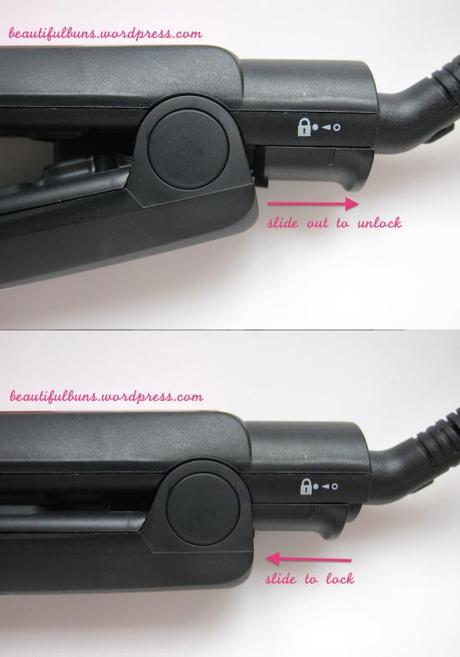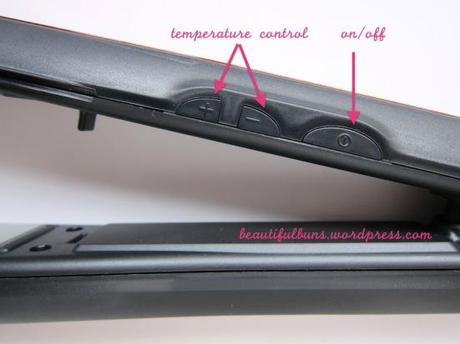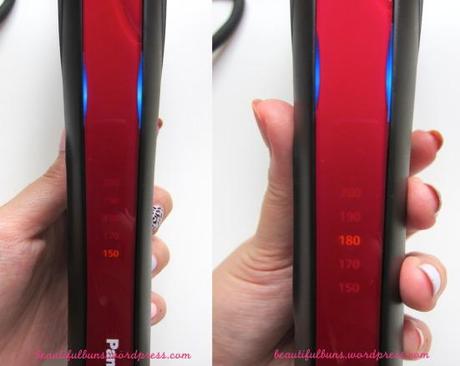 To achieve Belle's look, I set it on 180 degrees. There are 5 temperature settings.
It heats up really quickly, so you don't have to  leave it to sit on your table whilst you dawdle on drawing the perfect eyeliner. For klutzes like me, the gadget is actually smart enough to drop to a 170 degrees temperature after a period of non-use, so yay, I won't be burning a hole through my dresser table any time soon!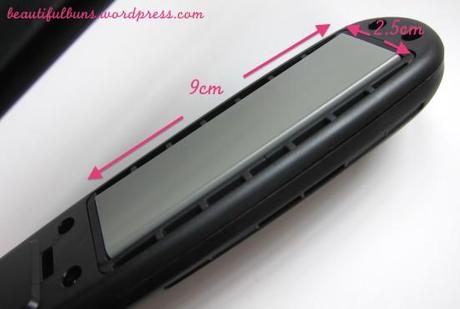 Ceramic plates that heat up really quickly. Somewhere here is also where the nanoe is emitted – nanoe has the 1000x more moisture content that normal ions. I am a new convert – I saw for myself how much moisture went into Belle's hair, and she literally went out with different hair texture (without even applying a drop of hair serum / product). If you're considering getting a hair style (be it for straightening or curling), I'd suggest you get this one. To find out more about the product, visit Panasonic's website or their Facebook page. 
I'll be doing up more reviews on Panasonic's products soon, so stay tuned :D Meanwhile, don't forget to toss me a vote or two since there's only 1 week left! Thankssss everybardy xoxo