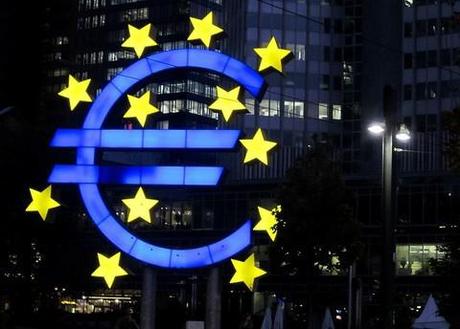 Not in the clear yet. Photo credit: Stephanie Jones http://flic.kr/p/awo1jA
Things are not going well in Europe, to put it lightly: Spain's prime minister, José Luis Rodríguez Zapatero, went hat in hand to the EU and the European Central Bank on Thursday, asking them directly for help as Spain's borrowing costs climb to unsustainable levels. Spain heads to the polls on Sunday, November 20, to elect the next government and it's widely expected not to be Zapatero at the reins next week; his supposed successor, Mariano Rajoy, however, kept quiet on his plan to avoid a bailout for Spain that would likely result in eviction from the eurozone.
In the short term, the ECB began buying up Spanish debt, but the worry that Spain will be the next country to fall victim to the sovereign debt disease, as well as rising borrowing costs for Italy and France, had European stock markets depressed and Asian shares closing lower.
Meanwhile, German Chancellor Angela Merkel and UK Prime Minister David Cameron met in person to defend their respective positions on the eurozone crisis – positions that have been largely played out in the media – on Friday, resulting in a pledge of friendship but no concrete plan. And pressure on eurozone leaders to get this thing sorted is growing, as Mario Draghi, the new head of the European Central Bank, criticized the delay in deploying the European Union's bailout funds.
On the positive side, Greece's budget deficit will fall more than expected, despite a shrinking economy, The Telegraph reported, meaning, the new government hopes, that new austerity measures can be avoided. And in Italy, new Prime Minister Mario Monti sailed through his first confidence vote with significant support, an indication that the new austerity measure will be on their way.
As uncertainty abounds and world markets continue their roller-coaster ride, the real question is what does the future hold for that glorious experiment, the European Union?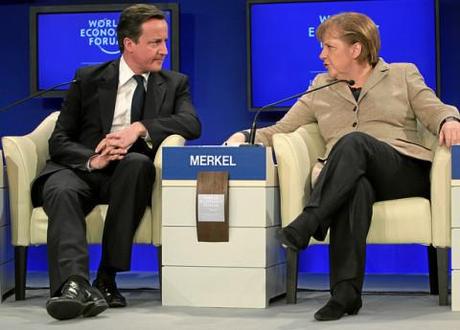 David Cameron and Angel Merkel: At odds. Photo credit: World Economic Forum, http://flic.kr/p/9hcox5
Cameron and Merkel duke it out. Cameron, who advocates Britain stepping back from the eurozone mess, but doesn't want to see a two-tiered Europe, and Merkel, who is demanding greater integration of all EU countries into the fiscal union, via a renegotiation of the Lisbon Treaty, met on Friday to hash out their differences. Not much hashing got done, The Guardian reported: Despite their pledges of unity and friendship, the two still disagreed over implementing a transactions taxand over Cameron's indistinct "big bazooka" idea.
Britain takes a bashing. Meanwhile, European political and economic leaders are chastising Britain left and right for its apparent lack of interest in saving the euro: Guido Westerwelle, Germany's foreign minister, in an op-ed for the FT clearly aimed at Britain and echoing what Merkel wants, declared that the only way forward is increased monetary integration in the EU. But the UK is supporting the euro, Jeremy Warner at The Telegraph complained: "There is a distinct 'them and us' mentality now colouring all aspects of European relations with the UK. You'd expect a crisis as deep as this one to strain things, but bizarrely, given that the UK Government has bent over backwards to support the euro in its hour of need, Britain is regarded with growing hostility and mistrust."
The old Europe is over. Europe can only be saved if it is completely reinvented, German magazine Der Spiegel claimed, citing several European academics and economists. And it needs a rescue plan: "The financial crisis is the turning point in the history of European unification. The old EU is finished. The 27-member bloc has never been as unpopular as it is today." New Europe will be far more integrated than the old Europe, if Europe's big thinkers have anything to say about it, more like a United States than the out-dated concept of a nation state. No two tiers about it.
Technocracy to the rescue? A technocracy is the exact opposite of the politicking politicians previously at the helms of both Italy and Germany, but that doesn't mean everyone is confident that leaders who seek to distill governance to a "a teachable formula", as Philip Collins put it in The Times (£) will be successful. "Technocracy is a suspension of democracy," he wrote. "[Italian Prime Minister Mario Monti] and [Greek Prime Minister Lucas Papademos] are a capitulation to the fallacy that there is a body of knowledge, somewhere in the ether above democratic politics, that is disclosed only to those in the know." Monti and Papdemos may be able to solve their country's problems, but after that, they need to exit the stage and let an elected leader take over.
Mario Draghi not pleased. Draghi, the new head of the ECB, wants to know what's going on with the European Financial Stability Facility, the EU's rescue fund, pointedly adding that "robust" economic leadership in the eurozone is needed. Eurozone leaders have been bickering over the central bank's role: France sees the bank as having a bigger role, while Germany warns that more central bank action could violate EU treaties. "Mr Draghi's comments highlighted how the ECB sees its contribution as strictly limited – and the initiative lying with governments," The Financial Times explained. Nils Pratley, writing at The Guardian, commented that Draghi's questioning is appropriate, given that the ECB now has the unenviable task of buying up European sovereign debt, the only thing that's keeping the lid on this meltdown and something should rightly be done by the EFSF. Draghi's comments then, are a "a firm hitting of the ball into Berlin's court": "It seems a reasonable thing to do given the size of bond purchases."
More on the euro woes

Berlusconi releases album of loves songs on last day in office
Berlusconi is out, Monti is in
Merkel, Cameron clash on EU future
How to save the eurozone – looking to Germany, technocrats