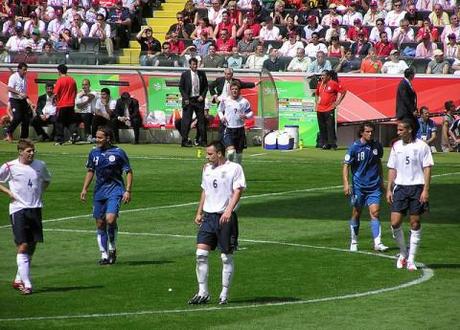 John Terry (6) and Rio Ferdinand (5) appear together for England vs Paraguay in 2006. Photo credit: Alex McGibbon http://flic.kr/p/fzT6D
The background
England's new manager Roy Hodgson announces his 23-man England squad for the European Championships at 13.00 today. According to widespread reports, Hodgson has already telephoned Manchester United centre-back Rio Ferdinand to tell him he'll not be on the plane to Poland and the Ukraine. Hodgson's apparent decision to omit the 33-year-old  is a massive call given the player's wealth of experience (81 England caps) and decent 2012 form for United.
Ferdinand's omission is a massive talking point as it is widely considered that he has has been left out partly due to his well-publicised rift with Chelsea's controversy-hounded captain John Terry. Chelsea defender Terry lost the England captaincy in February after allegations that he racially abused Ferdinand's brother, Queens Park Rangers defender Anton. He denies the charges and is scheduled to stand trial in July.
So, has Hodgson made the correct call by (seemingly) selecting 31-year-old Terry over Ferdinand? Will the new England manager wind up regretting taking Terry to the Euros or will it prove a hard-headed masterstroke? Here's the verdict from the key sports commentators.
Terry's (likely) inclusion is 'hugely controversial.'
Henry Winter of The Telegraph said that "the ebullient, popular Ferdinand will be missed" and that John Terry's "presence is hugely controversial." He predicted that "Terry's inclusion will guarantee a chilly air to the lunchtime debriefing, even with those of us who have long respected Hodgson … Those who have followed England for a long time know full well how highly regarded Ferdinand is and not only by Manchester United team-mates in the squad. If he has been sacrificed because Hodgson fears issues with Terry, who denies charges of racially abusing Rio's brother Anton, then the temperature will rise higher."
Terry can be divisive, destructive and a distraction
"Leave John Terry at home and be done with it," recommended Iain Macintosh at bet.unibet.com. "The England football team does not exist to serve Terry, to enhance his reputation or to protect his legacy," reminded Macintosh, who asserted that, "it exists to win football matches. While Terry the footballer can help in that regard, Terry the public figure cannot. In fact, the effect of his inclusion could be quite the opposite. His presence could be divisive and it could be destructive. At the very least, it will be an unnecessary, unwanted distraction.
"England are a mediocre, unprepared team in a deceptively difficult group. They need all the help they can get. They do not need the distraction of their former captain and his problems," insisted Iain Macintosh at bet.unibet.com.
Genuine football reasons for Ferdinand omission
Oliver Kay of The Times argued that there are "genuine football reasons for Hodgson to omit Ferdinand, who did not figure in Fabio Capello's final five matches as manager and who, at 33, has had enough injury problems in recent years to prompt Sir Alex Ferguson to suggest at the weekend that the Manchester United defender could not withstand the physical rigours of an international tournament." That said, Kay said, "those football reasons are augmented by the tensions" that have arisen between Ferdinand and Terry.
Here's the best of the Twitter reaction to Hodgson's decision, as selected by The Periscope Post.
Without Rio, England are defensively frail
Matt Lawton of The Daily Mail argued that the decision to omit Ferdinand "on football grounds alone" raises "concerns. Beyond Terry and Ferdinand, the center halves who seem most likely to go have no senior tournament experience." Lawton acknowledged that Joleon Lescott and Gary Cahill have "had fine seasons for their clubs" but reminded that "this will be some test for them this summer … Defensively, England look rather fragile as a result."