A review of Etat Pur's Salicylic Acid 70, one of my favorite skin care products!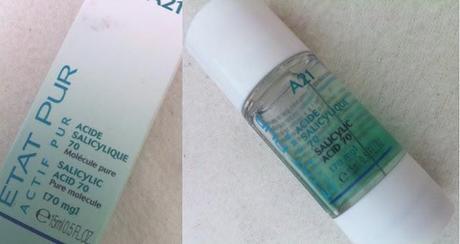 Etat Pur Salicylic Acid 70
Etat Pur are a brand that I was only aware of due to
BeautyGeekUK
and basically anything that is good with  BeautyGeekUK is good with me! If you're interested in skin care, especially for problem skin, you should check out her blog. Anyway, I had read about Etat Pur and thought that they might have the answer to my skin problems. 
At the moment my skin is 
absolutely
 terrible, I seem to have new spots every day so I decided it was time to do something about it! I'd tried a couple of face washes that hadn't made much of a difference so I thought a topical treatment might be the answer.
The main problems I had were blackheads, dry skin and the odd blemish, however my skin has stepped it up a gear in recent months and I've got full blown acne on my chin. It's super painful and doesn't look too pretty either. Etat Pur market themselves as offering solutions to everyday skin problems and on their website you can fill out a quick questionnaire, which will then identify products to solve your skin care needs. I identified my problems as blackheads and acne (ah the glamour eh?!) and one of the products identified that may help was the Salicylic Acid 70, which I went on to order.
On the Etat Pur website the Salicylic Acid 70 is described as having purifying, astringent and exfoliating properties that target impurities and regulate the PH of the surface of the skin. Sounds impressive eh? And guess what, it is a pretty impressive product! For me the real strength of this product is for targeting blackheads and evening out skin tone. When used on blackheads and enlarged pores the Etat Pur Salicylic Acid is like a little miracle in a tube. It is a gradual process but used regularly skin becomes more even and blackheads begin to shrink. What is really great is that it targets blackheads without drying out the skin. I have very dry skin and it isn't harsh at all. 
Although it does make a difference to my acne covered chin it isn't a miracle cure. However, I suspect if you have a few blemishes it would be great. I love this product, if it wasn't for my recent breakout I would consider this product the end to all my skin problems. It makes the skin look clear and even and has a great effect on blackheads. Unfortunately for me though I now have a new skin problem to tackle but from the nose upwards my skin looks amazing! The Etat Pur Salicylic Acid costs £9.40, it is available from their website and it's a great investment! 
Follow me on: Twitter - Hello Cotton - Blog Lovin'