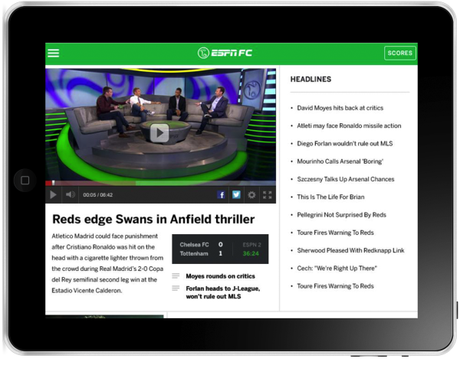 As the 2014 FIFA World Cup fever rises over the world, here's a newly redesigned website by ESPN that's aiming to provide the latest updates and in-depth coverage, News,articles and videos to football lovers across the world. The website has been designed with a mobile-first approach so that it can be viewed with ease on computers, tablets and mobile devices.
The website ESPNFC.com highlights latest news stories, videos, articles related to the World Cup. The website has a clean and bold appearance. The big video window on the top and other images and videos on the Home Page were quite a pleasure to look at, even to me who can't really claim to be an ardent fan of football. But going through the website and watching all those videos and images did make me want to be one!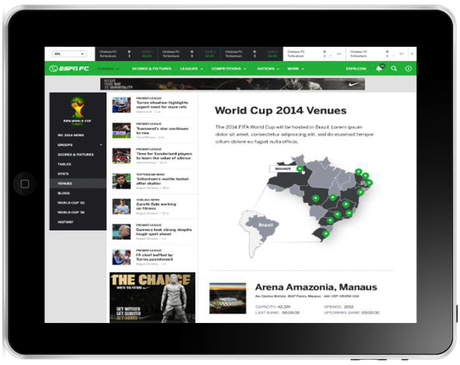 In addition, ESPN and Internet Explorer together have launched the ESPN FC World Cup Essentials hub providing interesting information and latest tweets about the football, game, and the teams and players taking part in the World Cup.
The website will also feature 32 national team blogs..
The football lovers also have the option to download completely re-developed ESPN FC smartphone apps. The navigation of these apps focuses on three main areas: SCORES, NEWS, NOW. These features have been designed to provide the users with timely updates regards to the scores, latest relevant news reports, and live scoring and social media updates for selected teams, tournaments etc.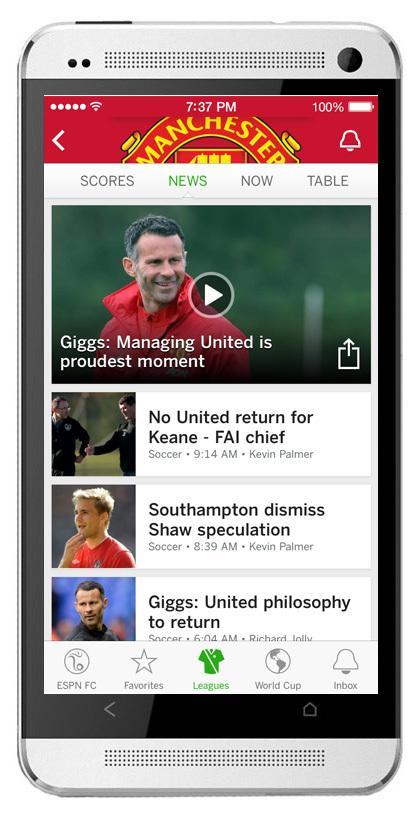 Another highlight of the app is a feature called Inbox. Inbox makes available a personalized collection of content suited to the user's interest. In one feed, the Inbox makes available relevant videos, news highlights and scores etc.
So, if you are looking forward to soak in the World Cup fever, then ESPN FC might be worth checking out. ESPN FC is a 'multi-language, multi country and multi-platform football brand.' In addition to all the features mentioned above, it also features coverage from famous international football journalists like Gabriele Marcotti, Roger Bennett, Iain Macintosh, James Horncastle, Michael Cox,and others.
Here, once again, are the important links:
ESPN FC Website
World Cup Blogs
iOS App