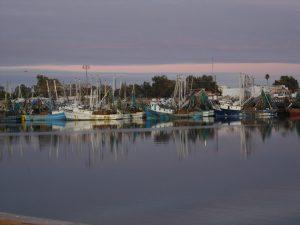 Shrimp Boats
210 miles south of Phoenix is a sleepy little fishing village on the Sea of Cortez called Puerto Penasco or "Rocky Point." This small desert-meets-beach town is just a 90 minute drive from the Arizona border and is easily accessible with your own vehicle, RV or by renting a car when flying in to Phoenix or Tucson. The majority of larger rental car companies like Hertz, Budget and Dollar will allow you to take their vehicles across the border. Mexican auto insurance (highly recommended) is easily accessible online, through the rental car company or at a handful of businesses that dot AZ-85 on your arrival to the border town of Lukeville.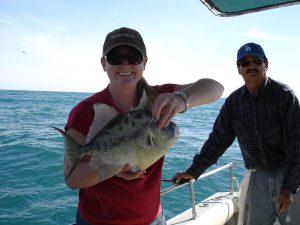 Triggerfish fishing in Puerto Penasco
During the months of October through March anglers can expect to catch pinto, rock and sea Bass; triggerfish and red snapper off the bottom about 12-15 miles off shore while larger species of fish like grouper and yellowtail can be reeled in 19-22 miles out. Esther Santiago, the American owner of Santiago's Ocean Services, said, " The fishing in Rocky Point is always plentiful and most guests leave with an oversized cooler of fish to take with them. Having fished these waters since 1995 we know the spots to find them. It's never a dull day fishing!" Fishing excursions are available for $80 USD per person for the shorter distance 6 hour trip and $150 for the 9 hour "Big Boy" trips as Esther calls them.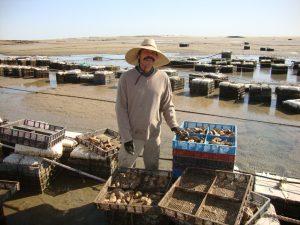 La Ostionera Oyster Farm
Just a short distance from the marina to downtown you will find six seafood stalls that serve as the local fish market. Here you can purchase fresh flounder, scallops and large shrimp from the local's daily catch. (Be sure to smell it for freshness, barter among the stalls and watch the scales as they've been known to pull a few fast ones if you don't keep an eye out!) Prepare a seafood lover's delight with the fish you've caught while sipping on a margarita and watching the sun set over the ocean. Not a bad way to end a perfect day of fishing! Rocky Point boasts some of the nicest grocery stores I've seen in all of Mexico. Prepare some, or all of your meals, and watch how quickly you can save some extra pesos!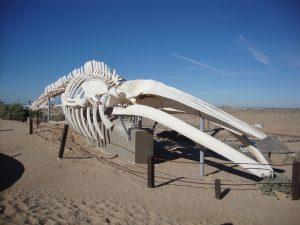 Fin Whale Skeleton