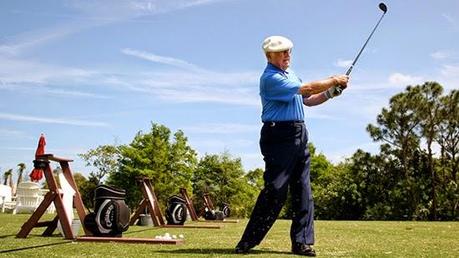 By Bob Denney, PGA of America
Samuel Henry "Errie" Ball, the last of the inaugural Masters field of 1934 and the PGA of America's oldest and longest-serving member, died July 2 at Martin Hospital South in Stuart, Florida, surrounded by his family. He was 103.
A native of Wales, Ball began his PGA career through the encouragement of legendary golfer Bobby Jones. Ball was elected to PGA membership on June 20, 1931, and his 83 years of service is a PGA membership record. In 2011, Ball was inducted into the PGA Golf Professional Hall of Fame.
Ball appeared in 25 major championships, including the first Augusta National Invitation Tournament, which in 1939 became the Masters. He also competed in 19 Senior PGA Championships, sharing runner-up honors in 1962.
Ball taught generations of players and inspired young professionals to pursue careers as PGA members. As PGA Professional Emeritus at Willoughby Golf Club in Stuart, he often gave lessons well past his centennial birthday.
"The PGA of America is saddened by the passing of Errie Ball, a professional in all aspects of life," said PGA of America President Ted Bishop. "Errie's amazing career spans the legends of the game – from Harry Vardon through Tiger Woods. His longevity, according to those who knew him best, was founded upon a love of people. Each day, like each step he took on the course, was spent with purpose. We will miss him dearly, but his legacy continues to shine through the many PGA Professionals he inspired to grow our game."
Born in Bangor, Wales, to one of Great Britain's famed golf families, Ball was introduced to the game by his father, William Henry Ball, who spent 50 years as golf professional at Lancaster Golf Club. Ball's great uncle, John Ball, was the first amateur to win the Open Championship (1890), along with eight British Amateur Championships.
Ball began playing golf at age 10, and turned professional at age 17. Many could never correctly pronounce his nickname, so he was quick to share a family story.
"My father's name was William Henry Ball. Back in those days, Henry became 'Harry,'" said Ball, prior to his 100th birthday party. "My mother, from what they tell me, didn't like the fact that they would be calling my father Old Harry and me Young Harry. We had a French maid at that time, and she said, 'Why don't you call him 'Errie?' And I've gone by that ever since. I wouldn't turn around if you called me Sam."
Ball's connection to Jones began in 1930, when he met the famed Georgian at the Open Championship in Hoylake, England, where Jones would win one leg of his Grand Slam. The relationship continued the day Ball arrived in America - Sept. 27, 1930 - just as Jones clinched the Grand Slam with a victory in the U.S. Amateur.
Ball's first job was serving for his uncle, Frank Ball, then the PGA head professional at East Lake Country Club in Atlanta. Ball later assisted George Sargent, who became PGA of America president. In 1933, Ball received a letter of recommendation from Jones that elevated him to his first head professional post at Mobile (Alabama) Country Club.
Ball also received his invitation from Jones to be part of the 72-player field at Augusta in 1934.
"I thought it [the Masters] was the greatest, the best place that I could be in golf," said Ball, as he watched this year's Masters broadcast from his living room. "Because it was associated with Bob Jones, I knew it would be a success. I loved playing golf with Bob because he had such a great golf swing and I wanted to copy it. I learned to be gracious from him. He seemed like he shook hands with everybody with a smile."
Ball competed again at Augusta National Golf Club in 1957, the longest span for any Masters competitor.
Ball won the 1931 Southeastern Section PGA Championship and the 1932 Atlanta Open. In 1936, Ball tied for 23rd in the Open Championship at Royal Liverpool in Hoylake. A few weeks later, on July 21, Ball was a passenger aboard the M.V. Britannic. During the eight-day voyage, he met Maxwell "Maxie" Wright of Richmond, Virginia, in a game of doubles deck tennis. They were each engaged, but by the time the ship docked in New York, their plans were set. They married two months later, and were together for 77-plus years.
He served as PGA head professional from 1937-42 at Farmington Country Club in Charlottesville, Virginia, before being drafted by the U.S. Navy. Following World War II, Ball became PGA head professional at Oak Park (Illinois) Country Club, and would serve there for 24 years, while spending 20 winters teaching at Tucson (Arizona) Country Club. He spent one winter (1962) as PGA director of golf at John's Island in Vero Beach, Florida.
In 1972, Ball became the first PGA head professional and later PGA director of golf at Butler National Golf Club in Oak Brook, Illinois. PGA Professional Bruce Patterson, who worked briefly for Ball, succeeded him as PGA director of golf at Butler National in 1982.
"That 'tree line' of developing future professionals was very important to him," said Patterson, a former member of the PGA Board of Directors. "Everyone Errie touched came away feeling better about themselves. If you had a bad day, just being around Errie, your day became better. Golf has suffered one of its big losses. He was one of the game's treasures."
Ball qualified for the U.S. Open 10 times, competed in 12 PGA Championships, along with two Masters and the 1936 Open Championship. He also won three Illinois PGA Championships, the Illinois Open, and the Illinois PGA Senior Open and Match Play Championship.
In addition to his national honor, Ball was inducted into the Illinois Golf Hall of Fame in 1990.
Ball is survived by his wife, Maxie, a daughter, Leslie, of Miami; brothers Tom, of South Africa and John, of Lancaster, England; and two granddaughters and a great grandson.