Podcast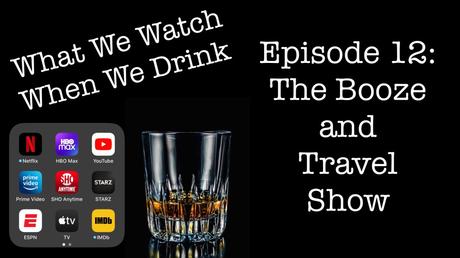 https://boozedancing.files.wordpress.com/2021/04/episode-12-the-booze-and-travel-show.mp3
Subscribe to the show: Apple, Spotify, Stitcher, Audible, or Google.
Please rate and review the show on your favorite Podcast platform, and if you have any questions or comments, message us here, or send us an email at [email protected].
Episode 12 finds us wishing for days of travel with special guest, André Darlington, author of Booze Cruise: A Tour of the World's Essential Mixed Drinks, soon to be released on Running Press. André got our get-up-and-go going as we talked about travel food shows. Not food that travels. That would be silly. Shows about travel and food. Yeah, that makes more sense. And we get deep into Booze Cruise, a fun-filled book loaded with food and drink from all over the world. Andre gives us the skinny (and, boy, we need skinny these days!) on all of the work (and play) it took visiting 40 cities around the globe (pre-pandemic) and exploring the bars and cocktails in them. It was almost like a vacation for us! Join us. That's just an invitation to come along. We're not paying! Call your travel agent.
Show notes:
02:20 Andre Darlington
02:30 Drinks! Lindores Abbey Aqua Vitae, Negroni with Ginquila, Yamazaki 12
05:00 Book talk: Booze Cruise, Andre's books: cocktails, movies, music, travel.
09:00 Pitch Talk and Book Inspiration; Traveling Around the World; Charles H. Baker, Jr.
12:08 New era of cocktails/bars post-pandemic?
15:40 Non-alcoholic drinks; new "moderation" era?
18:42: Andre's Sister: Tenaya Darlington aka Madame Fromage
20:18 Foreign Travel, Cultural Differences
23:44 Bartenders and Bars Around the World
29:26 DrinksI! Milk & Honey Single Malts (Red Wine cask), Fernet, Caperitif (South Africa)
30:00 Travel Food Shows: Anthony Bourdain, Stanley Tucci
35:50 Contextualizing Cocktails, Drinking, and Food
37:25 Andrew Zimmern, More Bourdain
40:40 Guy Fieri, More Bourdain; Non-"food" Hosts
45:30 Travel Writing, More Bourdain
47:30 Phil Rosenthal
51:50 Emeril Lagasse, Gordon Ramsey, Jon Taffer
53:35 Dave Chang, Ugly Delicious
57:09 Food TV and Podcasts,
58:12 Instagram How-To's
61:20 Booze TV Shows
1:07:20 Drinks! Cynar, Starward Anniversary Single Malt, Foursquare 2004 Rum
1:10:05 Travel Shows: Rick Steves
1:15:00 Michael Palin on Trains
1:16:00 Celebrity Travel Show Pitches, Storytelling
1:19:15 The Great British Baking Show
1:20:35 Jiro Dreams of Sushi
1:21:00 Book Talk: Research, Surprises, Local Spirits, Food and Drink
1:35:10 Tinned Fish talk; Food Shopping
1:37:35 Booze & Vinyl; The Revenge of Analog
1:45:00 Book Talk: Promotion in the Pandemic Era
Categories: Podcast
Tagged as: Andre Darlington, Anthony Bourdain, Booze Dancing Media, Cocktails, David Chang, Liquor, Podcast, Stanley Tucci, The Booze and Travel Show, Travel, TV, What We Watch When We Drink