The Ancient Egyptians enjoyed games of chance and strategy in which items have been moved on specially designed panels.
A game involving six lions and six sets of balls, played the Predynastic to early Old Kingdom, was called "mehen."
Another game, called the dogs and jackals, which seems to be a race between a team of five jackals and dogs around five a palm tree.
Little is known about the rules for these games.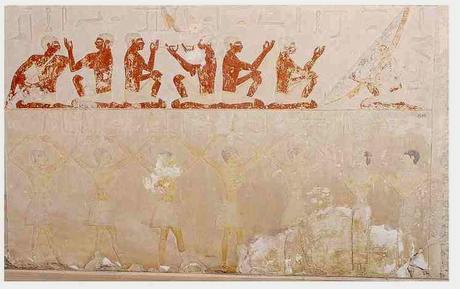 Scenes of daily life are depicted in wall decorations in Old Kingdom tombs.  This fine relief from the Saqqara tomb of Nen-Khefeti-Kai belongs to the Fifth Dynasty. It shows musicians and dancers that the deceased wanted to see or remember in the afterlife.
Parts of an offering scene are shown above. A complete row of musicians and singers are depicted playing the harp and flutes, clapping to keep time, and singing. The lower register, or section, portrays female dancers and clappers.
See More :
Ancient Egypt Entertainment