Like 86.9% of people on this planet, I tuned my television to E! and watched the Mr. & Mrs. Kim Kardashian wedding special…without blinking of course. I loved all 7 hours or however long it was.
Seeing Robin Thicke belt out Kris & Kim's first dance song got me thinking about the entertainers I would like to perform at my wedding…one day…far, far away…
Usher & Alicia Keys – 'My Boo'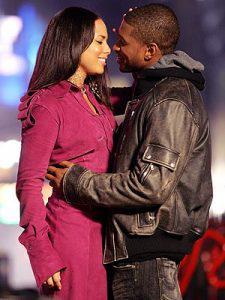 Photo Courtesy: straightfromthea.com
I'll admit it; I started using the word "boo" when I heard this jam back in 2004. That is after I figured out what the word "boo" actually meant. For those that don't know, "boo" can mean the following:
Boyfriend or girlfriend
Pet name: your hunny, sweety, baby
An affectionate name for someone you love
A big thanks to UrbanDictionary.com, without this website I would have never reached this level of hood.
Usher describes "My Boo" as a "talk about how they used to be in love and how those feelings are still lingering despite the two not being involved anymore."
Favise lyrics: "I don't know bout you all/But I know about us and uh/It's the only way/We know how to rock."
Why I would want these entertainers at my wedding? So my single girlfriends could get with Usher! Oh yea and I could really get my groove on to this jam.
Stay tuned, I have two more wedding jams I'm adding throughout the day!