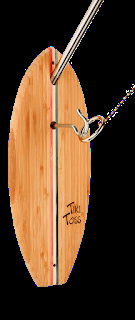 I went to a neighborhood party recently, and one of the most popular attractions there was a Tiki Toss! Have you seen one yet? They're surprisingly simple but so much fun! Essentially, a metal hook is placed on the wall, and a metal ring is suspended from a pole by a string. Participants take turns swinging the ring toward the wall to try to get it to attach to the hook! People of all ages were having a great time with the Tiki Toss, and the game got more competitive as time went on. We would establish our own rules, like whoever got the ring on the hook in the fewest number of tosses wins! Or we'd challenge people to try it with their nondominant hand or with their backs to the game. Some adults, of course, found the game to be a bit more interesting after a few cocktails. As we found out, this game is guaranteed to be a huge hit at any party!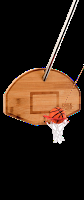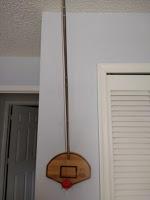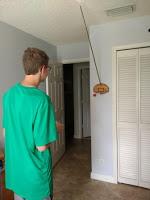 The makers of Tiki Toss also have a basketball version called Free Toss. It works essentially the same way as the Tiki Toss, but players try to swing a miniature basketball into a little basket. The Free Toss is a perfect addition to my teenage son's room. Now, he and his brother and friends can hang out there and play a fun game! My son can also play it on his own and practice getting more and more accurate with his throws. Personally, I'm happy that he has another game to play in his room besides his video games! And there are football and golf versions available, too.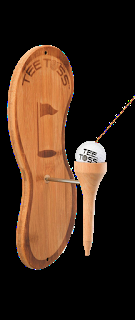 The Tiki Toss, Free Toss and several other variations are super-easy to install, and the strings are adjustable so you can experiment to get them at the perfect length. The backboard is made of 100% bamboo, so you can install it either inside or outside. (Easy care instructions are provided.) These games also make perfect gifts. Imagine a group of college students playing this in their dorm room or apartment!
Visit https://playtikitoss.com for more information about these fantastically fun products. Pick up one or two for own home (one inside, one outside), and add on a few more to give to friends and family during the holiday season. Prices are extremely reasonable and shipping is free. They're sure to bring fun and joy to everyone!

Disclosure: I received complimentary product samples to facilitate my honest review. All opinions are 100% my own. This post contains my Amazon affiliate link, and I will receive a small commission on purchases made through my link.