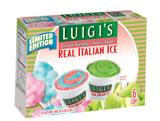 My boys have been pretty predictable with their snack requests recently … they want
LUIGI'S Real Italian Ice
! Honestly, we've always been big fans of LUIGI'S Real Italian Ice, and we've often picked up their cherry or lemon flavors. But now that LUIGI'S has introduced some new flavors of Italian ice, my kids are even more excited! Their favorite is the Limited Time Only Cotton Candy & Sour Apple! One of my twins prefers the Cotton Candy; the other prefers the Sour Apple. That's typical for them to like different things! As for me, I love the Mango and Strawberry. There's also Blue Raspberry and Watermelon, too!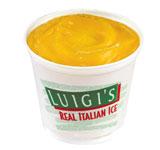 And LUIGI'S Real Italian Ice from J&J Snack Foods has some other great qualities besides delicious flavors. They are:
Fat-free
Gluten-free
Naturally flavored with real fruit juice
And most flavors are 100 calories!
To learn more about LUIGI'S Real Italian Ice, visit
www.luigis.com
. (If you head over now, you can vote on what flavor you want them to add next! You can also sign up for coupons.) LUIGI'S can also be found on
Twitter
and
Facebook
. And, most importantly, look for LUIGI'S Real Italian Ice at the grocery store. [CLICK HERE for their store locator.] LUIGI'S Real Italian Ice makes great after-school treats for children -- and their parents!