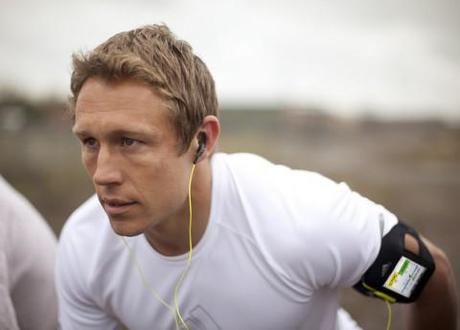 Jonny Wilkinson. Photo credit: adifansnet
Jonny Wilkinson has retired from England international duty at the age of 32. He quits the international scene having earning a whopping 91 caps and as England's all-time leading scorer with 1,179 points. But it is for one fleeting moment he will be forever remembered for – his winning drop-goal 17 seconds from the end of extra-time in the 2003 World Cup final versus hosts Australia.
"Like so very few things in life, it (the drop-goal) was perfect", remembered Simon Barnes of The Times (£). "A few weeks later I was on an open-topped bus following the team and a lovely girl held up a placard saying: 'I won't have sex unless it's with Jonny.'"
Although plagued by a string of serious injuries since 2003, fly-half Wilkinson's career has been mightily impressive by any standards. The back, who will continue to ply his trade for French club side Toulon, is second on the all-time list with 1,246 Test points, placing him just behind New Zealand's Dan Carter. His total of 277 points at World Cups is 50 more than any other player.
"It fills me with great sadness, but I know I have been blessed in so many ways to have experienced what I have with the England rugby team", Wilkinson told his official website. "I never ever believed that I would be able to give up on this dream which has driven me to live, breathe, love and embrace the game of rugby from the earliest days that I can remember."
England's Stoical hero. Paul Hayward of The Daily Telegraph argued that Wilkinson "was English sport as it likes to imagine itself: intrepid, handsome, physically indomitable and blessed with grace under pressure." Hayward said that Wilkinson's "suffering only amplified our sense of him as a man who had poured his life into a brutal game for our entertainment." "He was a leader, a fighter, a Stoic, a professor of self-sacrifice", praised Hayward, who said the career-defining dropped goal "telescopes a fine career into a single image but it still tells the story. Placed in a moment of hellish pressure, he was composed, unbreakable. And as he wheeled away we saw him in a state he seldom inhabited but which he deserved that day. A state of infinite pleasure, which the whole country shared."
Lewis Moody, who played alongside Wilkinson in the World Cup-winning team and announced his own retirement from England duty in October, told the BBC: "I'm humbled to have played alongside him. I'm saddened but his contribution over the years, his work ethic, professionalism and commitment, has been immense. He put everything into what he did. It was incredible to watch him train and perform."
Wilkinson the berserker. At The Times (£), Simon Barnes said that Wilkinson "got his kicks from teamwork, not stardom or revelry." Turning to the drop-goal, Barnes insisted that "if there had only been that one moment, it would have been enough. But there was far more. For a start, that was was only part of Jonny's finest hour, at the heart of the finest England rugby team the world has ever seen, and to judge from the present mess, ever will see." Barnes reminded that although Wilkinson will be remembered most for his insanely accurate kicking game he had it all: "In American football, kickers come to the field only to kick. Jonny passed and ran and was tackled and all that sort of stuff. And then he tackled. He tackled with the fury of a berserker and the accuracy of a rat-trap. He cut people in half, got up, stepped from fury to calm in the space of a breath and kicked another goal: a long, easy parabola, an easy sense of inevitability." Barnes concluded that "Jonny has been the best player to play for England in any of the leading ball games this century. He has been brilliant, he has been the rock on which success was built, he has won the biggest prize of all and done so with style and grace and elegance."
More on sport

What makes FC Barca so good?
Gary Speed's death: Sport and suicide
Gary Speed: Why, wonders world of football?
More rugby »