Today's guest, George Cullen of Clifford French has been in touch to provide some stats and food for thought ahead of the coming international games, with a focus on Jermain Defoe. Read on to find exactly why Gareth Southgate is so perfectly right in recalling him to the England squad.

In return for George providing credit to our star forward it is only fair that we acknowledge his request to provide credit for the stats: Data courtesy of EA SPORTS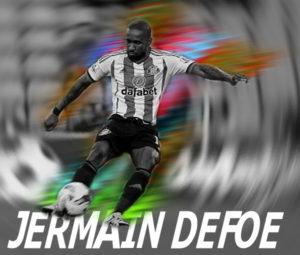 There has been some clamour around the selection of Jermain Defoe, who is in line to receive his first cap for four years at the tender age of 34. Defoe is a man in-form, as he's the second highest English scorer in the Premier League this year, finding the back of the net 14 times – second behind only the injured Harry Kane. Data from EA SPORTS shows that the selection may be a wise one from manager Gareth Southgate, when stats are compared between Defoe and the other nine forwards who make up the top ten English scorers in the league.
Player Goals Total Shots Shots to goals
Harry Kane 19 69 27.5%
Jermain Defoe 14 66 21.2%
Theo Walcott 8 53 15.1%
Raheem Sterling 6 49 12.2%
Andre Gray 8 40 20.0%
Charlie Austin 6 36 16.7%
Troy Deeney 9 34 26.5%
Jamie Vardy 7 34 20.6%
Callum Wilson 6 31 19.4%
Andy Carroll 6 29 20.7%
As you'll see from the above data, Defoe is not only second when it comes to goals scored, but he's taken the second most shots of the other forwards – behind only the injured Harry Kane. The Sunderland man also has the third highest shots to goals percentage, with 21.2% of his shots leading to goals – behind only Troy Deeney and Kane again.
Player Passing Accuracy Passing in opposition half %
Harry Kane 72.2% 70.5%
Jermain Defoe 78.5% 73.5%
Theo Walcott 75.3% 76.0%
Raheem Sterling 80.7% 79.8%
Andre Gray 69.2% 62.2%
Charlie Austin 63.6% 56.7%
Troy Deeney 58.0% 57.2%
Jamie Vardy 62.5% 52.2%
Callum Wilson 72.8% 69.4%
Andy Carroll 57.8% 50.2%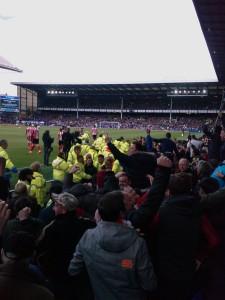 Goodison Park, May 2015.  With 5 minutes to go it's  Everton 0 Sunderland 2, and somewhere under that pile of yellow lies Jermain Defoe. I wonder why
It's not only goals that Defoe brings to a team, but he can also contribute to a team's build-up play. The above data shows that Defoe has the second highest passing accuracy of any of the top ten English forwards, with the third highest accuracy when it comes to passes in the opposition half. This is particularly impressive when you consider that the two men that beat him are Walcott and Sterling, so not traditional number 9s!
Player Left Foot Right Foot Weak Foot Goal %
Harry Kane 3 15 15.8%
Jermain Defoe 5 9 35.7%
Theo Walcott 0 7 0.0%
Raheem Sterling 2 4 33.3%
Andre Gray 3 5 37.5%
Charlie Austin 1 4 16.7%
Troy Deeney 1 6 11.1%
Jamie Vardy 0 6 0.0%
Callum Wilson 0 4 0.0%
Andy Carroll 3 1 16.7%
Finally, if you needed any evidence to showcase just how much of a sharpshooter Defoe really is, the above shows that he shines when it comes to goals scored with his weaker foot – with 35% of his goals scored with his weaker foot. This is a higher percentage than the other forwards who make up the top ten English scorers.
Data Courtesy of EA SPORTS, the Lead Partner of the Premier League.