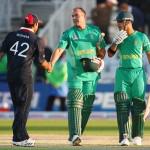 England will be defending their number 1 position in test ranking as they play their first test against South Africa at the Oval on Thursday (19th July). On the other side, South Africa will try to reach to the number 1 spot after this 3 match series.
The pre-match build-up has concentrated on two outstanding fast bowling attacks — but, as England fast bowler James Anderson and South African all-rounder Jacques Kallis pointed out on Tuesday, the bowlers will have to get past some outstanding batsmen.
"It's the two best teams in the world," said Anderson. "Both bowling attacks have been successful over the past 12 to 18 months but if you look at both batting line-ups they're potentially as strong as well. It's going to be a clash of two really good teams." Meawhile Kallis added: "It's going to be an interesting battle to see who comes out on top. Both sides have got good batters as well. It's going to be a fantastic series."
South Africa edged England 2-1 in 2008, the last time the two teams met in England, but England have been unbeaten at home since then, rising to number one in the world rankings under captain Andrew Strauss and coach Andy Flower.
However, South Africa have not lost an away series since they were beaten in Sri Lanka in 2006. They are ranked third but will take the top place from England if they win the series.
England may have an advantage in spin bowling, where off-spinner Graeme Swann has a superior record to South African leg-spinner Imran Tahir, who has yet to make a major impact at Test level.
Keeping the squad of the two teams in mind, the series is expected to be an interesting series.