As the birthplace of Muhammad and the site — a cave — of his first revelation of the Quran, Mecca in Saudi Arabia is regarded as the holiest city of Islam.
On Friday, Sept. 11, 2015, during a rainstorm, a huge construction crane crashed into the court of the Grand Mosque at Mecca, killing 107 Muslims and injuring another 200 of the hundreds of thousands of Muslims from around the world gathered there for their annual hajj pilgrimage.
The crane was there for a massive expansion of the mosque undertaken by Saudi Binladin Group (SBG), which is owned by the family of the now-dead Al Qaeda leader Osama bin Laden.
The AFP reports (via ZeeNews) reports that a day later on Sept. 12, the engineer for SBG said the collapse of the crane was "an act of God" and not due to a technical fault.
The engineer, who asked not to be identified, said the crane, like many other cranes on the project, had been there for three or four years without any problem: "It was not a technical issue at all. I can only say that what happened was beyond the power of humans. It was an act of God and, to my knowledge, there was no human fault in it at all."
The engineer said the crane was the main one used on work to expand the tawaf, or circumambulation area around the Kaaba — a massive cubed structure at the center of the mosque that is a focal point of worship.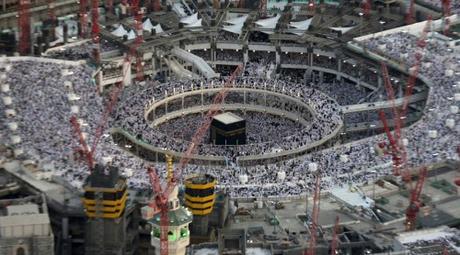 Kabaa in the middle of court of Grand Mosque
The engineer explained that the crane's heavy hook, which is able to lift hundreds of tonnes, began swaying and moved the whole crane with it, toppling into the mosque. He said the crane "has been installed in a way so as not to affect the hundreds of thousands of worshippers in the area and in an extremely professional way. This is the most difficult place to work in, due to the huge numbers of people in the area."
A witness said the accident occurred during winds that were so strong they shook his car and tossed billboards around.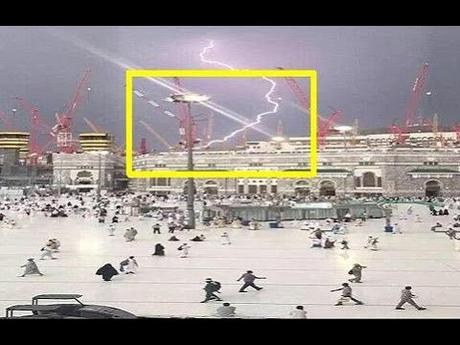 The development project is expanding the area of the Grand Mosque by 4.3 million square feet, which would accommodate up to 2.2 million people at once.
God does work in mysterious ways!
~Éowyn