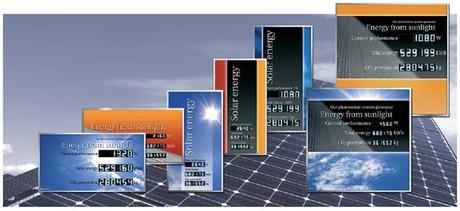 Energize Stur Valley Industrial and Provident Society Limited is currently being registered by the Financial Services Association (FSA).
We are a small group of renewables enthusiasts living around Sturminster Newton, North Dorset, and we have set up this investment vehicle to allow community investment to fund installation of 50 kW of PV of two roof areas at Sturminster Newton High School.
We intend to use one of these large information display for the PV installation at Sturminster Newton High School too (as pictured above) - click here for a PDF of the PV generation display. It will be located prominently in their learning resources center (library). The students will be able to see clearly how much electricity has been generated that day (kWh), how much is currently being generated (kW), generation since installation and carbon saved.
Keep an eye out for more news via Dorset Energized. To find out more about Solar Energy (including my own Solar PV Installation 'Story') go to: www.dorsetenergized.co.uk/energy/solar-energy.