As a stay-at-home mum, I work out all the time. Well, sort of. It's not that I have time to hit the gym or go for pilates class and I can't even go for a run in the park without someone pulling at my feet and yelling
"Mummy! Nooooo..."
. Nonetheless, I feel like I am lifting weights, doing pull-ups and stretching my body nearly every minute of the day. By that, I actually mean I carry the kids, lift the groceries, do the laundry, mop the floor, cook, wash dishes, tidy the house, fetch the kids to and fro classes etc. Yup, not a single day goes past without a bucket of sweat.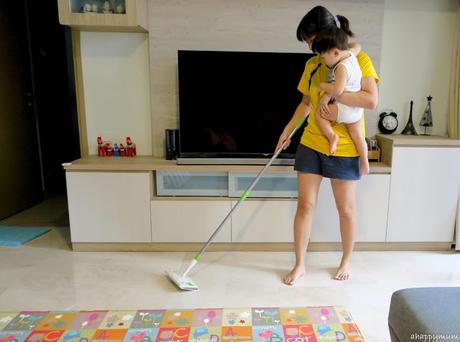 Carrying a sticky, whiny toddler while having to clean the floor is no easy task at all
So, with all this "workout" that I do every day, I seem to have a long-lasting relationship with body aches and pain. Just last month, I had such a terrible backache that lasted for many days and it bothered me so much that I had to ask the kids to give me a massage, which by the way thrilled them because for once, they had the permission to hit Mama hard. Obviously, they couldn't do much to help me relieve the pain but the beating and pounding did make me feel better. Just for a while, before it all came back again. Yup, backache is usually the killer for me and it doesn't seem to go away ever since becoming a mom.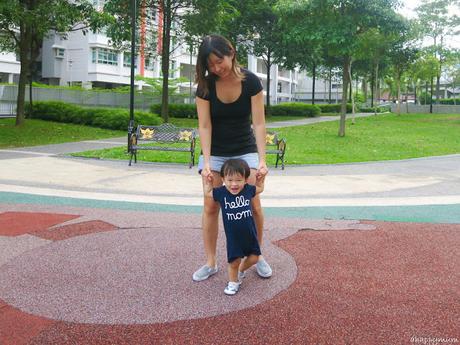 Having to hold the toddler who is learning to walk makes my back ache more yet I won't have it any other way
This International Women's Day,
3M Futuro™
celebrates by empowering women's daily lifestyle with the
For Her
series. It strives to help relieve pain and enhance recovery of aches and pain so that we can go on to do the more important things in our lives. I've been trying out their products recently so here's sharing how they have benefited my lifestyle as a mom.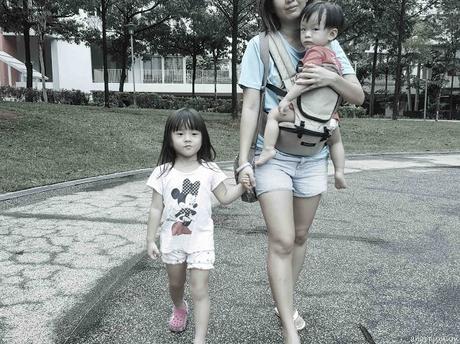 Being a mom is no walk in the park; it is a lifelong dedication and commitment
 ******
The
3M Futuro™ For Her
collection is a joint pain solution that helps to alleviate pain through compression and warmth. Designed to fit the curves of a woman, the products are made with high quality, comfortable material and come in a pastel blue color. With their sleek and low profile designs, they use compression to relieve pain and provide comfort, fit and support in a discreet yet effective manner.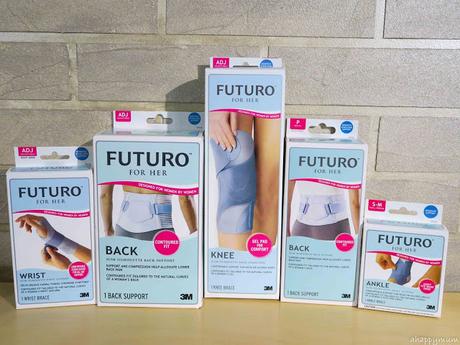 The 3M Futuro™ For Her range of products
3M Futuro™ For Her Back support
Unlike corsets or waist slimmers, this is a functional back support that offers core compression and lower back support to help alleviate back pain. Designed with a contoured fit tailored to the shape of a female body, the back support comes in two sizes - Petite and Regular, and can fit waist sizes from 22 to 42 inches.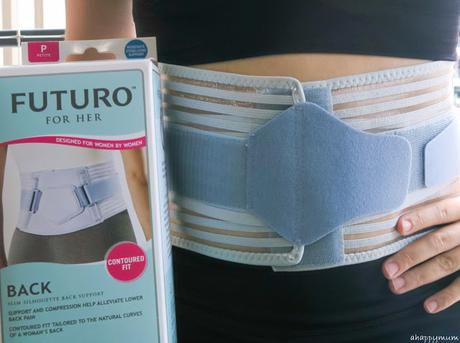 Front view of 3M Futuro™ For Her Back Support
I love the classic, feminine design and the breathable material helps to keep me cool since it can get hot and humid living on our sunny island. There is a back pad behind for support and the main and secondary straps can be easily pulled and secured to help keep it in place. You can adjust the straps to achieve the desired level of support and compression, for me, I personally don't like it overly tight as I want to be able to feel comfortable while going about my daily chores.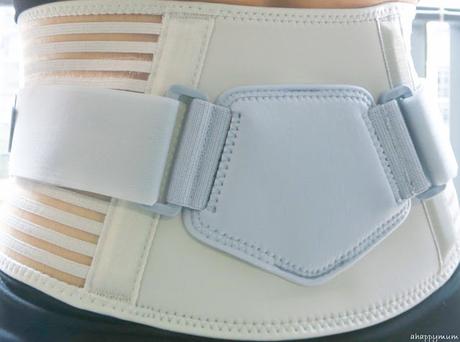 Back view of 3M Futuro™ For Her Back Support
With its thin and unassuming design, the support can be discreetly worn under clothes but if you prefer not to have direct contact, you can also wear it over a first layer of clothing.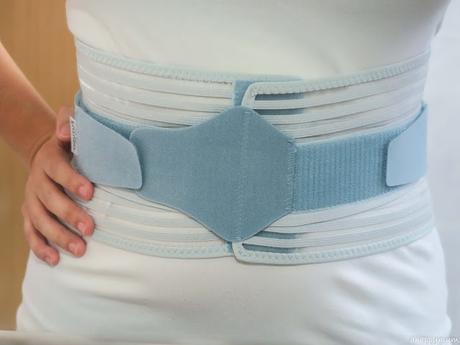 The Back Support can be worn over under clothing or over a first layer if preferred
I've been wearing the back support recently and no one seems to have noticed it, not even the kids who usually spot when I don something different. This means that the support can easily be concealed under the clothes while providing the compression and support to get me through the day's back-breaking activities.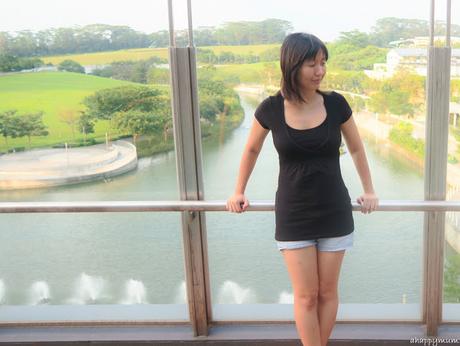 Wearing the Back Support which seems barely noticeable while providing compression for my lower back
One of my arduous tasks is having to carry the toddler for a good part of the day. Day in, day out. He is just starting to learn to walk, doesn't like to sit in pram at times and so the only thing for me to do is to carry or babywear him - both of which induce discomfort and ache in my lower back after some time. Even if the back support cannot fully eliminate or prevent the ache and pain, it does help to lessen the intensity (to an extent) and that is much appreciated.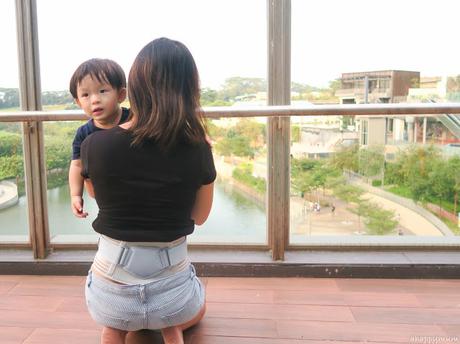 One of my biggest causes of backache is having to carry the toddler who weighs over 10kg now
In any case, there is no way I will refuse to carry the toddler because from experience, I jolly well know how fleeting these moments can be. If you are a mum, you know what I mean, right?
******
As an ex-sports player who has suffered a good deal of sprains in my younger days, I'm not too unfamiliar with wrist, ankle and knee supports. In addition to the Back Support, 3M Futuro™ has also launched the below products in the For Her series - which is designed by women for women.
3M Futuro™ For Her Wrist Support
The Wrist Support helps provide protection and moderate support to injured or weak wrists requiring rigid stabilization. It has a low-cut, ergonomic shape that allows for free hand movement such as typing, writing and comes with a soothing palm gel pad for cushioning. I don't wear this unless necessary but it might come in handy when playing sports like tennis, which we are trying to pick up as a family nowadays.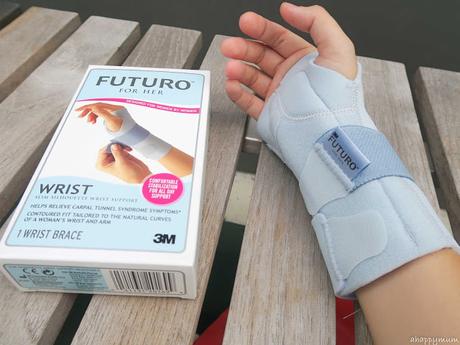 3M Futuro™ Wrist Support which is made of breathable, soft material for comfortable wear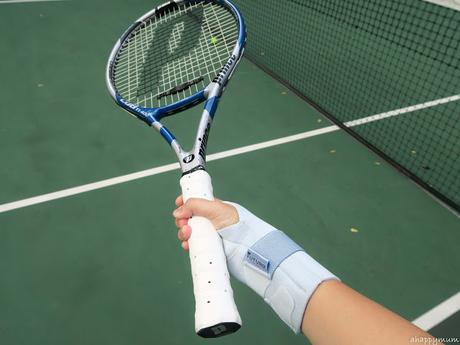 The adjustable straps ensure a customised and snug fit, providing support and stabilization
3M Futuro™ For Her Ankle Support
The hubby and I usually have ankle supports lying in the house because you just don't know when you might need one. Yes, him being so active in sports, makes him vulnerable to sprains, pain and aches too. I'm glad that I don't have to share his ankle support now because this one from 3M Futuro™ suits me well, is comfortable to wear and even fits easily inside my shoe.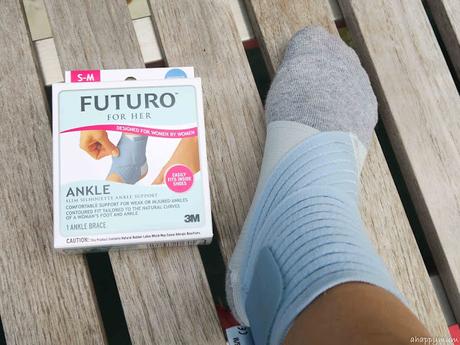 3M Futuro™ Ankle Support helps to relieve pain due to ankle sprains, chronic ankle instability and overuse strain injuries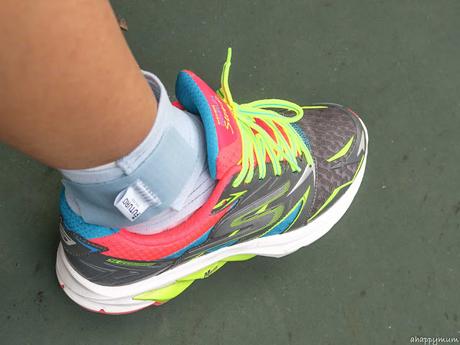 I love how my ankle feels cushioned and protected with the extra support
3M Futuro™ For Her Knee Stabilizer
The Knee Support features a sleeve design for ease of use, provides added support with its dual spiral stabilizers and has adjustable straps and patella gel pad for personalised fit and comfort. I like to think that I don't have a problem with my knees (yet) but I did try it out to see how it felt. Yes, it didn't hinder my movement and
the contoured fit makes it comfortable and gentle on the skin. In fact, my mum, who was playing tennis with me that day (yes, she can be spontaneous and sporty!) saw the knee stabilizer and wanted to have a go at wearing it. Since it helps to provide support for weak knees, arthritis and repetitive stress injuries, judging from how my mom cycles daily to the market, I think she's going to love this as a practical gift.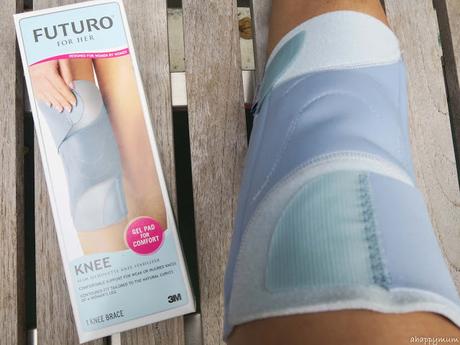 3M Futuro™ Knee Stabilizer provides moderate compression for healing warmth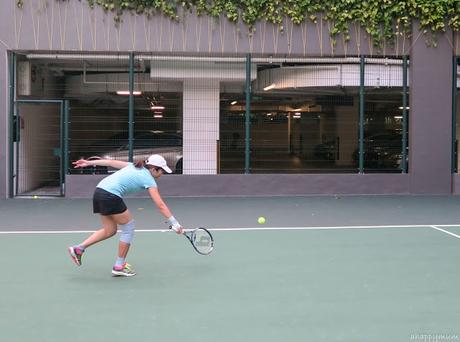 It is specially engineered to provide mild support for weak and sore muscles above and below knee
From a mum's truthful point of view, for the wrist, knee and ankle supports, I would recommend putting them on only during activities that might lead to discomfort or run a high risk of injury. This is provided that you are not weak or injured in these areas. For the back support, if you are like me and tend to overuse, bend or carry weights frequently, then it would be a good habit to put it on for a considerable period of time each day.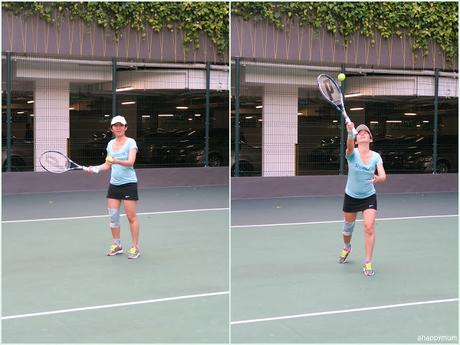 Feeling empowered as a mom as I try to make sports a way of life for my family
After all, life as a mom has so much more to offer other than the tears, heartbreaks, aches and pain. I strive to make each day count and to cherish all the laughter, joy and wonderful things that this journey brings me. Are you feeling just as empowered too?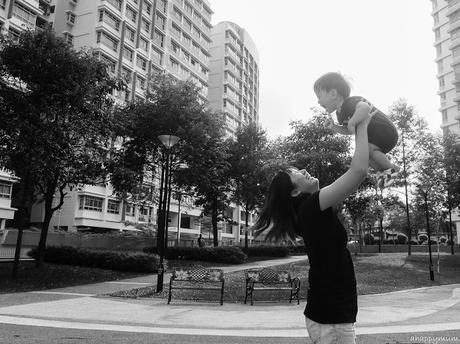 Motherhood - the most challenging, stressful, emotional yet fulfilling, wondrous and amazing journey of my life
For more information on the 3M Futuro™ products, visit www.futuro.3m.com.sg or their Facebook page here. 3M Futuro™ For Her products are available in Guardian and Watsons stores.
Disclosure: This is a sponsored collaboration between 3M Futuro
™ and A Happy Mum. All opinions are my own.