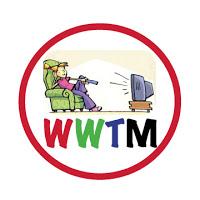 The answer to Wednesday's Trivia Question: Dan Rydell, Casey McCall and Dana Whitaker FIRST FIVES:Monica Caraffa, Alex Nagler, Beth Hoff, Jim Carter & Mike O'Dea Honorable Mention: None, I guess that WAS a hard one...only these 5 hardcore  readers knew he answers.  Tuesdays Broadcast Top 5 
MLB All Star Game-FOX 2.9/10.2
America's Got Talent-NBC 2.5/9.8
NCIS-CBS 1.3/8.6
Hollywood Game Night (R)-NBC 1.1/4.0
Extreme Weight Loss-ABC 1.1/3.4
Tuesday's Broadcast Trendrr Top 5
MLB All Star Game-FOX  986,419
Whose Line is it Anyway-CW 73,665
America's Got Talent-NBC 68,415
Extreme Weight Loss-ABC 9,656
NCIS-CBS 8,125
Tuesday's Cable Top 5
Catfish-MTV 1.3/2.3
The Big Bang Theory-TBS 1.2/2.9
The Game-BET 1.2/2.4
Suits-USA 1.1/2.9
Rizzoli & Isles-TNT 1.0/5.2
Tuesday's Cable Trendrr Top 5
Catfish-MTV 564,872
Pretty Little Liars-ABC Family 470,040
Suits-USA 122,786
Bad Girls All Star Battle-Oxygen 105,044
Dance Moms-Lifetime 68,778
Big Brother

3 minutes in and Helen's crying

What's with McCrae's Fred Flintstone shorts?

8 minutes in and Helen's crying again, this time it's supposedly on purpose, if that's true, man I feel bad for her husband! 

Elissa's MVP again America?  I'm sort of happy about it.

I wonder what Elissa would look like without her eyelashes on.

If I were in the BB house, I'd NEVER wear shoes, Elissa wears mega heels every minute. 

Spencer told Howard he had to come clean with Helen, when he did, I had no idea what he was talking about. 

Andy is STILL wearing that cat shirt...why Andy, why?

3rd nominee was Spencer 

Jeremy didn't get picked to play in for the Veto, yeah!

I always wanted to be able to make a braid like Aaryns braid. Does that have a special name?

Kaitlin's an idiot for asking Ginamarie to NOT use the veto if she wins it. 

I loved the Keeping up with the Jones's art collection competition.  Who thinks of this stuff? Candace's strategy was good. 

I hate Aaryn...I know, hates a strong word.  I know.

Ginamarie made me ill when she saw the NickDaVinci and kissed it. She never kissed the real guy, but she did get to first base with the painting of him.

When Spencer peeked around the corner of the wall, wasn't that cheating

Kaitln won the veto.  So...save herself or save her man? What will this idiot do? She saved herself and Jeremy was officially backdoored. YEAH!

A Champ is a Champion?  "I don't lose it's not in my blood"...guess what Jeremy...YOU JUST LOST BIG BRO!  I hope.
ESPY AWARDS
This was the first time I've ever actually watched the ESPY awards and it was the 20th year! I have no idea why I've never watched before. I love sports, I love athletes and I love award shows. I can't believe I've missed 19 of these shows. Where have I been when this was on before? Not sure.  It was really good and surprisingly touching and powerful and moved me to tears 3 times. The first was during the opening package of sports scenes from the past year, the second was mid-show when Robin Roberts received the Arthur Ashe award for courage and the last at the end of the show when Rick and Dick Hoyt, a father who has pushed his son in 31 Boston Marathons who representing the city of Boston received the Perseverance award from my fave, Ben Affleck. There were lots of celebrity presenters, a few breaks for comedy too. The best was Bill Hader as Vladimir Putin.  I'm not a huge Jon Hamm fan, but he did an okay job of hosting. I could have lived without him.  Anyway, it was really good, I'll be back next year and for the next 20. 
The Awards 
(these are just the ones presented on the show, there are a ton more given out)
Best Breakthrough Athlete: Colin Kaepernickn looking super cool and wearing awesome kicks! Sunglasses ON 
Best Comeback: Adrian Peterson looking super cool and speaking so eloquently. Another guy with cool shoes. 
Best Game: Heat vs. Spurs Game 6 Lebron's tux was odd,  looked like he was going to marching band practice or to work a wedding. 
Best Record Breaking Performance: Michael Phelps
Arthur Ashe Award for Courage: Robin Roberts. I was just happy she was there to accept her award. What an amazing story and an amazing woman. 
Best Female Athlete: Serena Williams. Gabby Douglas looked bummed.
Best Moment: 7 year old Nebraska football fan, Jack Hoffman who has brain cancer and ran for a touchdown during a game. I'm sure you've seen it on YouTube. 
Best Upset: Florida Gulf Coast vs. Georgetown 
Best Male Athlete: LeBron James 
The Perseverance Award: Rick and Dick Hoyt,
a dad who has  pushed his disabled son in 31 Boston marathons represented the city of Boston.  My fave, Ben Affleck presented them with the award. More tears.
Best Play of the Year:Jadeveon Clowney
Best Team: Miami Heat
Camp
I'm done with Camp. It's boring and it's just all wrong. The family camp makes no sense to me, and the show just doesn't capture what camp is supposed to feel like. Sorry NBCU, you got this one and the USA reality show, all wrong. Both camp themed shows this Summer are total bummers. 
Emmy Nominations:
Emmy's were supposed to be presented by Kate Mara and Aaron Paul from Breaking Bad but Kate's plane had an issue so Neil Patrick Harris jumped right in and subbed for her. NPH will be hosting the show on 9/22. 
Best Drama- Breaking Bad, Downton Abbey, Game of Thrones, Homeland, House of Cards & Mad Men
Best Actor in a Drama-Hugh Bonneville/Downton Abbey, Bryan Cranston/Breaking Bad, Jeff Daniels/ Newsroom, Jon Hamm/Mad Men,  Damien Lewis/Homelands,  Kevin Spacey/House of Cards
Best Actress in a Drama-Connie Britton/Nashville,  Claire Danes/Homeland Michelle Dockery/Downton Abbey,  Vera Famiga/ Bates Motel,  Elizabeth Moss/Mad Men, Kerry Washington/Scandal, Robin Wright Penn/ House of Cards 
Best Comedy -30 Rock, Girls, Louis, Modern Family, Veep
Best Actor in a Comedy- Alec Baldwin/30 Rock, Jason Batemen/Arrested Development,  Louis CK/Louis,  Don Cheadle/House of Lies, Matt Leblanc/ Episodes,  Jim Parsons/Big Bang Theory
Best Actress in a Comedy- Laura Dern/Enlightened, Lena Dunham/ Girls,  Edie Falco/Nurse Jackie,  Tina Fey/30 Rock,  Julia Louis Dreyfus/ Veep, Amy Poehler/ Parks & Recreation
More later...these were the big ones though
VMA Nominations

were announced yesterday:
Here are a few of the key award categories:
Video of the Year: Justin Timberlake/Mirrors, Macklemore & Ryan Lewis/Thrift Shop, Bruno Mars/ Locked Out of Heaven, Robin Thicke/Blurred Lines, and Taylor Swift/I Knew You Were Trouble PREDICTION: Justin Timberlake
Best Male Video: Justin Timberlake/Mirrors, Robin Thicke/Blurred Lines, Bruno Mars/Locked Out of Heaven, Ed Sheeran/Lego House and Kendrick Lamar/Swimming Pools PREDICTION: Justin Timberlake 
Best Female Video: Rihanna/Stay, Taylor Swift/I Knew You Were Trouble, Miley Cyrus/We Can't Stop, P!nk/Just Give Me a Reason, & Demi Lovato/Heart Attack PREDICTION: Taylor Swift
Best Pop Video: Bruno Mars/Locked Out of Heaven, Justin Timberlake/Mirrors, fun./Carry On, Miley Cyrus/We Can't Stop, & Selena Gomez/Come and Get It PREDICTION: fun.
Best Rock Video: Imagine Dragons/Radioactive, Fall Out Boy/Light Um Up, Mumford & Sons/I Wil Wait, 30 Seconds to Mars/Up in the Air, & Vampire Weekend /Die Young PREDICTION: Imagine Dragons
NEWS & INFORMATION
-As I expected...Sharknado 2 has been given the green light. This time, NYC is where the storm makes landfall.  I can't wait. Syfy will air the movie in 2014 and is looking for all of us to help with a name for the tagline.  I already have the winner, so for any of you guys that work at Syfy, how's this: SHARKNADO 2 NYC: TAKING A BITE OUT OF THE BIG APPLE!  Not bad right?  I have to remember to tweet that one in as soon as possible. Just a reminder, if you haven't seen Sharknado yet, it's on tonight at 7pm.  
-Meredith Viera's talk show has already been cleared to run on all of the NBC Owned & Operated stations in the Fall of 2014. I don't know what time she's going to be running, but I'm guessing by then, fans of The View will need something to switch to, so maybe NBC should put Meredith on at 11am to make it easy for everyone. Although that's what time it's on here in NYC, but it's still a good plan. 
-Keith Olbermann's back...this time it's ESPN2 for Keith. He'll launch his late night talk show on 8/26 at 11pm because there just isn't enough competition for late night talkers these days! Sorry Keith, if I'm awake, I have a date with Andy Cohen at that time and I'm extremely loyal to him.
-Season 5 of Rookie Blue has been given the go ahead. Anyone happy by that news? 
-When American Dad ends its run on FOX in 2014, don't freak out, TBS has picked up the show and will be running original episodes. 
Thursday's Trivia Question
: I'm feeling Seinfeldy today, maybe because I'm watching it right now while I'm typing this and I feel like you guys need an easy one, AND because you guys always enjoy a good Seinfeld question. Name the sexually explicit movie that George saw by mistake when he was meeting the gang for a movie. Bonus if you remember the name of the other movie they were supposed to see that night at the theater. 
WWTM-Kristy
Like me on Facebook at Watching Way Too Much
Follow me on Twitter at [email protected]
http://watchingwaytoomuch.com
[email protected]