Meet the cleansing balm that sent UK bloggers swarming into Space NK (England's version of Sephora) shortly after advanced facialist and brand consultant C. Hirons of the blog Beautymouth repeatedly blogged over a year and a half ago that this is her personal cleansing choice, especially for evening.  Recently, Caroline outright put Emma Hardie's Moringa Cleansing Balm up first on her featured products via Pixiwoo's BodyTalk interview with her on YouTube.  I'd like a moment to segue into some emulsifying cleanser insight.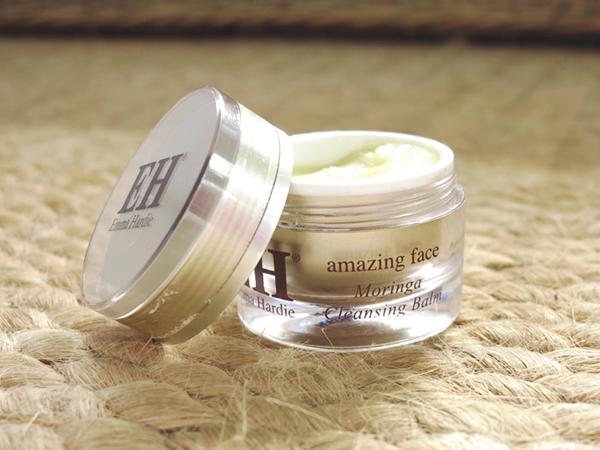 Contains:

1 x Natural Lift & Moringa Cleansing Balm (100ml) – enriched with an uplifting blend of moringa seeds, wild sea fennel, vitamin E, orange, neroli and mandarin, jasmine and rose.
1 x dual-sided cleansing cloth (100% cotton on muslin side; 80% polyester, 20% polyamide on microfibre side)

 How to use:

Mix a few drops of warm water with a little Moringa Cleansing Balm in the palm of your hand to create a milk
Apply to the face, neck and eye area using circular motions and massage thoroughly to melt away make-up, excess oils and grime
To remove, soak your cleansing cloth in warm water, squeeze out the excess and gently wipe over the whole face and neck, taking extra care around the delicate eye area
Use the gently abrasive muslin side of the cloth to exfoliate dry, lined, thickened and congested areas and the smoother microfibre side for more delicate and sensitive areas
People are familiar with the globally popular Shu Uemura cleansing oil and some of us were dashed to pieces to find that it wasn't at all recommended by C. Hirons, in fact she shot it down.  I actually realized on my own, without knowing who Ms.Hirons was yet,  that the Shu cleansing oil wasn't good for me because for the very first time last year I looked at the ingredients list…practically at the top of the list was Paraffinum Liquidum aka Mineral Oil.  The world's most popular cleansing oil turned out to be souped up mineral oil made to emulsify with water, I could hardly believe it and I was irritated to say the least because I did like how Shu's oil performed but I did wonder why my skin felt like it felt smothered when I'd lay it on.  You can't blame them because they were among the first generation of emulsifying cleansing oils and they participated in beauty innovation…even top UK brand Eve Lom's most popular cleansing cream contains mineral oil as a huge part of the base so these were the pioneer products.  Research has found that mineral oil isn't particularly ideal at bringing down the nourishment into the skin so I think it's time for long-time faves to up the ante and update their formulations.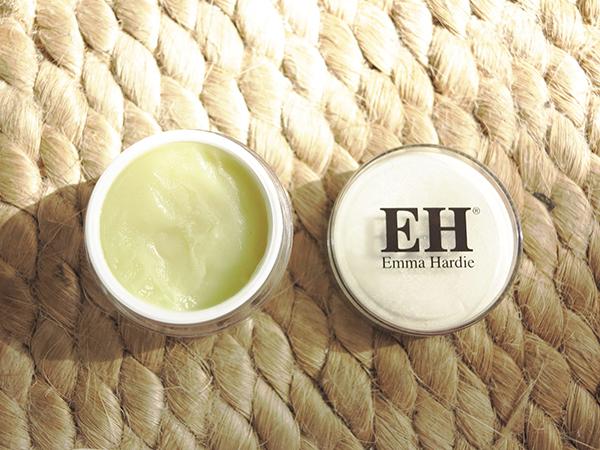 Well, the first thing our currently fave online facialist says about this Emma Hardie gem here is that it's a non-mineral oil cleansing balm.  It's a more solid balm but it melts and emulsifies in the same milky way the Shu cleansing oil does when water hits it.  However, this does the same job with a bang on formula that's ultimately better for your skin.  Moringa for your mug shot anyone?  Emma Hardie is an English brand that's being doing wonderful things with formulations using moringa (malunggay).  Being the determined diva I am I sourced my own pot and paid only Php50 customs pickup tax for it.  The new rule at the Makati Post Office is that parcels above $50 USD in value will be taxed heavily so make sure whatever you're buying online is under $50 USD.  That explains why I only got the 50ml pot (which will last me 3 mos. anyway), it cost £15.99 with £6 shipping, totaling about ($35) Php1450.  Read more to get to the full post.
When I picked this up from the post office it was properly boxed and bubble wrapped.  The outside of the pot once I fished it out was slightly oily indicating that the balm had kinda melted inside the pot (just a  bit seeped out…no spillage in the wrap) due to the humid tropical climate.  I opened it and as expected it was not yet in its true form but had melted to a soup,  immediately I knew this would not succeed locally if sold here unless it was given a higher melting point…this does well in Europe because of the cold climate.  When I got home I simply stuck this in the freezer for about 25 minutes (do not leave it there any longer than that) and when it had returned to its proper state as a "scoopable" balm I transferred it to the refrigerator where it now sits.  If you live in Baguio or…dare I say Batanes, you may be able to leave this out of the refrigerator on a normal day.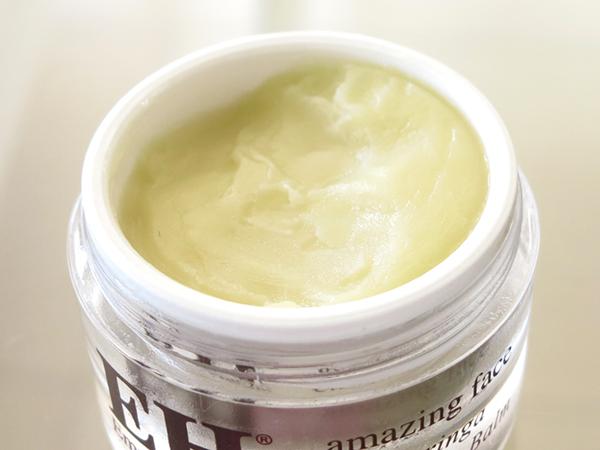 INGREDIENTS: Vitis vinifera seed oil Prunus amygdalus dulcis oil Caprylic/capric triglyceride Cetearyl alcohol Peg-8 beeswax Peg-6 caprylic/capric glycerides Sorbitan stearate Peg-60 almond glycerides Limonene Citrus aurantium dulcis oil Silica Glycerin Phenoxyethanol Benzyl alcohol Lecithin Citrus aurantium bergamia oil Aqua Citrus aurantium amara oil Juniperus virginiana oil Citrus nobilis oil Crithmum maritimum extract Linalool Butylene glycol Octyldodecyl pca Menthyl pca Ascorbyl palmitate Helianthus annuus seed oil Tocopherol Moringa pterygosperma extract Geraniol Jasminum officinale oil Farnesol Disodium phosphate Rosa damascena oil Citric acid Citral Citronellol
The product came brand new without a box and once it had solidified in the freezer as a balm after 25 minutes it was full to the brim so I knew I was not cheated (what you see used here is coz I'd already done my face).  You wouldn't be able to take this on holiday to the beach unless this was tucked in a mini cooler with ice!  I sourced this 50ml half-size pot online from Ebay (2.5 inches in diameter and about 1.5 inches deep)…not from any beauty boutique because most of them don't ship to the Philippines anyway.  It would have been good to recommend BeautyBay.com to you guys (they ship free to the Philippines) which even had this on sale for awhile even but it  just completely sold out over there.  I didn't find out about this being on Beauty Bay early enough so I resorted to ebay.  The first thing I noticed is this product SMELLS lovely…it's like a sweet floral blend that I can't exactly place with words but it's not sickening, it actually reminds me of a sweetened Denenes cologne that's gone eau fraiche.  It's the natural stuff in it that has it smelling good so for once I'm making an exception on fragrance in this facial product.