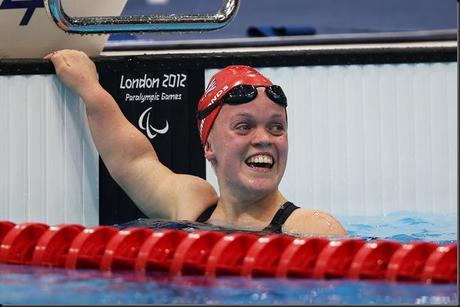 I don't whether the same joie de vivre is being felt around the rest of the world in reaction to the Paralympic Games, but here in the UK, the feeling I get is just as exciting and maybe more so at the incredible athletic achievements which all these wonderful athletes attain. Talking in British terms, by far the most high profile of these competitors at the Games is the swimmer, Ellie Simmonds. Tonight she is going for a 3rd gold medal at these wonderful games, and when I looked at her amazing chart I just had to do a post on her.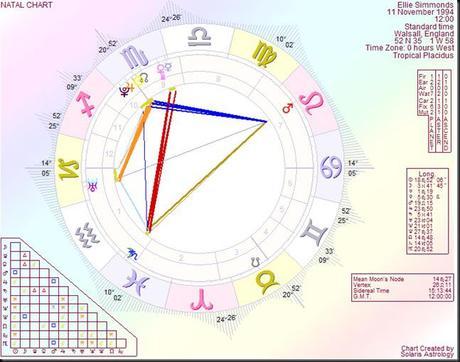 Ellie was born in Walsall in the UK on 11th November 1994 (birth time unknown). She is a Sun sign Scorpio with her Moon probably in watery Pisces. I say probably as it could be in Aquarius, but seeing she is a swimmer and seeing that Pisces rules water and being in that sign brings it into contact with Saturn, the planet of ambition, it sort of makes huge sense that it sits in this sign. This combination of Sun and Moon is really intuitive and very emotional, yet there is a real strength of conviction here and that intuition helps her cope and even thrive when the pressure is on. Effectively she can switch into auto-pilot mode, and let her talent do the talking. With 7 planets in water signs and 6 in fixed signs, we have the same picture. Huge determination and drive as well as tons of emotion, most of it Scorpionic. Scorpios have to deal with big change in their life and often surmount big odds. From a girl born with the condition of dwarfism, Ellie has risen to fame being plastered on billboards and buses all around London and the UK.
Look at that incredible stellium of planet in Scorpio. North Node, Sun Pluto and Jupiter, all squared by Mars in big and brash Leo and sextile to Neptune and Uranus in ambitious Capricorn. You could not get a more advantageous, lucky and powerful combination of planets in conjunction all radiated by that Scorpio Sun. Jupiter here brings fun and a jovial smile. Pluto brings the ability to be famous and together these two planets say big business, big money and international fame.
The square from here to Mars shows tension and athletic prowess, and Mars in Leo will not be ignored, this is a star studded position with box office appeal. Neptune and Uranus together in Capricorn torn down the Iron Curtain in the late 80's and early 90's. Uranus in Capricorn shows revolution and repealing old values and through her swimming ability (Neptune) Ellie is in the same way tearing down old preconceptions on disability and what disabled and disadvantaged people can actually achieve. Her Neptune in Capricorn is in mutual reception with he Saturn In Pisces. These two planets are in harmony, and are working well together. Her career and status (Saturn) is tied to her ability in the water (Neptune). Uranus enhances and energizes her swimming ability yet further, and these two outer planet feed beautifully into that power packed stellium.
The Saturn Moon conjunction in Pisces shows that Ellie can keep her huge emotions in check and channel them into what she does best, her sporting ability. That quindecile from Moon Saturn into Mars in Leo is very focused and another key to why why she is having success. The Moon and Saturn shows an individual focus. It can show someone who can emotionally switch off, she is able to "go into the zone" so to speak, and it also contributes an old head on young shoulders. Ellie will be a girl who will do her best when she competes on her own rather than in a team environment.
Her Venus Mercury conjunction is Scorpio trine to Saturn and the Moon shows an eager learner and someone who will go to any lengths to get things right, and is interested in delving beneath the surface of any issue to discover the truth. She will be popular and has a talent for bringing people together, as well as having an eye for art and beauty and design. She will be a loyal girl (Venus trine Saturn), caring and thoughtful (Venus trine Moon), and idealist (Venus conjunct Mercury) and able to plan, to work hard and to strategize (Saturn trine Mercury).
Ellie has everything here on this chart to go as far as she wants, and I absolutely mean that. At only 17 and with 4 gold in the bag already, she can go on to be one of the most decorated British Paralympians ever. Plus she seems a lovely girl who captures people's hearts wherever she goes. It just shows that talent can rise to the top, no matter what odds you face. Good luck to her for the rest of the games…