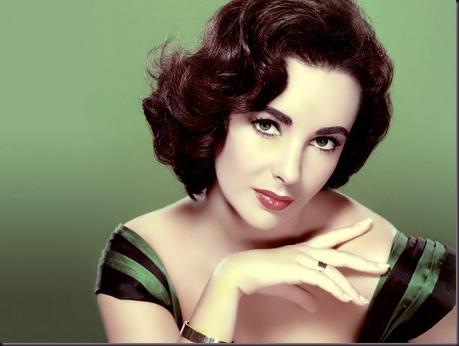 At the age of 79 and having suffered ill health for many years, Dame Elizabeth Taylor passed away today with her four children at her bedside. Elizabeth was one of the great actresses of any generation and was a star in the golden age of film-making in the 50's and 60's, notably in Cleopatra and Who's afraid of Virginia Woolf. She married 7 times, including twice to Richard Burton.
Elizabeth was born in London, England at 2.15am on 27th February 1932. She was a Sun sign Pisces with the Moon in deep hidden Scorpio and the Ascendant in expansive Sagittarius. Across the 2nd and 3rd houses we find a Sun, Mercury, Mars conjunction in Pisces. Elizabeth had a lot of energy (Mars) and creative desire (Pisces) but also had a sharp cutting temper (Mercury conjunct Mars). All that ambition from this conjunction found an outlet in filmic Neptune opposite in the international 9th house in critical yet perfectionist Virgo. This Neptune in the 9th house made sure that her acting talent was seen worldwide, she was one of the first real superstar international actresses. Elizabeth would cut down those who crossed her with withering, critical anger, she was the ultimate perfectionist in her acting roles Mars driving her forward to get things right, however there was a downside to this opposition. Neptune opposite the Sun weakens the personality in some way and this being a Pisces/Virgo opposition which is the health axis in a chart, it weakened her health too. After having an accident at the age of just 12 during the filming of National Velvet when she fell off a horse, Elizabeth was always subject to health problems, especially with her back. She also had her hips replaced, survived a benign brain tumour, had skin cancer, pneumonia and later in her life a progressive heart condition. Mars conjunct the Sun certainly gave her the strength to carry on though her ill health, she surely would not been able to carry on to become the legend she became with out it.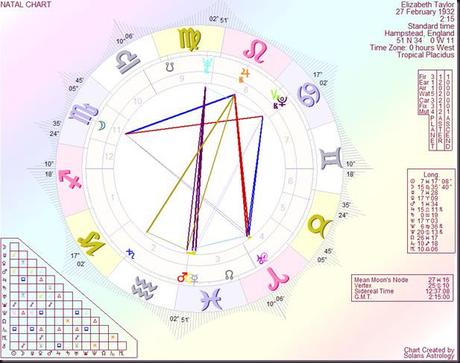 Elizabeth's Moon was in secretive, hidden Scorpio in the humanitarian 11th house. With the Sun in Pisces opposed by Neptune combined with this emotional Moon placing, Elizabeth was extremely sensitive, yet distant and mysterious. Her need for a satisfying physical relationship would have been extremely strong and in her work all these emotions would have come to the surface, maybe the key to why she was such an admired actress. The Moon identifies with groups and humanitarian causes and being square to generous Jupiter in extravagant Leo, she would have had no qualms in being charitable; Elizabeth's philanthropy was well known. Jupiter in Leo square Moon says everything about her, a larger than life character who just loved to be the spotlight, especially with regard to her emotional life.
Much has been made of Elizabeth's seven marriages. Why did she get through so many husbands? Well the temper would be one reason. A second reason would have stemmed from the tight Venus/Uranus conjunction in the 4th house of the home in go ahead Aries. Her home life, her love and emotional life would have been unpredictable from an early age, always moving about from place to place. At age 7, her parents (who were American) moved back home to California from London to avoid the war. Soon after, the young Elizabeth was discovered by a Hollywood Universal film mogul and her transitory life continued. She would have been attracted to interesting, rebellious men, yet she herself would have needed space and independence within the union. This is never a helpful aspect for a stable emotional life, as she would have had the tendency to fall in love in an instant, and being in Aries, if things went wrong, Elizabeth would forge ahead to find someone new without thinking of the consequences.
Saturn always shows fear, and with Elizabeth that fear extended to the 2nd house of her personal finances. Here is the fear that you never had enough money, however with Mars also in the 2nd there was a reckless edge to her own spending, and her generosity to charity would have also drained her finances. It is said that Elizabeth married seven times due to the men in her life bleeding her money dry, however the astrology shows that Elizabeth was as much to blame in spending too much. Her paranoia about her personal wealth would have led her to believe this, no matter what the truth actually was. In fact both Saturn and Mars were quindecile Jupiter in the 8th house of other people's finance. She would have been obsessed about other people's finance as much as herself.
Finally I look at Pluto. Pluto is in Cancer and trine to that Scorpio Moon. Both these planets are square each other and also in mutual reception, in each other's home sign so they are very much increased in intensity. This is where I believe Elizabeth got her dark smouldering looks from, Pluto and Scorpio always seem to bestow a strong, mysterious aura. Pluto in it's home house the 8th says one thing, change. Elizabeth would have to get used to changes often in her life. Changes in her intense emotions, changes in her home-life and changes in her love-life. It was always meant to be that way.
Elizabeth Taylor was a remarkable lady and it is interesting that she passed away just before Neptune changed signs into Pisces, it switches next month. If you look back at Neptune on the cusp of the last degree of a sign, often a famous lady who made her mark on the world passed away.
Thanks to Astrologer Marjorie Orr who produced this incredible list to prove this point.
1901: Neptune leaving Gemini - Queen Victoria dies.
1915: Neptune leaving Cancer - Mary Baker Eddy and Emily Davidson (suffragette who suicided by horse at the Derby). Florence Nightingale also died with Neptune in late Cancer (1911)
1929: Neptune leaving Leo - Emmeline Pankhurst (the great suffragette), Ellen Terry, Isadora Duncan.
1943 - Neptune leaving Virgo - aviator Amy Johnson, writer Beatrix Potter.
1957 - Neptune leaving Libra - Laura Wilder (Little House on the Prairie), scientist Irene Curie
1968 - Neptune leaving Scorpio - Helen Keller, Enid Blyton, Dorothy Parker, Vivien Leigh, Judy Garland, Little Mo, Sonja Henie, Gypsy Rose Lee, Sharon Tate.
1983 - Neptune leaving Sagittarius - Nathalie Wood, Anita Loos (Gentlemen Prefer Blondes), Anna Freud, Ingrid Bergman, Grace Kelly, Gloria Swanson, Ethel Merman, Lillian Hellman, Indira Gandhi.
1998 - Neptune leaving Capricorn - Princess Diana, Mother Theresa, Ella Fitzgerald, Ginger Rogers, Lana Turner, Evelyn Laye, Dorothy Lamour, Claudette Colbert, Margueurite Duras, Patricia Highsmith, Mary Leakey.
2011 - Neptune leaving Aquarius - Jane Russell, Elizabeth Taylor.
Please visit Marjorie's excellent site analysing the news stories of the day at the following link :- 
Marjorie Orr Website