Peter Holley reports for Washington Post, April 12, 2015, that authorities have arrested three men in connection with a brutal sexual assault that took place in front of hundreds of spring breakers on a Florida beach last month. The three are:
George Davon Kennedy, 

a student at Middle Tennessee State University in Murfreesboro, Tenn.

Delonte' Martistee

, 22, a student at Troy University.

Ryan Austin Calhoun

, 23, also a student at Troy.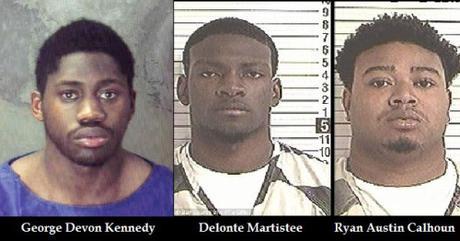 All three men are charged with sexual battery by multiple perpetrators.
In a statement released to CNN, Troy University confirmed that the two men are enrolled at the school. "The students have been placed on temporary suspension from school per the university's standards of conduct and disciplinary procedures. Martistee, a member of the track and field team, has also been removed from the team."
This week, the Bay County Sheriff's Office released new footage and details from the assault, which occurred sometime between March 10 and 12 on a beach in Panama City, Fla. In the video, several men can be seen surrounding the victim, according to the Panama City News Herald.
"As she tries to remove their hands from her genital region," the Herald reported, "utterances to the effect of 'she isn't going to know' can be heard from the men."
Ruth Corley, spokeswoman for the sheriff's office, told CNN that the video shows men holding down the legs and pushing away the hand of an incapacitated woman on a beach chair within two feet of other spring breakers. Investigators believe the people near the assault knew what was occurring but did nothing to stop it.
Bay County Sheriff Frank McKeithen described the video, which was discovered by police in Alabama investigating an unrelated shooting, as the "most disgusting, sickening thing" he had ever seen. "There's hundreds, hundreds of people standing there — watching, looking, seeing, hearing what's going on," McKeithen said. "And yet our culture and our society and our young people have got to the point where obviously this is acceptable somewhere. I will tell you it is not acceptable in Bay County."
The woman discovered she was the focus of a sexual assault investigation while she was watching the news and recognized her tattoos, according to CNN. After contacting police, the victim later told investigators that she didn't remember the assault and may have been drugged.
About 100,000 spring breakers descend upon Panama City each year, unleashing chaos on the community and police. This year, CNN reported, "the Bay County Sheriff's Office made more than 1,000 arrests for various crimes — about triple the number of arrests made in the same period last year."
McKeithen told CNN that investigators continue to pore over social media accounts, where they are finding more instances of incoherent women being sexually assaulted on camera in front of numerous witnesses. "This is not the first video we've recovered," he said. "It's not the second video. It's not the third video. There's a number of videos we've recovered with things similar to this, and I can only imagine how many things we haven't recovered."
Meanwhile, we are waiting with bated breath for Obama to say: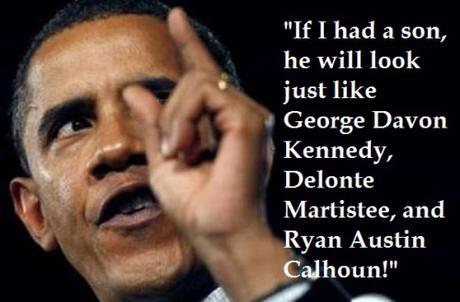 ~Éowyn