Paper craft projects can be a lot of fun, but often times the amount of cutting can be a real burden. Spend more time crafting and less time cutting with best buy electronic cutters. Electronic cutters can help cut down cutting time for a variety of projects like scrapbooking, card making, paper designs and more. There are a number of electronic cutters on the market that range in price and function. Pick the right electronic cutter for your needs from this list of highly recommended cutters.
Provo Craft Cricut Personal Electronic Cutter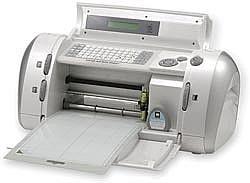 This Cricut model of the Provo Craft line is an ideal electronic cutter for those that spend a lot of time making paper crafts and scrapbooking. This machine allows users to easily create fonts and designs with the touch of a button.
The Cricut electronic cutter can also cut through a variety of paper materials, such as cardstock. Design cartridges for this machine are sold separately so that you can choose which designs best suit your needs.
Provo Craft Cricut Expression 2-24 Inch Electronic Cutter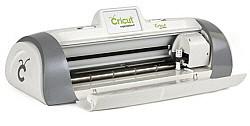 The newly created Cricut Expression 2-24 Inch electronic cutter from Provo Craft is a paper craft enthusiast's dream. This cutter is easy to use, making it ideal for someone who is new to the trade. Features of this cutter include wireless compatibility, an LCD touch screen display, mat preview and more.
This cutter also comes with the Cricut Essentials Cartridge and the Cricut Alphabet Cartridge so that you can get cutting right away. These cartridges allow a designer of any skill to create beautiful fonts, shapes and designs with just the push of a button.
Provo Craft Gypsy Handheld Design Studio for Cricut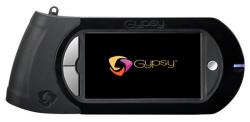 Anyone using a Provo Craft Cricut electronic cutter must have the Gypsy Handheld Design Studio as well! The mobile design studio stores the design cartridges used by Cricut so that you can design on the go, away from your cutter. The Gypsy system works with all Cricut electronic cutters, making it easy for you to create and explore new designs, and then simply plug in to the cutter to create your masterpiece.
Xyron Wishblade Cutter with Software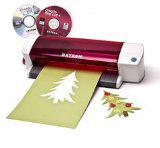 The Xyron Wishblade cutter allows craft enthusiasts to create a variety of paper crafts. Connect this cutter to your computer for optimal use with the software that is included with the package. You can cut any true type font, drawings, images, outlines and more. Anything that you can create on your computer can now be simply printed and cut out with the Xyron Wishblade.
Pazzles Inspiration Creative Cutter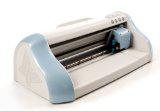 With the Pazzles electronic cutter, crafting fanatics can master paper craft projects like never before. This easy to use cutter connects to your computer for optimal use. You can create your own designs and then use the cutter to make them come to life. The Pazzles cutter works with a variety of mediums, including card stock, fabric and embossing foil. You can even emboss and distress your paper crafts with this handy machine.