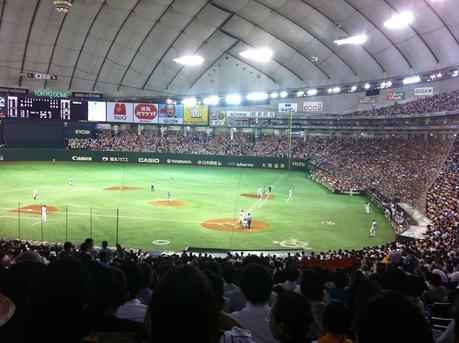 Given that Japan has been through so much this year, it is nice to see the country still hasn't lost its passion for baseball or its penchant for cuteness. Okay, so this post really has nothing to do with cuteness but trust me, the love for all things "kawaii" (cute) remains strong. But on to baseball…
As part of "setsuden" or power saving activities that Tokyo had implemented in the wake of the tsunami and subsequent nuclear crisis, even baseball stadiums got into the act. By controlling lighting, adjusting the air conditioners, and generating some electricity at the stadium, energy use was reduced by nearly 40 percent, according to this article by Japan for Sustainability. In addition, a clever ploy was developed to bring attention to the games and to the efficiency to be had through thinking outside the box. Every game, the MVP is driven around the field to bask in the fan's affection. This season, the "Hero Car" as it is named was run on electricity generated by pedaling bikes.
Five bikes were installed at the "Tokyo Dome Power Station" in the control room on the first-base side. Seven people then pedaled bikes, rotating each inning, with the aim of generating 300 watt-hours of electricity over game. The electricity was stored and used for the Hero Car the following day. A total of 105 participants for 15 games were selected from over 14,000 public applicants by drawing lots. The participants were admitted for free and pedaled bikes while watching the game.
I wouldn't mind pedaling a bike every other inning (while watching the game!) to get a free pass to the ball park. Sometimes little energy saving activities may seem gimmicky, but if gimmicks is what it takes to get the word out, it's fine with me. I bet people would also buy a system for their homes like this; back up generator connected to a treadmill/stationary bike/elliptical machine where people power charges up the generator and stores it for use during high load times.
[Image by 2nd Green Revolution]