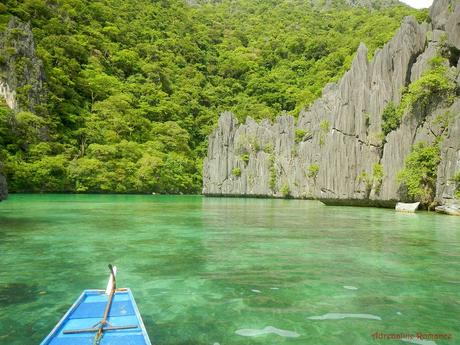 The Philippines is world-renown for its endless array of stunning beaches that can be considered among the best in the world. And when we say endless, we definitely mean it! The combined coastline of our country's 7,100-plus islands stretches to more than 36,280 miles, making our coastline the 5th longest in the world! Within that coastline are numerous beaches, each with its own life, beauty, and soul. During our El Nido trip, we were given the privilege to see some of the best and the most unique beaches in the country.
After a visiting some hidden paradises, we were ready to visit the next set of amazing destinations. We headed back out to Bacuit Bay and cruised alongside the many islands that dot the bay.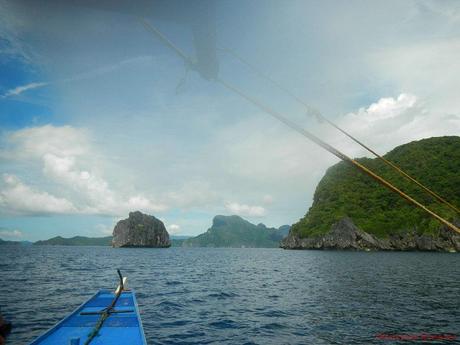 Not all landmasses in Bacuit Bay are large islands. Indeed, we found plenty of imposing rock outcroppings such as these which jut out of the blue sea. It's pretty amazing to know that these rocks were once submerged in water.
Today, marine birds, bats, snakes, lizards, and other creatures make these rock outcroppings their homes.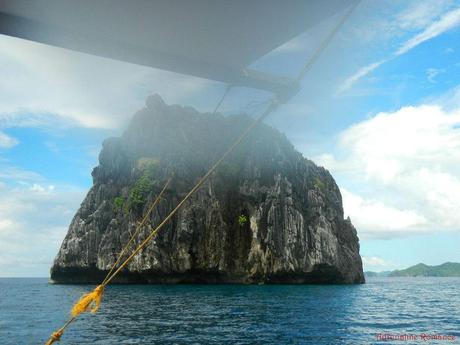 Cadlao Lagoon
After half an hour of cruising across Bacuit Bay, the boat slowed down, which meant that we were near our first destination of the afternoon, a magical place called Cadlao Lagoon. Nestled in the middle of those rock outcroppings is the lagoon itself.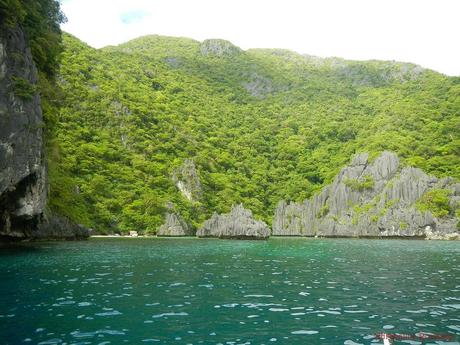 We gasped in awe as we slowly entered Cadlao lagoon. The place is simply enchanting! Just check out that extremely clear water. Or is it simply seawater? It's more like liquid crystal! We could actually make out individual corals, rocks, seaweeds, and fish due to the clarity!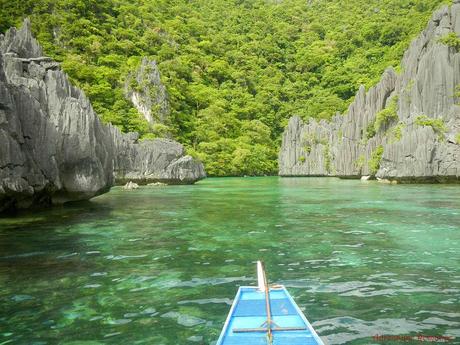 The water here is actually brackish. That means fresh water from a spring in the island flows out to the lagoon to mix with salty seawater.
That cute nipa hut on the beach is a station and shelter for Bantay Dagat personnel who constantly keep watch over the protected Cadlao Lagoon and the surrounding areas.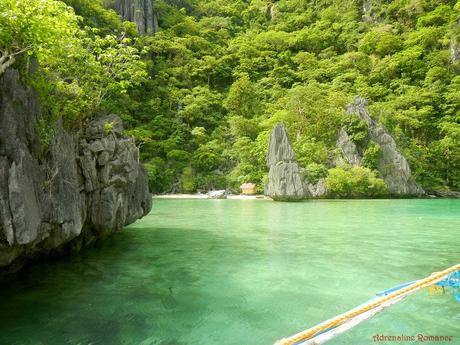 Even though we didn't get off the boat at the enchanting Cadlao Lagoon, we were quite happy to simply see its beauty and cruise around it.
Just check out those awesome ragged rocks!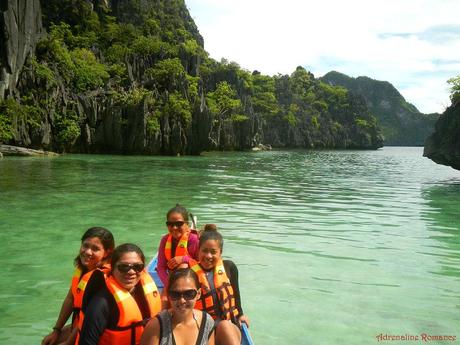 Pasandigan Beach
As we cruised to our next destination, we chanced upon islands with gigantic, soaring, glorious cliffs. Those cliffs must soar hundreds of feet up in the air!
Rock climbers would really have a heyday trying to ascend these monoliths. Unfortunately, the local government of El Nido prohibits climbers to set up routes in any of the cliffs. Sigh! We can just drool over them.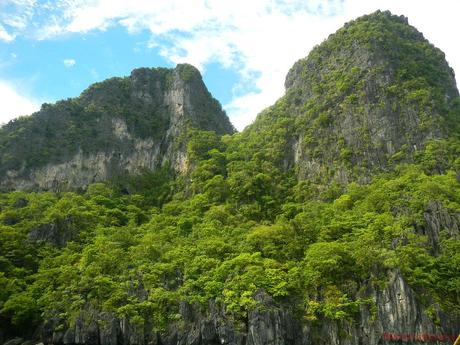 After a while, we slowed down in front of this stunning white-sand beach with a gigantic limestone wall looming over it like a watchful guardian. We have arrived at the Pasandigan Beach, a place that is not just a popular rest stop but also a treasure trove of secrets.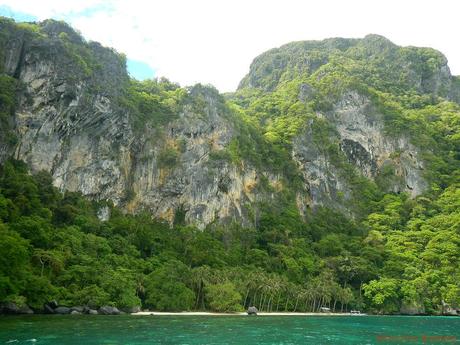 Just look at that ultra-clear water! This part of Pasandigan Beach is perfect for snorkeling.
After the sea wind dried our skin and left rough, salty residue on it, everyone was ready to take a dip.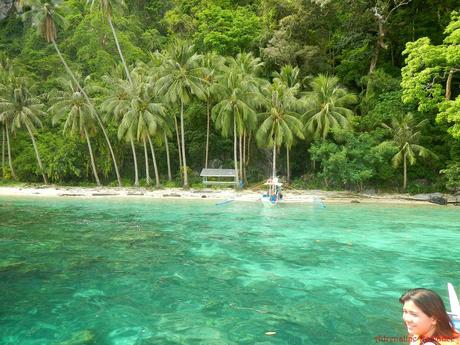 What a lovely combination of coconut grooves, sand, sea, and cliffs! As one of our readers said, "Nature heals." It really does. When we visited the Pasandigan Beach, we could feel our stress being washed away by the gentle waves.
If those cliffs were bolted, rock climbers like us would have loved to stay here for several days while we try to onsight, flash, or redpoint the routes.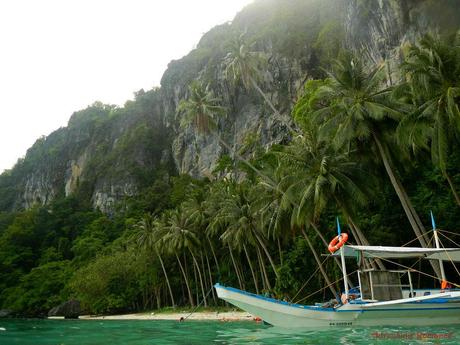 Seeing the adventurous side in me, Guide Gilbert led me to a well-kept secret in the island. For me, it was a privilege; he doesn't usually show this secret to his guests. That's because this secret is only accessible by swimming 50 or so meters in deep water then entering a small cavern.
Needless to say, getting to this secret is potentially dangerous.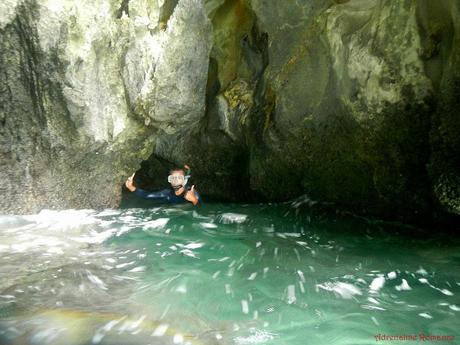 We emerged on the other side of the hole, deep inside a limestone cliff. We walked in shin-deep water until we reached a trench of deep water. See that dark area at the center of the photograph? Imagine the monsters that lurk beneath the surface.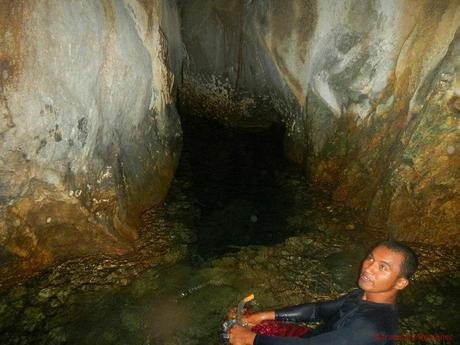 Farther down the cave, we swam along this "river" of crystal clear, cold water. Although it's quite dark here, the white-sand bottom of the trench reflected an eerie, lowing greenish light.
The muted drone of the sea sounds very strange here as if it was the raspy breath of a giant.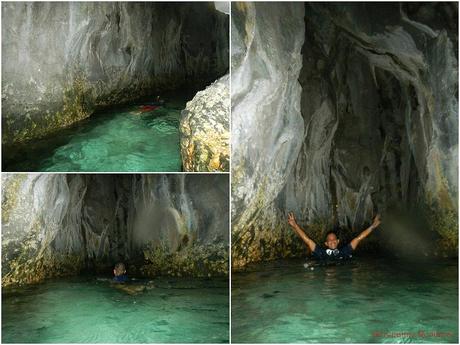 At last, we arrived at the heart of this secret place, the bottom of what looks like a sinkhole. The gentle afternoon sunlight flowing into the hole made the place glow in an ethereal light.
Gilbert also explained that when it rains, this hole turns into a nice waterfall! Cool!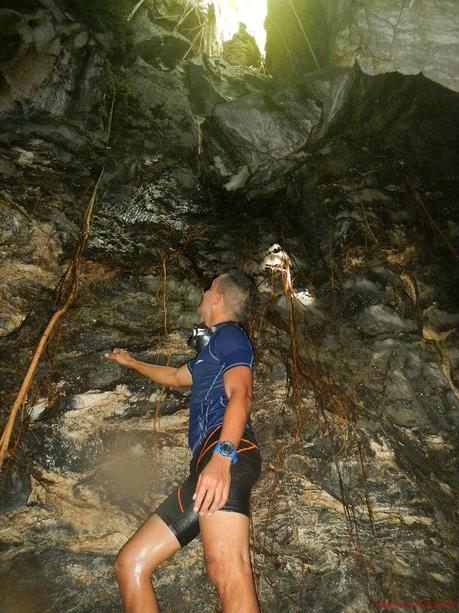 After spending around 15 minutes in the cavern, it was time to go back. Yes, that's where we came from. That hole leads to the open sea.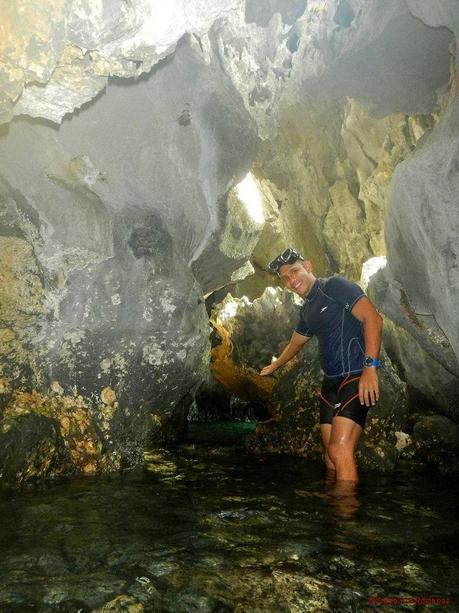 Paradise Beach
We spent another half an hour in Pasandigan Beach before we headed out to another destination. On the way, we specifically told the boatman to cruise close to the islands. We can never get enough of those magnificent cliffs.
This one has a very nice, very large overhang.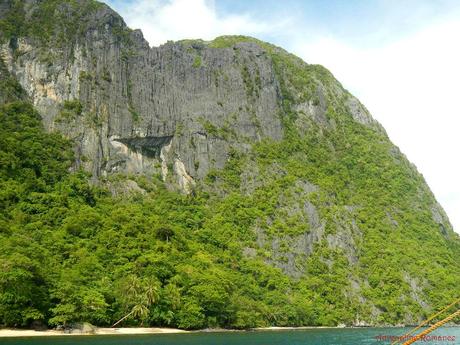 Hi, ladies! Are you enjoying El Nido? We met these pretty Caucasian ladies kayaking in the waters of Bacuit Bay. They were as enchanted with the beauty of the island as we were!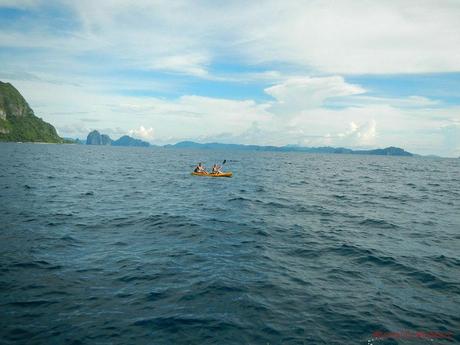 In less than half an hour, we reached another white-sand beach called Paradise Beach. Instead of cliffs like in Pasandigan Beach, Paradise Beach is bordered by thick trees.
It was at this moment when our trusty waterproof camera started to have problems; it started to fog.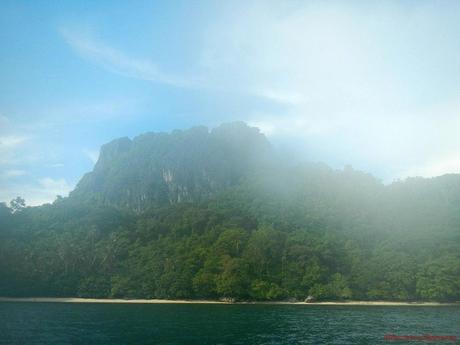 What a lovely nook! we exclaimed as the boat slowed down to dock at Paradise Beach. Look at how clear the water is. Look at how virgin the forest is. It's name, Paradise Beach, is indeed fitting!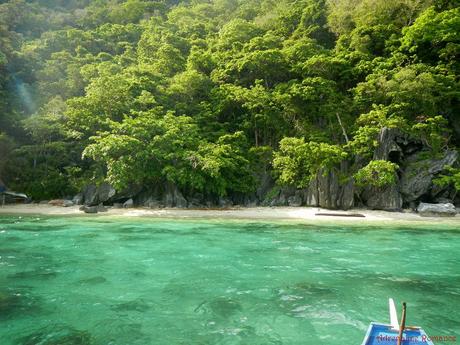 Swimming time! Well, at this time, half of the group was quite exhausted. The kids went frolicking in the water, while some of the adults simply sat down on the fine, powdery sand and enjoyed the view of Bacuit Bay.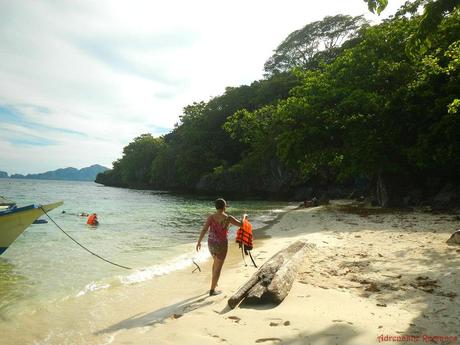 Our kind of paradise! Yeah! If we would have a billion pesos, we'd buy this paradise and live here forever. Hehehehe!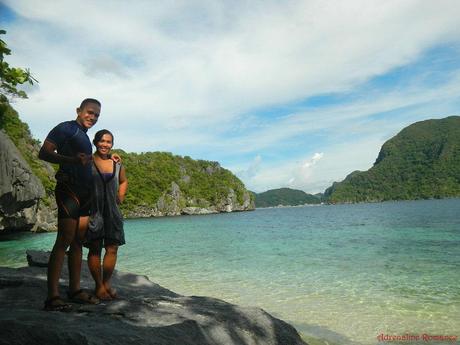 Sweetie enjoyed the warm water and the tranquil view while contemplating on how honored and lucky we were to have set foot in one of the most enthralling places on Earth.
Sorry for the blurry photo; our camera's fog became worse, :(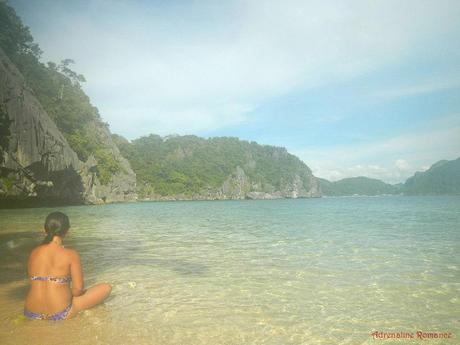 Natnat Beach
After an hour, it was time to head back home to El Nido Poblacion. On the way, we passed by Natnat Beach, supposedly another destination included in Tour D. With low, overhanging limestone cliffs that border the beach, we think that this would be one heck of a bouldering paradise.
Unfortunately, we were not able to stop at Natnat Beach since it was already 4 PM by the time we departed from Paradise Beach. Island hopping tours were not allowed to go beyond 5 PM for safety reasons.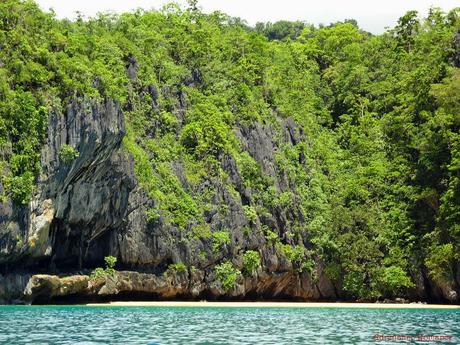 El Nido Poblacion
45 minutes later, we finally reached the El Nido Poblacion. Everyone was dying for a cool freshwater shower and a change of clothes!
Now, dear reader, we want you to focus your attention on the highest point in the photo. Yes, that monolithic rock behind the structure with the red roof. That's Taraw Cliff, and we vowed to climb it the next day!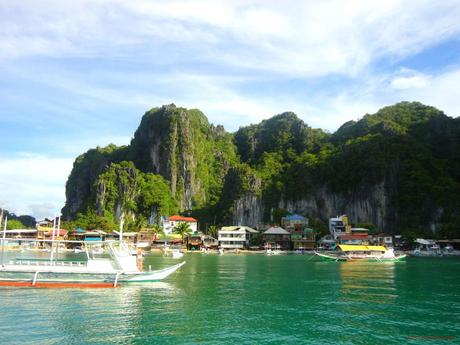 While waiting for the others to finish rinsing off, we relaxed at Arkitel's terrace and watched El Nido go by—without the coffee, of course. Check out the streets; they're very narrow!
We were simply captivated with the laid-back, rustic lifestyle of the Poblacion. True, there are plenty of tourists loitering around; it's a popular resort town anyway. However, the presence of plenty of tourists, hotels, and other tourism-related service providers did not mar the pastoral, simple, and peaceful atmosphere of the town.
If you want to experience some peace and quiet while being spellbound at the beauty of Mother Nature, then El Nido is the perfect holiday destination for you!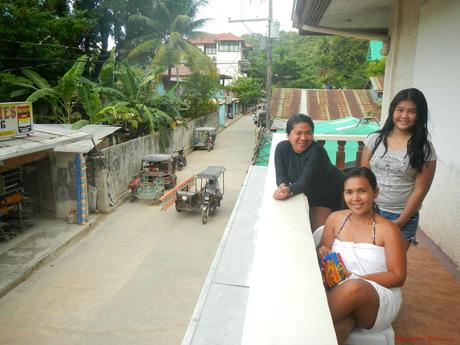 After Sweetie and I finished showering, we headed to the beachfront to watch the sunset. As a resort town, it is not surprising that an eclectic array of bars, café's, restaurants, hotels, karaoke joints, and shops line up El Nido's crescent shaped beach.
While this place is vibrant during the day, it becomes alive at night as tourists enjoy parties, videoke sessions, beach dates, and other nightlife activities.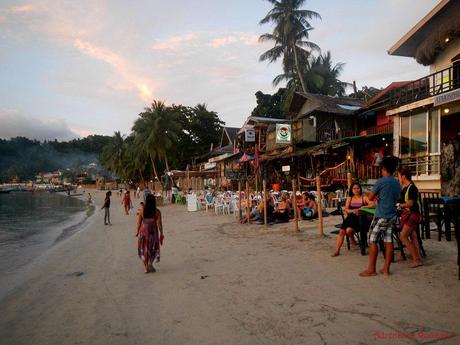 A few minutes later, the sun said goodbye for the day. But before she slept, she let out a fiery yawn that bathed the land in an orange, ethereal glow.
It was this moment when Sweetie and I realized that as travelers and adventurers, we were offered rare privileges in seeing magical events like these.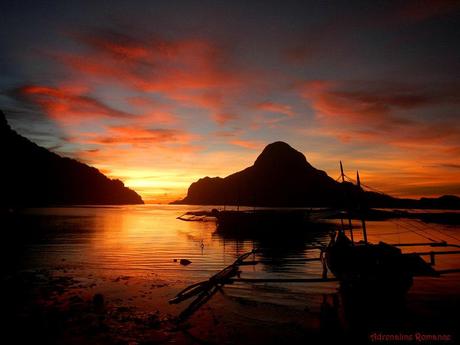 Since Sweetie and I virtually do not have a nightlife, we turned in early to prepare for a nice adventure and early morning exercise the next day, an ascent to the summit of Taraw Peak. See you at the summit!