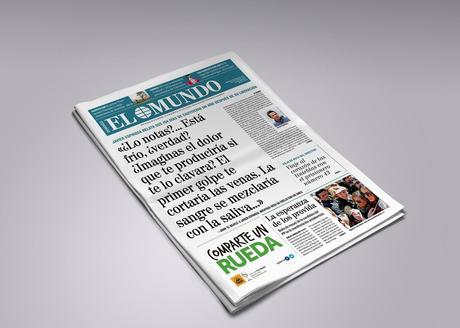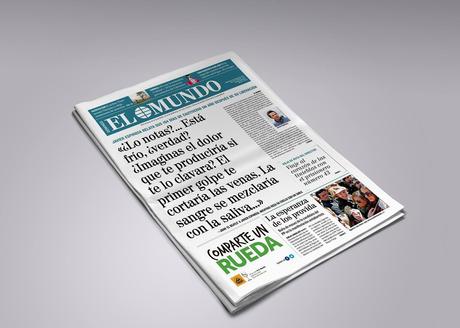 Javier Espinosa, El Mundo's Middle East correspondent, and Ricardo Garcia Vilanova, a freelance photographer, arrived in Madrid and are beginning to tell the story of their captivity but still convinced that the story of the war in Syria and the plight of the victims needs to be told.
In its Sunday front page, El Mundo surprised with what I call a "type attack", where the words carried the day.  It takes powerful words for a type attack to work best, in spite of the design of the font used, which in this case is the elegant Imperial.
This front page definitely had the power of the words, which I translate here.  Javier Espinosa, who was Prisoner # 43 remembers the chilling words from his captor , who is holding a knife as he speaks:
"Do you feel it?….It is cold, right?  Can you imagine the pain that this would inflict if I were to stab you?  The first stab would cut the veins.  Your blood will mix with your saliva…."
No photos needed here.  Bravo to the editors and designers who decided to tell this story in such a powerful way.
For the story (in Spanish)
http://www.elmundo.es/internacional/2015/03/15/5502e97d22601d8a288b456f.html
TheMarioBlog post # 1707
Please enable JavaScript to view the
comments powered by Disqus.
comments powered by

Disqus