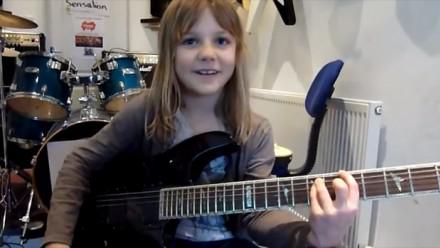 Zoe Thomson. Photo credit: YouTube screengrab
A YouTube video showing musical prodigy Zoe Thomson practicing the Finnish symphonic metal band Stratovarius's track Stratosphereon her guitar has amazed musicians and raced to over two million hits. Not bad going for the eight-year-old from Thatcham, Berkshire.
Amazingly, the Stratovarius clip does not represent the first time Thomson has gone positively viral. She plays in a group of eight- and ten-year-olds called The Mini Band, which last year produced a cover of Metallica's Enter Sandman. The heavy metal band was so amazed by the children's abilities they posted the video online, attracting more than three million hits, noted The Week.
The Daily Telegraph flagged up some of the breathless YouTube user comments: "Excellent right hand, excellent left hand. She's exceptionally good. Every good guitarist will find this absolutely amazing." Another added: "Holy guitar prodigy batman! Outstanding. Eddie Van Halen has nothing on you!"