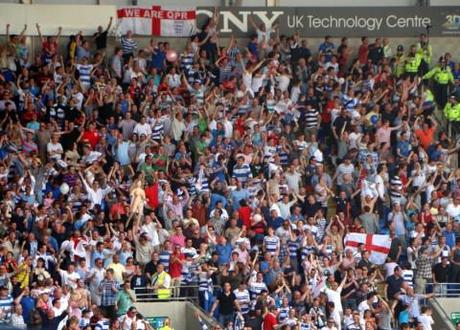 QPR fans celebrate a goal at Cardiff, 2011. Photo credit: Jon Candy
Make no mistake about it; we've reached the business end of the Barclays Premier League season. Sir Alex Ferguson famously called it "squeaky bum time." And, boy, are the bums squeaking in the blue-and-white hooped enclaves of west London. I should know; my bum's squeaking.
With just 14 games remaining, Queens Park Rangers find themselves hovering just one solitary point above the dreaded relegation zone. Unless a mid-table side implodes pretty spectacularly (over to you Fulham!) between now and May 13, it looks like three of five – QPR, Wolves, Bolton, Wigan and Blackburn – are headed for the exit door.
QPR's precarious position has me more than a little on edge. I know its just football but it matters to me. I started supporting  QPR in the early nineties when the likes of Trevor Sinclair, Andy Impey, Clive Wilson and Les Ferdinand helped make QPR London's top club. I've witnessed the good (promotion at Hillsborough and, sort of, at Vicarage Road), the bad (two relegations) and the downright ugly (too many times to bear thinking about but losing to Vauxhall Motors on penalties was especially, err, special).
Relegation would be a real hammer blow to Rangers' long-suffering fans. Why? Because the last time the superhoops were relegated from the top league, it took them 15 long years to get back up to the big time. They hung around for many years in the wastelands of English football. I should know. Together with my R Block comrades, I saw the R's toil away against minnows like Rushden and Diamonds and Mansfield Town. It was grim. None of us want to go back to a rainy Southend-on-Sea on a Tuesday night now we've basked in the big city lights of the Prem.
None of us want to go back to a rainy Southend-on-Sea on a Tuesday night now we've basked in the big city lights of the Prem.
It pains me to say it but QPR's current league position is mostly of its own making. We are our own worst enemy. Home form – widely recognised as absolutely crucial for promoted teams hoping to avoid the drop – has bordered on the diabolical. Besides the wildly celebrated (if rather fortunate) 1-0 win over rivals Chelsea (who were reduced to nine men and still had plenty of chances), QPR have only beaten bottom team Wigan at Loftus Road. In two key games, QPR have jumped up and down on the self-destruct button. Leading one nil against fellow promoted club Norwich, QPR captain Joey Barton got drawn in to a spot of needless argy-bargy and got himself sent off. Norwich went on to beat ten-men Rangers 2-1. A month later, QPR led relegation rivals Wolves 1-0 and looked likely to go on and win handsomely. That's until new signing Djibril Cisse reacted petulantly to a nasty tackle and got his marching orders. Wolves clawed their way back to win the game 2-1. Had Rangers kept 11 men on the field versus Norwich and Wolves they'd almost definitely be six points better off. But they're not. There's no point crying over spilt milk (although that's not how I felt last Saturday afternoon).
As the QPR squad prepare to go to battle with Blackburn – a game which few would deny really is a relegation six-pointer – I'm going to do my best to lighten the mood. I say us fans do have some genuine reasons to be optimistic of avoiding the trap-door down to the Championship. Here are my  eight reasons why QPR will (hopefully) stay up. I could have possibly have reached to ten reasons but I know as well as you that I'd have been scraping the barrel.
Adel is back! Rejoice. Moroccan magician Adel Taarabt pretty much single-handedly got QPR promoted from the Championship last term. He did things with a football that few knew was possibly. Just ask Swansea or Cardiff fans. The truth is that when Adel's is in the mood and on song he is one of the Premiership's most technically gifted performers and almost unplayable. Partly due his own petulant displays, Adel found himself as something of a bit part player in ex-manager Neil Warnock's last few months at the helm. But, thankfully, new gaffer Mark Hughes sees him as central to the survival plan. Hughes started Adel against Wolves and he was the best player on the pitch by a country mile. Hughes has been 'bigging him up' this week and I fully expect Adel to tear Blackburn a new one tomorrow.
Buz might be back! Alejandro Faurlin's season-ending knee injury at Milton Keynes Dons robbed QPR of its best player so far this season and left a gaping hole in the midfield engine room. Hughes has signed Malian enforcer Samba Diakite from French side Nancy to plug the gap but forgotten man Akos Buzsaky has come in from the cold to also stake a claim for a midfield berth. The Hungarian, who is often optimistically referred to as the "Magical Magyr" on qpr.co.uk, was surplus to requirements under Warnock but Hughes clearly rates him. Buzsaky starred in QPR's invaluable 3-1 win over Wigan and could well start again at Blackburn. His dangerous free kicks give QPR a weapon it has been sorely missing since the days of Richard Langley.
Akos Buzsaky's deadly free kicks are a real weapon.
Beefed up defence. January signings Taye Taiwo and Nedum Onuoha have come in to beef up a back four which was looking increasingly vulnerable. If centre-back Anton Ferdinand can keep up his excellent form and Luke Young can cut out the costly recent mistakes, QPR look to now have a solid back four. Something Wigan, Bolton and Blackburn can only dream of.
Potentially potent strike pairing. Hughes moved quickly to spice up QPR's oh-so bland striker department and January additions Bobby Zamora and Djibril Cisse look like they could form a lethal front pairing. They play to each other strengths and both are already off the mark. Unfortunately, Cisse's unnecessary red card means Zamora will have to plow a lonely furlough for the next three games unless Hughes opts to push one of Taarabt, Jay Bothroyd or Jamie Mackie up top alongside him in a 4-4-2.
Still some winnable fixtures. I'll not try and polish a turd; QPR's run-in is undeniably very tricky. Over the next 14 games QPR lock horns with all of the current top six – Liverpool, Tottenham, Chelsea, Manchester United, Manchester City and Arsenal. Eek! But some of the other games are winnable. Taking maximum points from home games against Fulham, Swansea and even Stoke isn't impossible, right? Neither is winning on the road at fellow strugglers Blackburn, Bolton and West Bromwich Albion. I'm saying we need at least four wins from those six games to finish in that magical 17th spot.
Three worse teams? There is a faction of QPR fans who cheerily insist that "we should be alright, there are three teams worse than us in the league." While that might well be true, the truth is that it matters nowt if you can't take points off them. The reason QPR are where they are is because we have failed to beat Wolves, Bolton, WBA and Blackburn at home. That said, on paper at least, Blackburn, Wigan and possibly Bolton's squads do all look worse that QPR. None added much notable talent in January so shouldn't be particularly confident of improving for the run-in.
Are there three teams worse than QPR? Leave a comment.
Shaun Wright-Philips can't get much worse. Vertically-challenged right winger Wright-Philips has been one of the biggest disappointments of the season so far. He's shown flashes of brilliance but not much bottle. But he played his best football under Hughes at Manchester City and QPR fans have their fingers firmly crossed that Hughes can help SW-P re-find the confidence  and form that made him an England squad regular just a few years back.
Barton to (finally) earn his money? The signing of Joey Barton (reportedly on a whopping £80,000 a week wage deal) was hailed by the club's owners as a clear signal of the club long-term ambition. But, so far, Barton has been a massive great big disappointment. His performances on the pitch have been underwhelming at best and his endless faux-intellectual shit-stirring via his Twitter account has drawn widespread criticism on QPR message boards such as qpr.org. However, like with Wright-Phillips, there are high hopes that Hughes will get the best out of Barton. If Barton can come good, it would be a massive boost for QPR. The fact that his better games have come against the bigger sides (such as Manchester City) suggests Barton could just be QPR's much needed big game player. That could be crucial – remember, QPR have six games against the biggest sides in the land before this butt-clenchingly nerve-wracking season draws to a close.