A Taste of Scandal: Bad Boys, Sexy Scoundrels, and Regency Rogues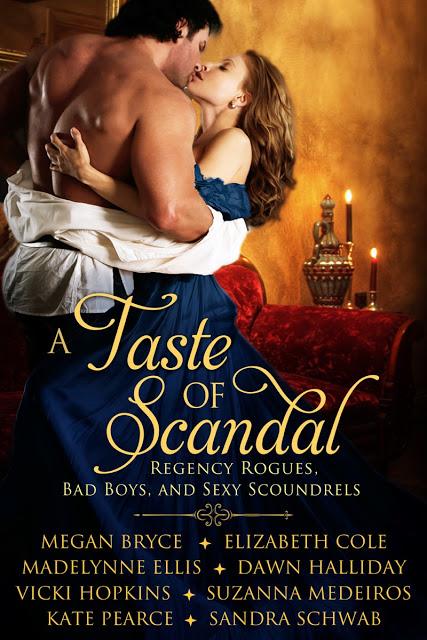 Amazon | iTunes | Kobo Books
Heat up your history with these eight amazing novels from USA Today bestselling authors and brand new voices in this box set! From Regency ballrooms to Victorian bedrooms, there's something here for every lover of steamy, sexy historical romance. Scottish highlanders, devilish dukes, noble spies, and witty aristocrats use humor, wits, and intrigue to get whatever — and whoever — they desire. But these daring heroes meet their match when they encounter bewitching beauties who want more than just a taste of scandal…
Featuring stories from Megan Bryce, Elizabeth Cole, Madelynne Ellis, Dawn Halliday, Vicki Hopkins, Suzanna Medeiros, Kate Pearce, and Sandra Schwab.
Megan Bryce — To Wed the Widow
The Honorable George Sinclair would rather poke his eye out than take his place beside his brother. But when an earl orders, a brother obeys. However, Lady Haywood is a scandalous distraction that no gentleman can ignore. Especially one who's just been told that his very happy life is changing irrevocably to the boring. But even if a scandalous distraction is what George wants, what he needs is a wife. A virgin wife. A scandal-less wife...
The earl thinks his brother has always had a problem choosing what he needs over what he wants. Lady Haywood thinks very few women who have buried five husbands would bother with a sixth. And George thinks...this sounds like fun.
Elizabeth Cole — A Heartless Design
"Heartless" Cordelia Bering refuses every marriage offer she receives. Yet men still try to win her, drawn by her sharp wit and intoxicating green eyes. But Cordelia knows a marriage could reveal her deepest secret and truly endanger her life. Besides, she hasn't met a man worth considering. Until now.
Sebastien Thorne, a spy in the service of the Crown, comes to London on a mission. He won't let anything distract him. But is Cordelia a distraction, or the key to the mystery? As he learns more about her, he becomes embroiled in secrets, plots, and a design that could change the future…and Cordelia is at the center of it all.
Madelynne Ellis —Three Times the Scandal
Engaged at her parent's behest to a man she despises, Fortuna Allenthorpe abandons duty and flees into the night with notorious rakehell, Giles Dovecote. Too bad her betrothed is more interested in her impressive inheritance than her errant virtue. What's more, he's prepared to destroy her family to ensure he gets what he wants.
Giles isn't looking for a wife, but Fortuna makes him want things he considers off limits. As the stakes mount, how long can he hold fast to his principles, if they mean surrendering the woman he loves to a hellish match?
Dawn Halliday — The Sweetest Revenge
When the Earl of Leothaid took Isabelle Frasier's innocence, the resulting scandal drove Isabelle to England in humiliating exile. Seven years later, she befriends two other women whom Leo has similarly debauched and abandoned.
The women join together to seek vengeance on the man who ruined them. But when they choose Isabelle as the instrument of their revenge, she faces an impossible choice: stand by her friends, or betray them by surrendering to her reawakening feelings for the wicked earl.
Vicki Hopkins — Dark Persuasion
Charlotte Gray couldn't believe that anyone in high society would care to introduce her to potential suitors. After all, a cruel accident left her blind at the age of eight. However, Lady and Lord Rochester, her aristocratic neighbors, have taken a peculiar interest in her welfare and offer to hold a debutante ball in her honor.
Inexperienced in the ways of men and vulnerable to a fault, Charlotte begins to traverse the unfamiliar world of courtship. To her surprise, two brothers become rivals for her affections. Who will win her? Charlotte learns that love can be blind for everyone...even her.
Suzanna Medeiros —Loving the Marquess
To save her home and keep her two younger siblings safe, Louisa Evans must turn to the head of the family that ruined hers. The Marquess of Overlea is starting to show signs of having inherited the same illness that killed his father and older brother. To prevent the marquisate from falling into the hands of an unscrupulous cousin, Overlea must secure an heir before that illness also claims him.
Overlea's plan is simple—marry the practical, yet desperate, Miss Evans and hold Louisa to her promise to provide him with an heir. But he waits until after they are married to tell his wife that he intends to have another man father that heir. His careful plan becomes complicated by an almost desperate need to claim Louisa for himself, and an outside threat that proves even more dangerous than his illness.
Kate Pearce —Educating Elizabeth
When Miss Elizabeth Waterstone encounters the enigmatic Duke of Diable Delamere in the most shocking of circumstances, she is determined to exploit his rakish expertise to the fullest extent. The duke agrees to teach her everything she needs to know, but in return expects to receive her unwitting cooperation to uncover an assassination plot against the monarchy.
But Elizabeth is hard to deceive, and the duke finds himself needing more than her innocent skills in his bed. Together they must use their remarkable abilities, to thwart a villain, save the Prince Regent and accidentally and inevitably fall in love.
Sandra Schwab —Bewitched
After a magical mishap, Miss Amelia Bourne is stripped of her powers and sent to London in order to be introduced into polite society—and to find a suitable husband. Handsome, rakish Sebastian "Fox" Stapleton is all that and more. Her one true love. Or is he?
At the country estate of the Stapletons, Amelia begins to wonder. Several inexplicable events suggest that something has changed her life forever—that this love, so bright and wonderful, was nothing but an illusion. She and Fox have been made pawns in a mysterious, deadly game. Without her powers, will she be strong enough to battle the evil that lurks in the dark? And will she be able to claim her heart's true desire?