After years of fighting, the family in Thebes prevailed. They reunited Egypt under Mentuhotep II, leader of the last phase of the struggle against the Herakleopolitans. On becoming king, Mentuhotep took the kingly title "He who gives heart to the two lands." (This kingly title was called a Horusname, after Horus, the falcon-headed god who was the traditional protector of Egyptian kings. The king is the physical embodiment of Horus on earth. To the ancient Egyptians, he was Horus.)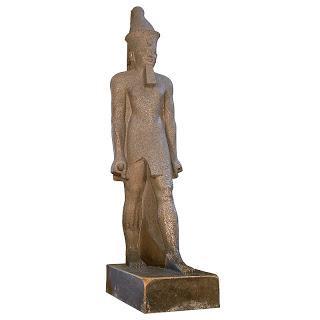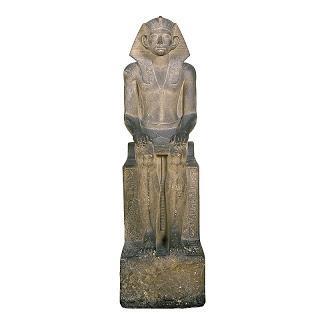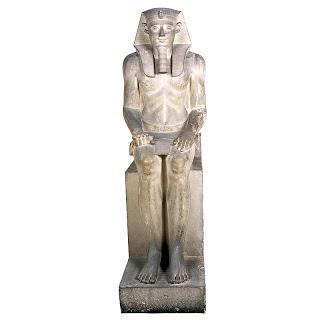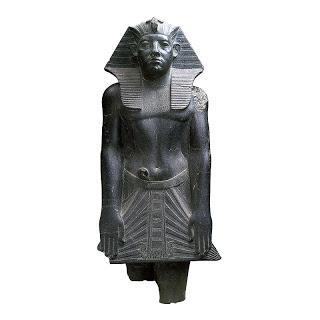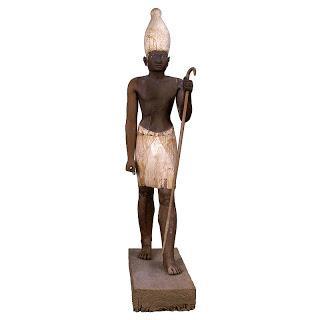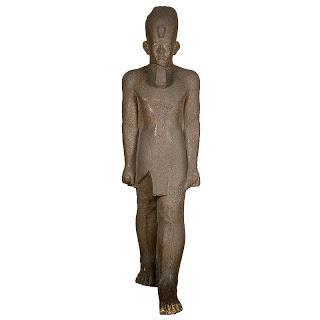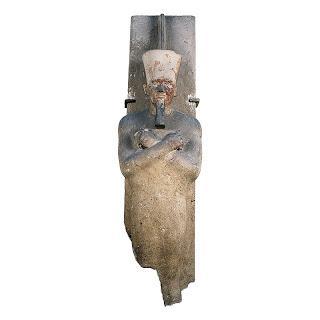 In his 14th year of rule, he crushed a major rebellion in Abydos, securing his control of Upper Egypt. He changed his Horus-name to "Lord of the white crown." It was not until his 39th year of rule that he reunited Upper and Lower Egypt. He changed his Horus-name to "Uniter of the two lands." So began the Middle Kingdom, which lasted 350 years and encompassed Dynasties 11 (late) to 14 (1980 B.C.E. to 1630 B.C.E.). With strong central control, peace and prosperity returned. Mentuhotep II, ruling from Thebes, built a temple-tomb for himself at Deir el-Bahari, west of the city.
He handed on to his son, Mentuhotep III, a stable, united Egypt. Mentuhotep II and the kings who followed faced a new Egypt  one that had experienced chaos and misery. For the rest of the dynastic era, the suffering of the First Intermediate Period was remembered as a warning about what happens when order breaks down. Faced with a growing population (perhaps 1.5 million people by 2000 B.C.E.), Middle Kingdom kings concentrated on expanding trade and agriculture, promoting the welfare of the country and keeping the peace.
Unlike the all-powerful god-kings of the Old Kingdom, Middle Kingdom rulers could not harness the entire wealth of the nation to build lavish tombs. Pyramid building was revived during the Middle Kingdom, but they were not as large as the ones of the Old Kingdom. Instead of building lavish tombs, they devoted their attention and resources to repairs, land reclamation, irrigation, and harbors. They strengthened border defenses, dealing quickly and firmly with incursions by Libyans and Bedouins. They renewed long-neglected diplomatic and trading relationships. Ambassadors and trade expeditions traveled to the ancient Phoenician city of Byblos, and other cities in the Near East, as well as Nubia and Punt.
A new middle class of independent professionals, artisans, and tradesmen arose. Many farmers owned their own land, weakening the old system of  feudal estates. Secular (non-religious) literature stories, poetry, songs, satires, proverbs, and wisdom literature (proverbs, collections of wise sayings, morality tales, fables, and advice to the young from their elders) became popular. Stories called pessimistic literature reminded Egyptians about the misery of civil war, lest they forget. With Thebes now the capital, the traditional Theban god Amun became prominent.
He merged with Heliopolis's sun god Re, becoming Amun-Re. The Theban kings provided lavish support and rich gifts to Amun-Re's priesthood and temples.  Unlike the all-powerful god-kings of the Old Kingdom, Middle Kingdom rulers could not harness the entire wealth of the nation to build lavish tombs. Pyramid building was revived during the Middle Kingdom, but they wree not as large as the ones of the Old Kingdom. The rapidly-growing cult of Osiris promised even poor peasants a pleasant afterlife. The Pyramid Texts were updated to apply to the wider range of spirits now eligible for eternal life. The revised spells, called the Coffin Texts, were painted or carved on wooden coffins.
The new middle class of artisans started mass-producing grave goods: pottery, ushabtis, serdab statues (small statues of a dead person, sealed into a niche or chamber in the tomb), furniture, models, and more. The Governor of the South and vizier of Mentuhotep IV overthrew his king to become Amenemhet I, founder of the Twelfth Dynasty. His 29-year reign gave Egypt its first extended period of stability and security in more than 200 years. His first move was to build and furnish a boat to cruise the Nile, putting nomarchs in their place and crushing troublesome Asiatics and Nubians. To consolidate his power over Upper and Lower Egypt at a more strategic location, Amenemhet I established a new capital at Itj-tawy, about 20 miles south of Memphis. He introduced "co-regency" (a king sharing power with his heir) to strengthen royal succession and eliminate the instability that often followed a king's death.
Co-regency made royal transitions much smoother, and was adopted by several later kings. Amenemhet shared the throne with his son, Senwosret, for 10 years. Senwosret handled the military and kept the frontiers secure. He established fortified towns and trading posts as far south as the third cataract. When Senwosret I took the throne, he continued his military ac- tivities, securing Egypt's southern border at the second cataract with 13 forts. He sent mining expeditions to Nubia, Syria, and the western oases.
He built a magnificent solar temple at Heliopolis. The 34-year reign of his son, Amenemhet II, saw great achieve- ments. The king widened and deepened the canal that fed the Faiyum from the Nile, expanding hunting, fishing, and agriculture. He sent trade expeditions to Punt, the Red Sea, Lebanon, and the Levant. He carried on a thriving trade with the Mediterranean island of Crete. Senwosret II, son of Amenemhet II, presided over a peaceful, prosperous Egypt. He expanded cultivation in the Faiyum and established friendly (perhaps too friendly) relations with the nomarchs. His habit of giving them tax-free land grants and other rich gifts was one that had caused trouble before. His son, Senwosret III, decided to nip that problem in the bud once and for all.
He created a new government structure that greatly minimized the power of the nomarchs. He closed their courts and revoked their rights and privileges. The new government had three major departments: North, South, and Elephatine/Nubia. Each was overseen by a council of senior officials reporting to a department vizier, who reported directly to the king. During his 18-year reign, Senwosret III showed remarkable skill in managing economic affairs and foreign policy. He led a series of mili- tary campaigns to secure Nubian trade routes, protect the southern borders, secure access to the gold mines, and suppress troublesome Nubians. He cut a bypass canal around the first cataract, improving on a primitive Old Kingdom canal. This allowed speedier, safer trade, and rapid movement of soldiers to trouble spots. Senwosret also built many forts along the southern frontier.
Senwosret's relations with Asia were mostly peaceful trading partnerships, though he did do some plundering. Much of the plunder and trade wealth that flowed in went to support the temples of Amun-Re at Thebes. The next king, Amenemhet III, enjoyed 46 years of peace, pros- perity, economic growth, and high artistic achievement. He sent almost continual expeditions to the turquoise mines of the Sinai to satisfy Egypt's endless desire for this prized gemstone. Amenemhet III built two pyramids for himself. One he abandoned. The other, where he was buried, is famous for the large number of features designed to keep tomb robbers out.
There were trap doors, false passages and dead ends. His sarcophagus was carved from a single, massive block of quartzite. After his burial, it was topped with a 45 ton stone slab, and all passages and corridors were filled with rock and rubble. His tomb was looted anyway. Little is known about the last two Middle Kingdom rulers who are named and known, Amenemhet IV and Queen Sobeknefru. Climate change was causing instability in the inundation—the river was always either too high or too low. The resulting disruption led to Egypt's second extended period of disorder, the Second Intermediate Period. Egypt was about to experience her worst nightmare: rule by foreigners.
Egypt entered a period of internal instability, though not as long or severe as the First Intermediate Period. The Thirteenth Dynasty, ruling from Itj-tawy, included many kings with brief reigns. They maintained some control over both Upper and Lower Egypt, but left few monuments or records. A competing faction (the Fourteenth Dynasty) ruled from a power base in the western Delta. It included an unknown number of obscure kings who came and went quickly. Egyptian control of Nubia collapsed, but many Egyptians stayed to work for local Nubian rulers.  As the 13th and 14th dynasties struggled with one another, a group of foreigners of Semitic origin claimed dominion over Egypt from their eastern Delta power base, Avaris.
The Hyksos soon controlled the eastern Delta and the eastern deserts. The Hyksos had been clever. They did not invade with fanfare and drawn swords. Instead, they immigrated into the eastern Delta and settled in, waiting for the right moment to make their move. Their political influence was largely confined to the Delta. The five (or six) Hyksos kings adopted Egyptian titles, dress, and traditions. They worshiped traditional Egyptian gods and goddesses (they preferred Seth over Osiris), while in- troducing several of their own to the religious mix. They built many temples and sponsored developments in Egyptian arts, crafts, and literature. They sacked Memphis, but did not cause the widespread terror and destruction claimed by later writers.