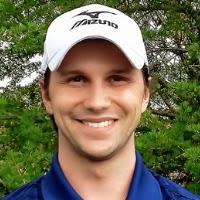 Cancer, on one level or another, has become an everyday fact of life for most people in the world. Whether you've battled it or know someone who has, it's an enemy we all know and fear. For Tim Buckland, Edmonton, Alberta native, cancer has become an all too familiar presence in his journey through life. Luckily, winning the battle with cancer has as well. The Edmonton resident who had to give up his competitive golf dreams at the young age of 18 has not only battled, but beaten testicular cancer on three separate occasions while leaning hard on the game that has showed him so much promise before having it taken away when life threw him a seemingly insurmountable challenge.
Now, that promise that golf showed Tim carries a different, far greater meaning, the promise of life and happiness. Golf has aided Buckland in wrestling back control of his life from the grips of the crippling disease. In the process of his multiple battles with cancer, golf has served as a transformative object, helping shape his life goals and inspiring Tim to use the game to help fellow cancer survivors re-build their lives.
In recognition of his perseverance, will to help others and to celebrate the transformative power of golf, Mizuno is giving Tim Buckland, who is now 7 years cancer free, the opportunity of a lifetime, selecting him to be a member of the prestigious "Team JPX." Being named a member of "Team JPX" means Mizuno is outfitting him head-to-toe with gear and apparel, including a new, custom-fit set of JPX EZ irons, wedges and woods, in order to begin his game-improvement journey in preparation for competition in the second annual JPX Invitational in Atlanta in September.  Read the official press release below.
Amateurs From Virginia and Canada Chosen by Mizuno as Next "Team JPX" Representatives Team JPX Welcomes First International Team Member from Edmonton, Alberta;  Golfers' Share Personal Stories and Prepare to "Play Famously" at the JPX Invitational
Norcross, Ga. – For millions, golf serves as a sanctuary from life's daily demands and pressures. However, the impact and influence of golf on two amateurs transcends the golf course. Today, Mizuno announced the next two members, which includes the first international team member from Canada, to the 2014 "Team JPX" roster of inspirational, "game-improvement" amateur players. Both will be featured in the popular Mizuno "Play Famously" campaign.
Tim Buckland and Joseph Wechsler, from Edmonton, Alberta and Reston, Virginia respectively, were selected to join 2014 Team JPX. As members of the team, both will be outfitted from head to toe with Mizuno gear and apparel, including the new JPX EZ irons, and will begin their personal game-improvement journeys in preparation for competition at the second annual JPX Invitational in Atlanta in September.
Throughout the "Play Famously" campaign golf has proven its transformative power through the many inspiring 2014 Team JPX member stories. This is no different for Buckland who beat cancer not once, or even twice, but three times. Diagnosed with testicular cancer at 18-years-old, Buckland's competitive golf career ended, but not his passion and love for the game. Buckland battled through several rounds of chemotherapy, yet still spent hours re-gripping his clubs and visualizing his next shot on the golf course. Golf allowed Buckland to take control of his disease and realize his goal to use the game to help other cancer survivors.
"Golf holds an important, special place in my life for many reasons and I will always be grateful the game helped with my recovery allowing me to become the person I am today," said Buckland. "Being a member of Team JPX is an amazing opportunity that will afford me the chance to display my love for golf, and more importantly, my love for life. I'm extremely thankful."
"Mizuno is very proud and honored to welcome such a worthy addition like Tim to Team JPX. The fighting spirit he has shown and the love of the game of golf makes us thrilled to recognize Tim as our first ever Canadian member. Enjoy your golf experience and have fun with your new Mizuno teammates," said John Stacey, President of Mizuno Canada Ltd.
Everyone goes through change at some point in their lives, but for Wechsler, change is an undeniable element of his and golf has proven to be the one constant. Living in 10 different locations and three countries since college, Wechsler fell in love with the game after finding an old set of golf clubs tucked away in a closet of his house in college. Prior to finding the irons, he had never swung a golf club, but now golf is a priority, so much so that he literally takes his clubs with him on every single work trip.
"Relocation and travel are things I've grown accustomed to over the years. Being on the road so often can really get me off track and missing my family, but I always have golf to re-center my thought process and connect with friends in other states," said Wechsler. "Golf, along with my wife and son, is a priority in my life and it's a dream come true to be chosen as a member of 'Team JPX.' I'm ready to work hard to improve and get ready for the JPX Invitational in September."
"The process of selecting 'Team JPX' members has been tough as we've received many amazing stories of golf's influence in people's lives, and with the addition of the first international player from Canada, the team is shaping up nicely," said Dick Lyons, Senior VP/GM – Product Divisions, Mizuno USA. "Joe and Tim have clearly demonstrated how golf can help individuals on different levels and we welcome them to this prestigious team."
The remaining four members of "Team JPX" will be selected through an online contest at www.playfamously.com. Golfers are encouraged to try the new JPX EZ irons at a participating retailer, provide their feedback and submit a short essay, photo and/or video. The submissions should demonstrate their passion for golf and a specific challenge that golf has helped, or is helping them overcome in their lives. The next two coveted spots on "Team JPX" will be announced Friday, June 27, 2014.
At the center of the "Play Famously" campaign is the newest addition to the JPX line of game-improvement irons, the JPX EZ. The line establishes an entirely new standard for forgiveness with a proven sweet spot 83 percent bigger than TaylorMade Rocketbladez and more than 50 percent larger than Ping G25 and Callaway X-Hot. JPX EZ utilizes an ultra-thin, Hot Metal face that delivers an enhanced 'trampoline effect' for the extra distance all players desire.
To see how the JPX EZ irons stack up against the competition and submit to become one of the newest members of Team JPX, visit www.playfamously.com.
Connect with Mizuno on Facebook and Twitter @Golf_Mizuno to keep up with product news, Tour updates and custom content and fitting tools.
About Mizuno USA, Inc.
Mizuno USA, Inc. is a wholly owned subsidiary of Mizuno Corporation, one of the largest specialty sporting goods manufacturers in the world. Mizuno USA, Inc. manufactures and distributes golf, baseball, softball, running, track & field, and volleyball equipment, apparel, and footwear for North America. Mizuno USA, Inc. is based in Norcross, Georgia.