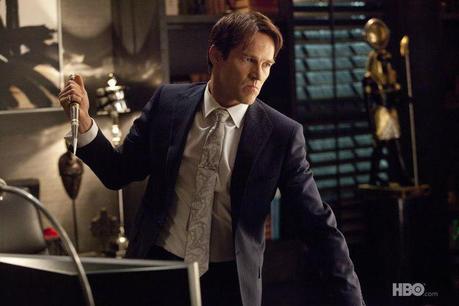 True Blood season 4 was dubbed the "Season of the Witch" leading up to the HBO series' June premiere. However, by the time season 4 ended it was more about the growth of characters we've come to know and love throughout the show's run so far.
One of the first things I noticed coming into this season was that it was not completely centered around Sookie (Anna Paquin). All of the series regulars from the principle actors to the supporting actors all had some sort of storyline this season. Granted many of the supporting actors didn't have as much screen time as I would have liked. But I hope the writing staff and Alan Ball will continue that trend into next season and give even more screen time to long time cast members such as Chris Bauer (Andy Bellefleur), Todd Lowe (Terry Bellefleur), Carrie Preston (Arlene Fowler), and Lauren Bowles (Holly Cleary). All of these actors gave brilliant performances in the limited time they were given and I would genuinely love to see them all be given a chance to really shine in season 5.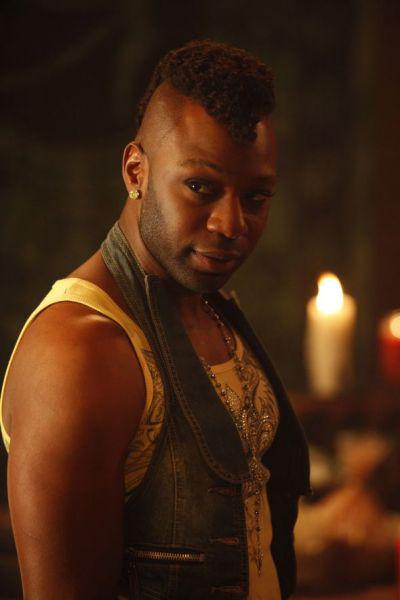 Although his storyline had its ups and downs, I found myself fascinated by
Nelsan Ellis (Lafayette Reynolds)
last night. The man was amazing this season. He is always wonderful but this year he really knocked it out of the park. Just watching the way Nelsan Ellis' mannerisms changed with each person Lafayette channeled was fascinating. That is not easy for any actor, no matter how well trained they are, to pull off and he did so extremely well. Ellis is a wonderful example of an actor who has really built up his character throughout the seasons and this year was a focal point for the series. Excellent job all the way around!
True Blood wouldn't be complete without Sookie, Bill (Stephen Moyer), and Eric (Alexander Skarsgård). The trio has been the source of many heated debates across the True Blood fan community over the years with regard to who Sookie should be with. Personally speaking, I'm fine with any outcome. However, I will say that I am extremely proud of the stories that Anna, Stephen, and Alexander were given to play. Their characters grew immensely and for once they were all given material that didn't completely depend on the love triangle or the nemesis of the season.
Sookie's "decision" sparked a myriad of reactions for many fans after the finale. Seeing characters make decisions that you may or may not agree with is hard when you are such a big fan of the show as we Truebies are. I walked away from last night's finale with a great respect for Sookie because what she did was truthful.  Bill and Eric each have their merits and their downsides. But at the end of the day, Sookie can't spend the entirety of the show going from love interest to love interest. The fact that she said no to Bill, Eric, and Alcide (Joe Manganiello) for now gives her integrity and a chance to expand beyond being someone's girlfriend constantly and assures that the audience won't be bored.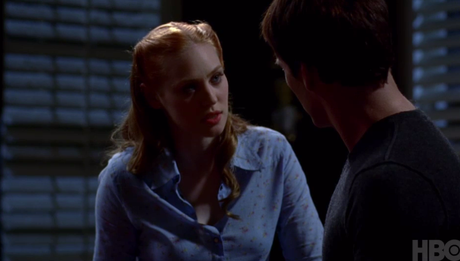 Sookie wasn't the only one who stood up for themselves last night. I have to give kudos to
Jessica (Deborah Ann Woll)
for how she decided to handle her relationship with
Jason (Ryan Kwanten)
. It would have been very easy for
Raelle Tucker
, the writer of
And When I Die
to put Jessica into another relationship. But that is not usually how the real world works.  Jessica deserves the chance to explore what else is out there in the world and she's been encouraged to do so by other characters before if only for the sake of being a
vampire
. And now that she's unattached, I can't wait to see just what Jessica will bring next season.  It will be nothing short of fantastic.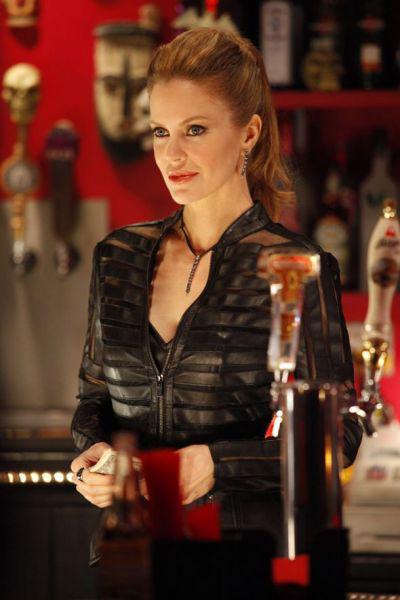 The last character I want to touch on is
Pam (Kristin Bauer van Straten)
. Last season, we were fortunate to see Pam cry and be something other than cool, sarcastic, and fabulous all the time.  This season, it was fun to watch her be completely bad ass even as she was rotting inside and out. Kristin was only in one scene last night but she killed it. I'm glad that Pam was given the chance to say everything she did about Sookie and Eric. Yes, it wasn't smart to do what Pam did to save Eric but Eric wasn't exactly thinking clearly when he agreed to die for Sookie. It was heartbreaking to watch Pam breakdown like she did. But like with Sookie and with Jessica it was truthful. She wasn't simply losing her father in that moment; she was losing her best friend, partner, former lover, and husband as well. Of course we know that Eric and Pam will find their way back to each other eventually but it won't happen in one episode.
Many characters died over the last few episodes leaving fans stunned.  While I was surprised by these developments, I am closing the book on True Blood season 4 feeling oddly at peace. I am not yet dying for the next season but I am hopeful for what it will bring for all of the characters I know and love.
But ask me in December, I'm sure I'll be exhibiting signs of True Blood Withdrawal by then.
Image Credits: HBO, Inc.