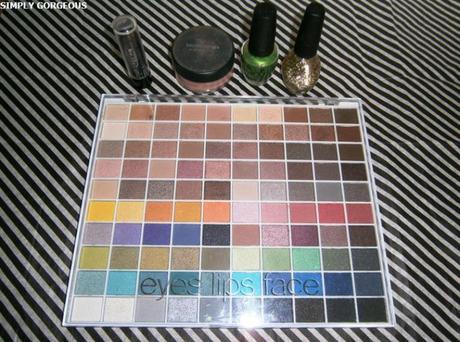 Happy Friday everyone! I can not believe it is March already, it just feel like it was the holidays the other day–time is really flying by fast. Well it's a new month and it's time that I catch you up on all of the products that I have been loving for the month of February. These favorites consist of nail polish and of course makeup–are you surprised? If you are interested in seeing what products made my favorites list then just keep on reading and I hope everyone has an amazing weekend :)
February 2015 Favorites: e.l.f., OPI, Nicole by OPI, The Color Workshop & bareMinerals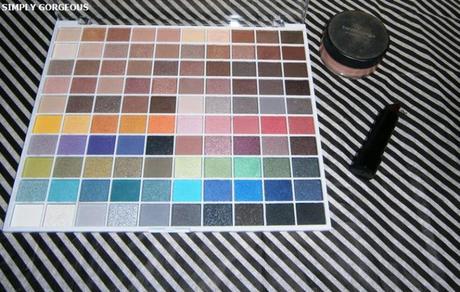 Makeup Products:
e.l.f. Eyeshadow Palette–this palette was gifted to me by my twin sister for Christmas and I am obsessed, the eyeshadows are so pretty and pigmented. I have been using this palette lately to create all of my makeup looks that I have been sharing here on the blog, there are so many fun colors to choose from, including neutrals, pastels and bright shadows. I will definitely be using this palette and lot more so get used to seeing it.
bareMinerals Mineral Veil–this finishing powder I have been using for a few years now and it is absolutely amazing, I apply this powder when I am done applying all of my makeup and it keeps my face looking and feeling fresh throughout the day and I never have to touch up my makeup–honestly I don't have time for that. This powder also helps with my oily skin which is a huge plus for me because my oily skin is the worst!
The Color Workshop Lipstick–although this lip color does not have a name :( it is a deep brown shade that I love to wear all year round but especially during the fall and winter. My favorite way to rock this lippie is with a gold, shimmer eye makeup look–something about it I just love.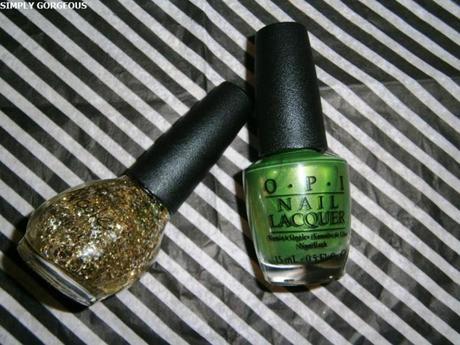 Nail Products:
Nicole by OPI Nail Lacquer "Kissed At Midnight" –who doesn't love a gold glitter nail polish? I know I do and I can not get enough of this shade it is so pretty and  I'm obsessed with it.
OPI Nail Lacquer "My Gecko Does Tricks"–now this is a gorgeous green polish and I used this in a recent manicure post that was inspired by St. Patrick's Day if you would like to check it out then click here and I hope you like it.
What are your February favorites? Let me know in the comments.
Stay Connected!